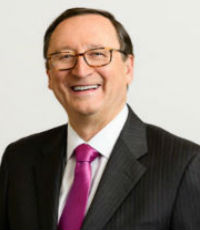 John Haley, CEO and director, Willis Towers Watson
Currently the CEO and director of Willis Towers Watson, John Haley has been with the international firm since 1977. Throughout his career, he has held a variety of roles, including consulting actuary to several of the company's largest clients; manager of the Washington, DC, consulting office; and leader of the global retirement practice. In 1998, Haley was named CEO, and the company has since grown tremendously under his guidance.

In addition to his responsibilities in leading Willis Towers Watson, Haley serves on the board of directors of MAXIMUS and the Miami Cancer Institute. He is a fellow of the Society of Actuaries and the Conference of Consulting Actuaries, and has served as a trustee of the Actuarial Foundation. Previously, he served on the board of Hudson Global, a firm that specializes in executive searches, specialty staffing and related consulting services.
On the future of insurance: "I'm very hopeful about the future of insurance. Many carriers are at the forefront of innovation and emerging trends, which could have a far-reaching impact on society. The continuing development of technology as a risk-management tool, combined with the digital transformation and evolution of Big Data, analytics, wearable and mobile devices, and the Internet of Things, will create innovative change across the industry for years to come."
Company

Information
Willis Towers Watson

199 Scott Street Floor 8 Buffalo, New York 14204