Jump to winners | Jump to methodology | View PDF
THE BROKER'S BEST ALLY
Often the initial contact between broker and insurer, business development managers have a lot resting on their shoulders. In a year of multiple challenges for the insurance industry – from COVID-19 and its repeat lockdowns to extreme weather events and a hardening market – how have BDMs been performing? How are they attracting new business, supporting brokers and helping them identify the best products for their clients?
First, some sobering news. In the Insurance Business Brokers on Insurers survey earlier this year, the overall average rating for BDM support took a hit, with some brokers commenting on BDMs' "limited impact". Yet the hundreds of nominations for this year's 5-Star BDM awards revealed a high level of broker satisfaction across four criteria: customer service, responsiveness, communication and product knowledge.
So, what are the 5-Star BDMs doing to earn that praise – and what is the takeaway for other BDMs wanting to boost their standing with brokers? Among the winners IB spoke to, a belief in high levels of service was a strong common denominator.
"It's crucial for BDMs to listen to their intermediaries, understand the needs of their business and look for ways to add value, especially when you aren't meeting their needs, as it gives you an opportunity to improve," says Craig Stanley, a Brisbane-based BDM at CHU. "BDMs can help brokers bring in more business by communicating their risk appetite, but most importantly, they need to ensure the intermediary is receiving high levels of service in both claims and underwriting."
To ensure this first-rate service, BDMs need to be consummate facilitators.
"It's important to recognise those people in your organisation that you can match with the client's needs – whether it be a claims consultant, underwriter, a training provider of products or systems, etc.," Stanley says.
In the hierarchy of a BDM's most important attributes, customer service also gets top billing from Michael Walker, a broker relationship partner at CGU.
"Every day, I deal with many escalations that come my way, and you need to try to solve the challenge," Walker says. "Whether it's a claim that needs support, or a client's premium has increased and they are not happy about it, or a policy has lapsed, BDMs are often the first point of call. The customer service piece – being there when a broker needs you most – has set me up to succeed in this role."
The ability to build and maintain relationships with the full range of stakeholders is also pivotal – an area in which all of this year's 5-Star BDMs have excelled.
A good BDM ensures they are "valuable and visible, both internally and externally, to generate sales and growth", Walker says. "This requires building a good team culture between the underwriters that service a particular broker so that cross-sell and multi-line business works well. Just as critical is building relationships between underwriters and brokers, as underwriters are the ones that make risk decisions."
Because brokers like to deal with the decision-makers, Walker adds, a BDM "must be across everything that has been sent through and listen to important and key information that you can relay to the underwriting team to make decisions on what is worth spending our time on".
Anthony Porter, national business development manager at AFA, agrees that the underwriter–BDM relationship is key.
"At AFA, we have ensured that our BDMs and our underwriters work closely together to obtain the right outcome for the broker and their client," Porter says. "Systems are also a vital part of the cycle, giving brokers easy access to AFA and our offerings wherever and whenever they need to."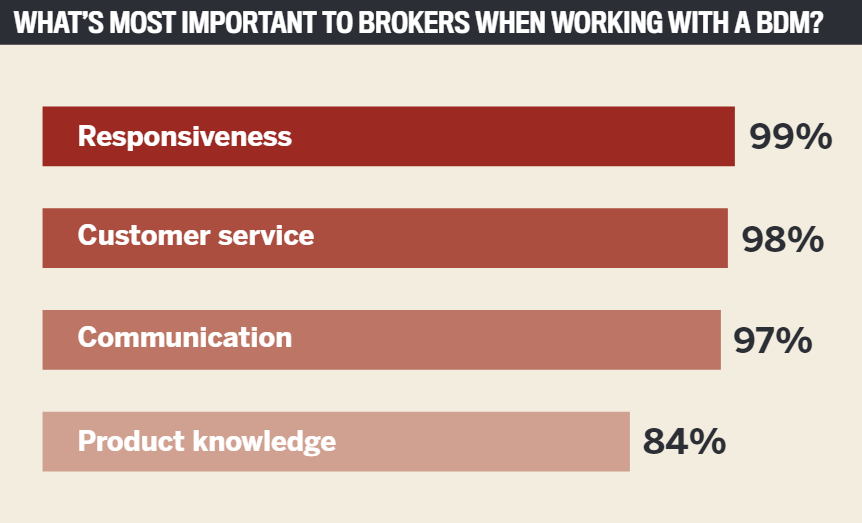 Solutions and rewards
In IB surveys over the years, brokers have said they value BDMs who are focused on solutions rather than pushing the corporate line. This comes as no surprise to Philippa Ryan, national business development manager at CHU, who says this is the way the underwriting agency has always done things.
"The type of service we offer to our clients has never been bound by corporate lines," Ryan says. "In that respect, we are fortunate to have always been able to offer personal service and tailor to the individual needs of each broker. There are no boundaries to how we operate and solve issues – that's why the job is so rewarding."
One inescapable restriction of the past 18 months, however, has been the pandemic. For a job that is so client-centric, it's been a major challenge.
"COVID has tested us all," Porter says.
"Pre-COVID, we were all able to travel and visit our broker partners; that said, I found keeping in touch on a regular basis to offer support was the key for me [to maintain strong relationships]."
For Ryan, too, communication – albeit a video or phone call rather than a sit-down with a coffee – has played a heightened role.
"Some of our clients suffered periods of lack of self-motivation and struggled to maintain a work-life balance," she says. "I would make sure I was in regular contact so our brokers knew we cared. We are lucky to enjoy long-standing relationships with the majority of them, so it was like checking in on a friend. Zoom meetings and phone calls often resulted in more talk about how they were coping with lockdown. I organised virtual social catch-ups to break the monotony and included a cross-section of guests so there were always fresh faces and new stories to share."
Stanley agrees that the unpredictability of the pandemic has been an enormous challenge; however, "it's shown how quickly we can adapt. Prior to COVID, I couldn't get people to commit to video calls, and now it's become normal when you can't meet face-to-face".
While pandemic preoccupations have dominated, the insurance industry has also been dealing with large catastrophic events like bushfires, floods, cyclones and hail-storms – plus an increase in long-tail losses. Throw in the hard market, and communication becomes all the more vital.
"The current market is fast-paced, time-poor and tough on brokers who are having to explain premium increases, deductions in cover and, in some cases, that risks are not insurable," says Walker. "BDMs needs to be in regular contact with brokers to let them know about these changes with as much time as possible, whilst setting a clear strategy and pipeline for the financial year with broker partners. Make sure a phone call is made, as emails seem to get lost and misunderstood. In building new relationships to achieve my strategic goals, responsiveness and building trust have been my strengths."
Changing times
In the years ahead, Stanley believes the evolution of technology is likely to have the greatest impact on the future of the BDM role.
"Millennials now make up the largest generation in the workforce, and they are very tech-savvy," he says. "There will be greater expectation from our customers to meet high service levels, too."
However, he adds that relationship management will not only remain fundamental to the BDM role but will become increasingly important in other functions.
"With increased efficiencies coming from AI, other roles such as underwriting have placed more emphasis on adding relationship management as an important skill set," Stanley says. "The BDM role is important to help mentor underwriters to get better at this."
Anthony Porter


National business development manager, AFA

Carla Taylor
Business development manager, Vero
Chris Chisholm
Senior regional account manager, Allianz
Colum Williamson
State development specialist, NTI
Daniel Brown
Financial lines senior underwriter, DUAL Australia
Daniel Joiner
State manager, MECON
David Newell


Senior account manager, Allianz

George Konstantas


Senior business development manager, Vero

Harleen Bhasin
Business relationship manager, QBE
James Lee


Business development underwriter, Emergence

Luke Wennerbom


Senior business development manager, Vero

Marilyn De Francesco


Account manager, Allianz

Melissa La Spina


Key account manager, Hollard

Michael Walker


Broker relationship partner, CGU

Naseer Taseer


Senior business development manager, Vero

Nathan Sommer


Head of casualty, Agile Underwriting

Tony Tahche


Business relationship manager, QBE