These are the top places Aussies are visiting after pandemic restrictions | Insurance Business Australia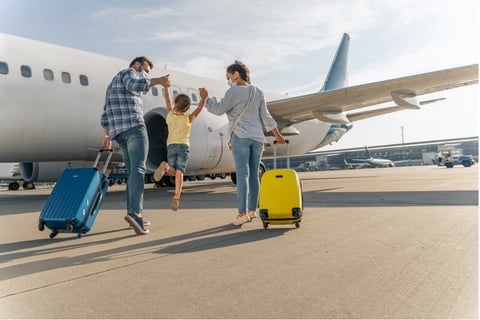 As border restrictions ease and more tourist destinations reopen across the world, there is also a huge spike in travel-thirsty Australians leaping at the chance to visit other countries once again. Government figures, however, reveal that the numbers are still well below the pre-pandemic peak recorded in late 2019, reflecting some level of caution.
The latest provisional data from the Australian Bureau of Statistics (ABS) has shown that there were about 972,590 departures from the country in July as the lifting of travel restrictions triggered a rise in Aussies taking overseas trips. The number was a dramatic jump from the 335,240 departures recorded in March, which was already a more than ten-fold increase from six months prior during the height of the country's border closures.
Before COVID-19 struck, the country hit a record-high 2.24 million departures in December 2019, coinciding with the annual Christmas holidays.
Read more: Travel insurance sales soar after COVID entry restrictions scrapped
What are the top places Australians are visiting in 2022?
Data gathered by the ABS has also revealed a whopping 611% year-on-year jump in "short-term resident returns from overseas" – or Australian citizens who have travelled overseas not more than a year – with the figures reaching almost 1.6 million in the 2021-22 financial year, up from just 223,830 in the previous cycle. Of these, 96% of the trips were taken between November 2021 and June this year, when COVID-19 restrictions were gradually lifted.
During the period, New Zealand was the top destination Aussies travelled to, registering 195,370 trips or about 14% of the total. Our Pacific neighbour was followed by the US, which was visited by about 169,710 Australians, and India, receiving an estimated 157,500 visitors. Rounding up the top five places where Australians are visiting in 2022 are the UK, recording about 129,640 trips, and Fiji with 127,290.
Southeast Asian nations dominated the bottom half of the top 10, led by Indonesia with 93,400 visitors. The world's largest archipelago was followed by Singapore (71,770), Thailand (66,990), and the Philippines (33,870). Pakistan rounded up the list, with approximately 31,820 Aussie tourists visiting the South Asian destination.
Visiting family and friends was the main reason why Australians travelled overseas during the financial year, according to ABS's data. Almost half, or 48%, of Aussies did so to reunite with their loved ones. The other top reasons for taking trips abroad were "holidaying" (33.5%) and business (8%).
Read more: Trip cancellations to coronavirus hotspots unlikely to be insured
Should Australians take out travel insurance?
If there is one thing that the COVID-19 pandemic has taught Aussie travellers, it is how a single event can prove costly and disruptive to their travel plans.
The coronavirus outbreak has forever reshaped the way people travel, with those planning on travelling overseas forced to consider additional factors, including airline requirements, coronavirus regulations in transit and destination countries, and arrangements for their safe return.
The situation has made securing travel insurance even more important, according to the Insurance Council of Australia (ICA).
"Australians love to travel, and with more flights taking off and the Australian Government's travel advisories updated we're expecting to see the pent-up demand of the last two years turn into a rush to travel overseas in coming months," said Andrew Hall, chief executive at ICA, in a statement released last October.
"You can't leave Australia without a passport, and you shouldn't leave Australia without travel insurance. Travel insurance remains essential for all the reasons it was pre-pandemic – to provide protection when the unexpected occurs far from home."
Read more: ICA boss: "You shouldn't leave Australia without travel insurance"
What should Australians look for when getting travel insurance during the pandemic?
About a third of the nation's travel insurers are now offering COVID-19-related coverage, although the range of protection may be limited, according to consumer advocacy group CHOICE.
Travel insurance policies typically cover medical, cancellation, and quarantine expenses incurred if the policyholder or their companion tests positive for the coronavirus. Most policies, however, are unlikely to cover cancellation costs resulting from lockdowns, both locally and in the planned destination.
Several tour operators and airlines have also begun providing "complimentary COVID-19 insurance," but the group advised those planning on purchasing this type of coverage to carefully read the fine print as this might be issued by a foreign insurance provider, meaning the terms are subject to the rules and regulations of that country. If this is the case, this complimentary coverage is still not a good substitute for a comprehensive Australian travel insurance policy, the group added.
CHOICE, through the Department of Foreign Affairs and Trade's (DFAT) Smartraveller website, also provided a list of questions Australian travellers should ask before buying travel insurance. Here are some of them:
1. Is the destination covered?
Smartraveller assigns overall advice levels to more than 170 countries, which can impact travel insurance coverage, so it is best for travellers to check the website before getting insurance. These advice levels are:
Level 1 – Exercise normal safety precautions
Level 2 – Exercise a high degree of caution
Level 3 – Reconsider your need to travel
Level 4 – Do not travel
Most travel insurance policies provide coverage for countries under advice levels 1 and 2, while those under advice level 4 are often not covered. For destinations under advice level 3, it can be a bit tricky as coverage varies for different providers. Additionally, these advice levels can change quite rapidly, which is why Smartraveller reminded tourists to always check the details of their policies to make sure they know what is covered and what is not.
2. Does the destination require proof of insurance for COVID-19-related medical expenses?
Some countries require travellers to carry insurance in the event they contract the coronavirus while inside their borders. Singapore, one of the top 10 destinations, for instance, require travellers to have a minimum coverage of SG$30,000 (about $30,280).
3. Is the full duration of the trip covered?
CHOICE also advises travellers to check if the policy will continue to provide coverage if the trip is extended beyond the insurance cover dates if unexpected events such as flight cancellations and border closures occur, or if the policyholder or their companion tests positive for COVID-19 and are required to isolate or get medical attention.
4. Are stopovers on the way to the destination covered?
Some trips require stopovers, so it is also advisable to check if there are restrictions on the amount of time a policyholder can spend in a location. It is also best to check with the insurance provider about what will happen if an insured gets stuck in a stopover location for an extended period.
5. Are cancellation costs covered?
Most travel policies cover cancellation costs if the trip is cut short because the policyholder or their companion gets infected with the coronavirus. But CHOICE also suggests checking if coverage includes cancelled trips resulting from a COVID-19 infection for someone back home – a family member or business partner, for example – and the insured needs to return earlier than planned.
6. What additional expenses are covered?
Travellers should also check if unexpected additional expenses are covered, including those resulting from COVID-19-related shutdowns of their accommodation or tour operator, forcing them to find an alternative place to stay or book another tour.
Read more: What Australians should consider when buying travel insurance amid COVID-19 pandemic
How can Aussies make the most out of their travel insurance?
To find out how Australians can get the most out of their travel insurance policies, Insurance Business referred to several consumer finance groups and industry insiders for practical tips and advice. Here's what they say Aussie travellers should do:
1. Shop around and compare travel insurance quotes
Comparison websites provide a quick and efficient way to shop around for travel insurance as these give travellers almost instant access to different policy features and prices.
"Travel insurance policies vary in price and benefits," noted travel insurance comparison site Comparetravelinsurance.com.au. "A comparison website is an easy way to digest all the information in one place. Just as you might compare flight prices, you can compare insurance policies, too."
CHOICE added that travellers may be able to avail of cheaper policies online, but they should practice some level of caution.
"While not all policies are discounted online, plenty are," the group explained. "Make sure you understand the policy and what it covers. Sometimes you get less cover with online policies, so make sure a reduced price doesn't mean reduced cover."
2. Get the right type of cover
Because there is no single policy that caters to every need, travellers can sometimes find that the coverage they are looking for is not included as standard. When this happens, they may need to purchase optional add-ons.
"To tailor a policy to suit your trip, it may be necessary to add some optional covers to your policy," explained comparison website Finder. "Of course, all of these options come with an additional premium, so make sure they're actually essential for your holiday before adding them to your policy. By avoiding any unnecessary options, you can substantially lower the cost of cover."
Travel insurance specialist InsureandGo, however, warned vacationers against not getting sufficient cover.
"Underinsuring your holiday is one of the most common ways that travellers lose money," the insurer noted. "Make sure you're covered for all your destinations and activities. If you make a claim and discover you're not covered, you'll have to pay the costs out of your own pocket. That's not a saving at all!"
3. Purchase travel insurance as soon as possible
The sooner one takes out a travel insurance policy the better, according to industry experts.
"It's worth getting travel insurance as soon as you book your trip," Finder advised. "That way, you're covered straight away. If something happens – say you get sick, or your flight is cancelled or delayed – you're covered."
Read more: Revealed – what the best travel insurance providers in Australia cover
4. Refrain from buying coverage from travel agents and airlines
Finder also recommended purchasing coverage directly from a travel insurer as "buying cover straight from the source can save you a whole lot of money."
"Travel agents and airlines add hefty commissions on top of the price of the policies they sell, which basically means you end up paying a whole lot more for cover than you need to," the website added.
CHOICE shared, however, that there may be room for negotiation.
"Trying to negotiate with a website probably won't get you a better price, but if you're buying over the phone or through a travel agent, give it a go," the group suggested. "Travel agents pocket a commission when they sell you insurance, so if you find a better deal elsewhere, ask them if they can beat it."
5. Be upfront and honest with the information you provide
Insurance companies expect travellers to provide accurate information when purchasing insurance. This includes disclosing any pre-existing medical condition and previous claims. Failure to do so may result in a claim being rejected.
"If you are dishonest on your insurance application and end up making a claim later on, the insurance company will discover your lies," InsureandGo warned. "They'll also reject your claim, meaning you'll be responsible for paying any outstanding costs."
"Don't give into the temptation of keeping information from your insurer just to save a little bit of money – while it might help you pinch a few pennies in the short term, in the long run, it could end up costing you big time," Finder added. "If you don't tell your insurer something that it has a right to know – be it a pre-existing condition, a destination you're visiting or anything else – if that something later leads to a claim, your claim will be refused. On top of that, the insurer will probably cancel your policy altogether."
6. Be aware of what you're covered for
Coverage details vary from policy to policy, which is why it is crucial for travellers to review the fine print carefully before settling on one.
Travel insurance specialist Fast Cover reminded holiday goers to read the product disclosure statement (PDS) as this contains vital information about the policy.
"It's important to understand exactly what you are and aren't covered for, so read the PDS carefully," the firm advised. "Insurers will have their PDS available on their website or you can request a copy to be emailed or posted to you."
InsureandGo added that if ever clarifications are needed, travellers should not hesitate to talk to their insurance provider.
"Don't be afraid to ask your insurance company any questions you may have and be sure to read your policy's product disclosure statement for full policy details," the insurer noted. "The small percentage of claims that end up being denied are results of travellers not fully understanding the policy they purchased."
Read more: Expert warns of "complexity" around travel insurance as overseas travel opens
7. Keep an eye out for discounts
Insurance companies offer several discounts that can help policyholders save on their hard-earned cash. These include purchasing an annual multi-trip policy if going abroad several times a year rather than buying a single-trip policy each time they leave.
"Discounts and promotions are one of the best ways to save on travel insurance," InsureandGo added. "Keep an eye out for coupons and codes for your chosen travel insurance providers or sign up for their newsletters and follow them on social media to gain access to specific customer deals."
8. Combine policies with a companion
If taking a trip with a companion, travellers can generate substantial savings by combining policies, according to Finder.
"If you join forces to buy combined cover under the one policy, you could access significant savings on the cost of cover," the website explained. "As long as you're both happy with the level of cover the policy provides, this option is an easy way to save money on travel insurance."
9. Choose a higher excess
Opting for a higher excess can help travellers lower insurance rates, but they must keep the amount at an affordable level, InsureandGo advised.
"Increasing or doubling your excesses is a good way to save on your insurance now, but only if you're confident you can cover your excesses later on if you get into an accident," the firm explained. "Alternatively, if you are taking a high-risk holiday [like] skiing, you might be able to remove your excesses completely. Pay a little more now – and save your money if an accident or emergency occurs."
Read more: Allianz warns on rise in 'travel chaos' claims
10. Don't just settle for the cheapest policy
"Cheapest is not always the best" is a recurring theme for each industry insider Insurance Business checked out.
"Compare policies and prices but remember the old adage: you get what you pay for," Fast Cover cautioned. "While it may be tempting to simply scrounge for the cheapest policy you can find, make sure you check for loopholes and exclusions hidden in the fine print that might come back to bite you later."