A Tassie broker and a surprising side of COVID-19 | Insurance Business Australia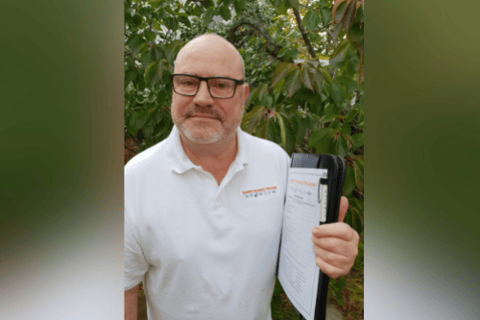 While the states on the mainland reel from lockdown to lockdown, the Apple Isle has so far escaped the Delta variant of COVID-19. The last new case of COVID in Tasmania dates to December last year.
Insurance Business has talked to brokers across Australia as they endure the vicissitudes of lockdowns, remote work and a hard market. So, how are Tassie brokers doing from their splendid COVID isolation? Are they toasting their good fortune with glasses of cool climate Pinot Noir? Or fearfully counting down the days to the arrival of Delta?
"We're so well connected to Victoria I'm amazed that the second wave hasn't got over here," said Neil Luddington (pictured), an account manager based in Hobart with Roberts Insurance Providers.
"I think people are probably too complacent. You very rarely see any masks in the street. I just think we don't think it's going to happen," said the broker.
Read more: How have the on-off lockdowns impacted Victoria's brokers?
Hopefully it doesn't. But what are the business implications for a broker in Tasmania when there's a lockdown in Melbourne and parts of Victoria, like there is now?
The Tasmanian economy is heavily dependent on international and interstate tourism. Roberts Insurance has another office in Swansea on Tasmania's east coast, right in the middle of the tourist trail.
"Those hospitality businesses over there that we've got as clients, they've really suffered, they've really lost their numbers. All the campervans that used to drive up and down that coast, they're just not there," said Luddington.
That means any brokers selling insurance to small businesses in the tourist trade have suffered substantially too.
"Our clients have shrunk and so we shrink as well. Our income's heavily dependent on what they're turnover is to a large degree," he said.
However, the result isn't all bad. Luddington said the insurance industry has moved to the front and centre of many people's lives and its image has improved.
"So I think there's been more awareness and the insurance industry has actually got a good name out there," he said.
Luddington said the insurance companies operating in Tasmania were reasonably flexible about policy payments and claims early on in the pandemic.
"People got payment holidays and stage payments when they normally would be paying a whole year upfront," he said.
One of Luddington's clients independently owns a big, historic five-star hotel. The pandemic has cost him all his business.
"He's always had to pay for all of his insurance up front. He's also got monthly payments, significant sums of money, 60 grand or something. The insurers have been happy to stage all those. So that sort of stuff gives us, I think a positive image for insurance," he said.
Luddington also has clients from mainland Australia who own second homes in Tasmania.
"Those home policies have occupancy rules that you have to visit at least every 60 days or 90 days," he explained. "People couldn't, and again, the insurers were flexible on that and didn't impose anything further on them because people literally couldn't get here."
According to the Roberts Insurance broker, recent workers' compensation claims have also brought out the better side of the industry.
"I think we've seen quite a lot of flexibility on workers' comp claims with people working from home. It's quite hard to determine the boundaries between when you're at work and when you're not at work if you're working at home. I understand that some of the insurers here have been quite flexible on some grey area claims," said Luddington.
Partly because of the Bass Strait, Tasmania is isolated from the rest of the country. Does that mean the big issues impacting the insurance industry on the mainland, from cyber security to rising premiums, are playing out a bit differently there?
Read more: Insurance bosses react to snap lockdown in Queensland
"No," said Luddington. "Premiums are going up and the insurers are running away from anything that's a little bit quirky or a little bit unusual or high risk."
He said he's noticed that cyber security issues are more important to his clients now that they're working remotely and more often online.
"Working from home they probably become more aware of cyber issues," he said. "It was already moving into the SME area, and it is even more now. More small companies are ringing us up asking about cyber and what it's all about."
He said a big insurance issue in Tasmania is the lack of affordable and accessible coverage for rural hotels.
"We've got some lovely old hotels, some of them quite run down, which are from the 1850s, made of wood and 100km from the nearest full-time fire brigade," he explained. "That sort of stuff is getting almost impossible to cover. You always used to be able to cover it at a cost, but we've now got uninsurable risk here. Insurers just want to stay on the straight and narrow with the more standard stuff and not the high-risk stuff."