AAMI 'driving forward' to assess hail damaged cars | Insurance Business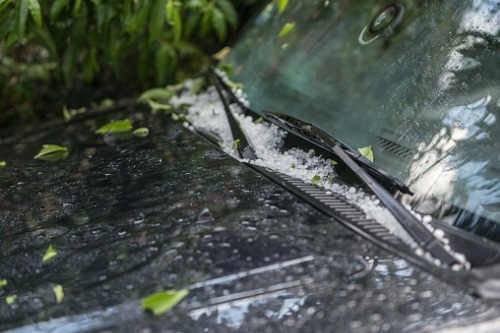 Australia gets soaked. Moving from one extreme to the other, the country still embattled in a bushfire crisis on an unprecedented scale was hit by torrential storms earlier this week. Lightning and rain joined fire and ash in the south-eastern parts of the country, which also saw hail the size of golf balls pummel down on the scorched lands of NSW, ACT and VIC.
Marked as a catastrophe by the Insurance Council of Australia (ICA) and triggering the Australian Financial Complaints Authority's (AFCA) significant event response plan, the storms racked up a hefty bill. An industry insider told Insurance Business that the current total number of claims stands at just around 55,000, while the ICA recently put estimated losses at $320 million. That number is expected to continue to grow.
For residents of hail-hit Melbourne, it was an experience in the extreme. Krystian Seibert, a resident of Hawthorn, Melbourne, told the local Herald Sun newspaper that the hail "sounded like a pinball machine". The resident explained that he was shocked by the events – "I've lived in Melbourne for a long time and I've never seen or experienced something like this," he told the newspaper. Another fellow resident told the national broadcaster that "it was like Armageddon."
Victorian State Emergency Service commander Jackson Bell said crews were assessing the damage caused by the hail. "We've got a number of units out assisting the community to clear a lot of that debris, some of the debris includes things like smashed skylights from rather large hail the size of cricket balls, and it's caused quite a number of damages."
Read more: Revealed - Final property loss estimate for Sydney hailstorms
ICA noted that about two-thirds of the claims were made for hail damage to cars. A quick scan through Google or social media reveals the extent of the damage to motor vehicles. Photos of cars left standing after the destruction show huge dents, shattered windscreens and deformed roofs - but insurance provider AAMI has put its foot on the gas pedal to try and do something about it, and fast.
From helping those affected in the bushfires, AAMI has now turned part of its attention to those affected by the hail.
The insurer has opened a hail assessment centre in Mount Waverley, Victoria, for its clients with storm-damaged cars. It hopes to assess more than 500 hail-damaged cars a day and AAMI spokesperson Angela Wilkinson said the centre had been established to quickly assess and triage all hail-affected vehicles to help clients as quickly and seamlessly as possible.
"We will have both assessors and specialist repairers on site to assess vehicles and determine the best method of repair," said Wilkinson. "This is so we can get the claims process moving as soon as possible, keeping delays to a minimum."
The insurer has set up the centre to ensure its customers can get back to their day-to-day lives, knowing their hail-battered cars and purses are being looked after.
"As with most hailstorms, we are seeing dents and smashed windows on vehicles, and damage to roofs and skylights for homes," Wilkinson said. AAMI is urging customers impacted by the recent storms in Melbourne to lodge their claims as soon as possible.
"We've been experiencing higher call volumes and have ramped up the capacity of our contact centres to ease delays," Wilkinson said.
In a summer of discontent for the country, with thousands of Australians affected by the devastating bushfires and hailstorms heaping further difficulties on citizens, it is important that insurers are firing on all cylinders to help their customers through this difficult time.