Hole in one! McLardy McShane raises $105,000 for FightMND | Insurance Business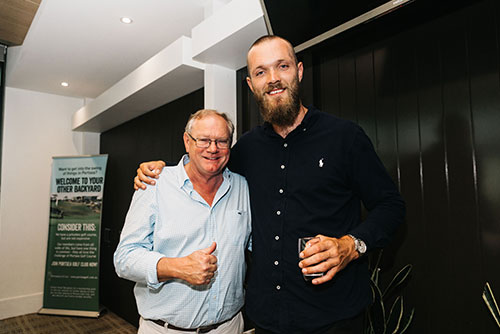 Even if some of the participants may have hit the ball into the bunker, brokerage McLardy McShane delivered a hole-in-one earlier this month, raising $105,000 for a charity working to find a cure for Motor Neurone Disease (MND). Co-founded by former Essendon Football Club player and Melbourne coach Neale Daniher (pictured left in the golf buggy below), FightMND has raised a staggering amount of money in its short history.
On January 10, McLardy McShane hosted its third annual charity golf event at Portsea GC in VIC. Don McLardy (pictured above, right), co-founder and CEO of the brokerage, spoke to Insurance Business about the AFL-centred event and its importance.
"I'm a Melbourne supporter – and we're terrible!" McLardy exclaimed. "But the individual who started FightMND, Neale Daniher, is an ex-Melbourne coach and a friend of mine – the event is all about raising money for his charity, which we love doing."
Read more: Top 10 brokerages 2018
McLardy McShane has been working to raise money for Daniher's charity since its inception in 2017, and this year's golf event was just another incarnation of this effort. Daniher was diagnosed with MND in 2013 but his efforts in raising money have been immense.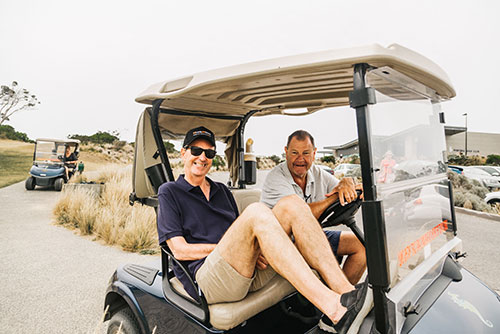 "What Neale has done is quite unbelievable – he's been a remarkable inspiration to everybody," McLardy said. Having raised almost $50 million in around five years, the organisation has been a prominent voice in the campaign for research into the disease. "Neale has dedicated his time to finding a cure for MND, knowing that it won't help him but that it may help others in the future."
This year's event proved to be the most successful yet.
"Over the last three years we've raised just over $250,000," said McLardy. "Each year we have sold out sponsorship and the golfing spots." An invitation-only event, not by design but by sheer popularity, the day managed to procure some of the biggest names in comedy and the AFL to help its effort. Front Bar comedy duo Mick Molloy and Sam Pang presented proceedings while leading AFL journalists Mike Sheahan and Caro Wilson interviewed the CEO of the football league Gil McLachlan and Melbourne player Max Gawn (pictured in the top image, right). A raffle and live auction added more to the donation total, on top of sponsorship and entry fees.
Read more: Five Minutes With… Don McLardy
The theme of the day is two-fold: raising money for a great cause and having some fun. Participants are challenged to beat the score of founders McLardy and Mike McShane to make the duo donate an extra $250 – if you fail to do so, you must put forward an extra $250. The star-studded guests all asked for no fee, while Melbourne's Gawn got married only a week before the event but made sure he was there to support his fellow Demon.
For McLardy McShane, it is also about two things: raising as much money as possible for FightMND and abiding by its ethos to support the communities in which it works.
"One of our basic premises is that we want to be involved in the regions where our branches are and try and give something back to these communities," said McLardy. "It's really a great way to engage in something that is meaningful, but that is also outside of insurance."
McLardy explained that they have no plans to take a pause and will continue supporting Fight MND and trying to make their annual golfing event bigger and better each time. When the money is helping a great cause, and an old friend, it is a simple decision for the brokerage to get involved.
McLardy concluded: "We're pretty good at saying – 'we're very lucky, and we want to give something back'."