The girl from Tully who wowed Lloyd's | Insurance Business Australia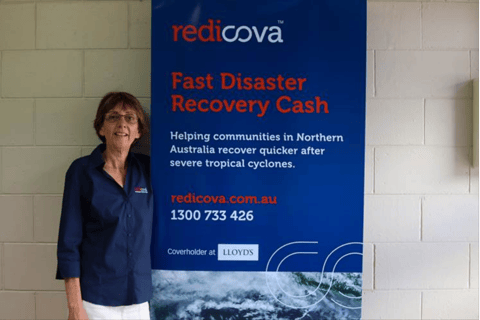 Karen Hardy (pictured), an independent broker from Tully in Far North Queensland recently launched Australia's first retail parametric cyclone insurance product for Northern Australia. Redicova is backed by Lloyd's Disaster Risk Facility (DRF) and doesn't replace conventional insurance coverage but does allow communities impacted by cyclones to receive cash assistance quickly.
But how did a woman from Tully, population 2,000, manage to convince the Mecca of the insurance industry, Lloyd's, to support her idea?
Hardy's first issue was actually getting to London.
"When I had my little epiphany that this is what I wanted to do, I thought, how does a little broker from Tully in Far North Queensland get to London and get heard?" said the Redicova managing director.
She applied for the 2017 Valerie Baker Memorial Award.
Read more: Lloyd's DRF releases retail parametric cyclone insurance in Northern Australia
"The prize for that was actually a couple of weeks at Lloyd's and you got to meet the movers and shakers," said Hardy.
The Valerie Baker Memorial Award recognises excellence in professional practice in the general insurance intermediary sector. Incredibly, she won.
"The judges were blown away by the passion she demonstrated during the judging panel interview," said Sheila Baker, managing director of event organiser Gold Seal. Baker said she expected Hardy to take the London market "by storm."
So Hardy boarded her business class flight for an all-expenses paid trip to the British capital.
Soon she found herself in one of the world's financial heartlands, the City of London, home to the Bank of London, the Stock Exchange and dozens of insurance companies and brokerages, all in the shadow of the iconic St Paul's Cathedral. On Lime Street, the steel and glass architectural mass of the Lloyd's building, completed in 1986, loomed above her.
Hardy was about to fulfill her dream. What were her thoughts?
"F*****g ugly!" she said.
"Honestly! So the whole building is supposed to be built on transparency so there are no walls. It's all just open slather, you can see everyone doing everything."
Hardy said the "amazing building" was not to her taste. She was waiting for Lloyd's to open when something surprising happened.
"I was having a durry [cigarette] and waiting for them to open up because it's obviously all high security. They have doormen and you have to have a pass. Then this bloke turns up in his little van."
He was a falconer hired to keep down the population of rats.
"They actually have a falconer! He comes in with his falcons to get the rats once a week because London is full of rats."
The first time she entered the building she realized something was wrong.
"It was really interesting for me because I missed the missive about dress regulations. So I was like the hick. Back in 2017, it was a black suit and tie and shiny black shoes and women had to have enclosed shoes on and dress nicely – and then there was me!"
Read more: Valerie Baker award winner announced
Lloyd's overlooked the faux pas.
"They were very gracious about it but I don't think they were very impressed. It was a very formal atmosphere."
Hardy said the subdued atmosphere may have also been connected to a recent drinking ban.
"I think they'd had a few issues just prior to that. They'd stopped drinking at work and changed the rules with that so people couldn't go and get smashed during lunch hours and then go back onto the trading floor."
Early in 2017 Lloyd's turned its back on a 300-year-old tradition and stopped staff from drinking during business hours. According to news reports, many employees were angry about the ban, regarding it as heavy handed.
Once inside, Hardy said the office arrangements at Lloyd's are unusual.
"I actually was quite horrified because you're sitting in a box - I walked around a few of the insurers' boxes - that's what they call them, where they actually do the business and they're a metre apart from the bloke next door and you think, Holy moly! You're talking high finance here in some cases and there's absolutely no privacy."
Chris Mackinnon, general representative for Lloyd's in Australia, had arranged for her to meet with the innovations team.
"They set me on my task and said, 'Great idea Karen! But this is what you need to do.' So I came back to Australia and engaged with actuaries and scientists and DXC [DXC Technology] and over the next two years we basically developed the product," said Hardy.
There were still some hurdles to overcome.
"The reinsurers who were going to lead, there was a bit of a kerfuffle because the Australians in those reinsurance entities said, 'No, no, this is too dangerous because of our regulatory environment with consumer disputes and consumer protection.' So it has been a hard slog to secure reinsurance support but we got there."