What will flexible work look like in 2021? | Insurance Business Australia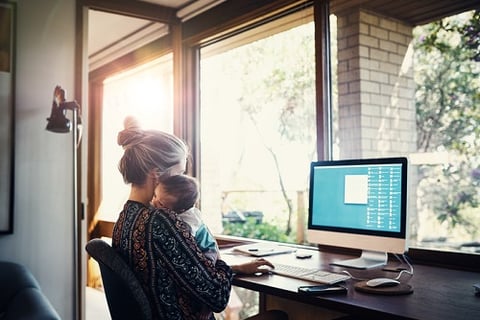 As a consequence of the pandemic, 2020 was truly the year in which flexible working conditions became the norm. For people like Ave Best, operations specialist at Allianz Australia, this shift finally gave others a chance to experience the work approach she has had in place for almost five years.
"I first began flexible work arrangements when I was on maternity leave," Best told Insurance Business. "Due to my son, Deacon, being born with a rare genetic condition called Apert syndrome, I needed to take two years of maternity leave."
Though he's just four years old, Deacon's condition has already seen him undergo 17 separate surgeries. He doesn't have full function of his fingers, is deaf, has a brain injury and is unable to walk long distances, and to help him get ready for primary school this year, Best is, with Allianz's support, temporarily working a reduced number of hours.
"A good flex working arrangement tailored for the individual starts with an open discussion with one's manager," she noted. "In my case Allianz offered 'occasional work' while I was on maternity leave. I was able to work an approved number of hours per week and could increase my hours with the approval of my manager, which suited my circumstances at the time."
Read more: Workplace diversity & inclusion: "We have a very poor understanding"
Allianz recently launched an Accessibility Inclusion Plan (AIP) as part of the insurer's ongoing commitment to building a more accessible and inclusive workplace and society. The five-year plan was developed with the Australian Network of Disability and, according to Best, it "outlines the intention and commitment to be more inclusive of people with a disability, and the plans for how Allianz will accomplish this."
"Allianz's AIP focuses on making their services, products, facilities, technology and workplaces inclusive and accessible," she said. "This approach ensures that dignified access becomes business as usual, allowing the organisation to make a meaningful impact on the lives of employees and customers."
"I believe organisations and their leaders proactively driving flexibility is a drawcard for talent," Best added.
COVID-19 outbreaks notwithstanding, 2021 seems likely to witness a steady return to in-office work for many in the Australian insurance industry. Nevertheless, the pandemic has created a positive shift regarding flexible working arrangements moving forward.
Read next: Is a culture of diversity and inclusion key to success?
"I think COVID-19 has shown us that flexible working, on a large-scale, can be effective," Best remarked. "I've observed more of my colleagues wanting to do a mix of working in the office and working remotely or alter their starting and finishing times. COVID-19 has shown how we have all needed to adapt to different working environments and needs, and it has also given workplaces the opportunity to empower employees through flexibility."
"Our industry needs to continue on the positive path we're on, to be open-minded and agile," she said. "We need to continue to put people first."