Winners revealed at 2022 Insurance Business Australia Awards | Insurance Business Australia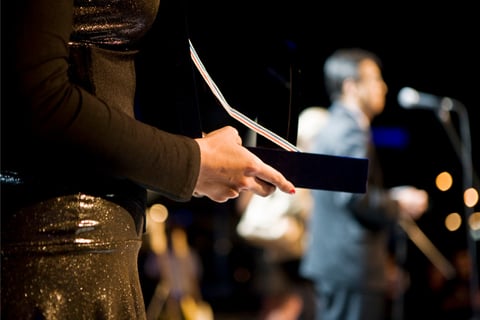 In the glamourous surroundings of Doltone House on Sydney Harbour, the industry's finest have been revealed!
More than 500 insurance professionals, including brokers, authorised representatives, insurers and underwriters enjoyed all the excitement and glitz of the fifth annual Insurance Business Australia Awards. The intense work of the industry's best was recognized in 25 prestigious categories.
The night's fun included a pre-awards cocktail reception, red carpet, dinner banquet and awards ceremony – and, of course, live entertainment throughout the evening.
Comedian, actor and presenter Ed Kavalee hosted the event with his trademark humour and wit. Groove Academy's Party Band kept delegates tapping their feet - if they weren't already on the dance floor.
A few of the night's big winners:
Honan Insurance Group beat stiff competition to take out the QBE Brokerage of the Year for firms with more than 20 staff.
Insurance Advisernet won the Authorized Representative Network of the Year and CHU Underwriting Agencies won the Underwriting Agencies Council Australian Underwriting Agency of the Year.
In the categories for smaller brokerages, Frans du Plessis from Grace Insurance won Broker of the Year and Taela Bloemers from Status Insurance Brokers took out the Young Gun of the Year – Independent.
For the insurers, Allianz won the Blake Oliver Consulting Australian General Insurer of the Year.
See here and below for the full list of both winners and excellence awardees – and be sure to check out the Insurance Business Australia Awards website for more information.
INSURANCE BUSINESS AWARDS AUSTRALIA 2022
Winners
BROKERAGE AWARDS
QBE BROKERAGE OF THE YEAR (20+ STAFF)
Winner: Honan Insurance Group
Excellence Awardees:
Aviso WA Insurance Brokers
CRM Brokers
Interlink Insurance Brokers
Macey Insurance Brokers
McLardy McShane Insurance Brokers
Shielded Insurance Brokers

BROKERAGE OF THE YEAR (6-20 STAFF)
Winner: allinsure
Excellence Awardees:
ARMA Insurance Brokers Hunter Valley
Austbrokers Coast to Coast
Bell Partners Insurance
Clear Insurance
FD Beck Insurance Brokers
Omnisure

BROKERAGE OF THE YEAR (1-5 STAFF)
Winner: Imperium Insurance and Financial Solutions
Excellence Awardees:
Ausure Hospitality
Grace Insurance
Hunter Broking Group
Praden Insurance Broking and Advisory

CHU UNDERWRITING AGENCIES SPECIALIST BROKERAGE OF THE YEAR
Winner: CCM Insurance Group
Excellence Awardees:
Ausure Hospitality
National Credit Insurance (Brokers)
Trade Risk

BEST CUSTOMER SERVICE FROM AN INDIVIDUAL OFFICE
Winner: allinsure
Excellence Awardees:
Aon - Gold Coast
Bell Partners Insurance
Clear Insurance

AUTHORISED REPRESENTATIVE NETWORK OF THE YEAR
Winner: Insurance Advisernet
Excellence Awardees:
McLardy McShane Partners
Oracle Group Australia
Resilium

BEST DIGITAL STRATEGY – BROKERAGE
Winner: Macey Insurance Brokers
Excellence Awardees:
Brokers Online
FD Beck Insurance Brokers
Hunter Broking Group
UpSure

BROKER AWARDS
YOUNG GUN OF THE YEAR – INDEPENDENT (1-19 STAFF)
Winner: Taela Bloemers, Status Insurance Brokers (former Corpsure)
Excellence Awardees:
Austin Rosier, Omnisure
Ben Van Der Merwe, Omnisure
James Wilson, Delmont Insurance Group
Josh Meyer, Avatar Brokers
Ryan Menezes, Elliott Insurance Brokers
Schalk Van Der Merwe, Omnisure
Tate Harris, allinsure

YOUNG GUN OF THE YEAR – INDEPENDENT (20+ STAFF)
Winner: Teighan Carr, Honan Insurance Group
Excellence Awardees:
Douglas Strong, Shielded Insurance Brokers
Jonathan Yogarajah, Gow-Gates Group
Joshua Hawkins, Brookvale Insurance Brokers
Matthew Spann, National Credit Insurance (Brokers)
Tryan Christos, Interlink Insurance Brokers

AXA XL YOUNG GUN OF THE YEAR – INTERNATIONAL
Winner: Nicole Pallavicini, Marsh
Excellence Awardees:
Ben Willis, Gallagher
Georgia Rowley, Aon
Michael Pham, Aon
Pooja Khushalani, Gallagher

BROKER OF THE YEAR (1-19 STAFF)
Winner: Frans du Plessis, Grace Insurance
Excellence Awardees:
Amanda Morris, ARMA Insurance Brokers & Broker Base
Dale Hansen, Austbrokers Coast to Coast
Gavan Burke, Active Insurance Solutions
Tony Sykes, General Insurance Brokers of Australia

BROKER OF THE YEAR (20+ STAFF)
Winner: Eli Tatarka, Scott Winton Insurance Brokers
Excellence Awardees:
Paul Steed, Shielded Insurance Brokers
Simon Gray, Planned Cover
Steve Pappas, Honan Insurance Group
Tim Coventry, Brookvale Insurance Brokers

BROKER OF THE YEAR – SPECIALIST
Winner: Sharon Rutherford, Honan Insurance Group
Excellence Awardees:
Jennifer Steger, Trade Risk
Leanne Murphy, Praden Insurance Broking And Advisory
Scott Curley, Howden Insurance Brokers (Australia)

QBE BROKER OF THE YEAR - AUTHORISED REPRESENTATIVE
Winner: Jen Bettridge, Clear Insurance
Excellence Awardees:
Josh Ryan, Hunter Broking Group
Matthew Bates, Bell Partners Insurance
Peter Chamberlain, allinsure
Scott O'Neill, CP Insurance Services
Tate Harris, allinsure

INSURER AWARDS
GENERAL INSURER BDM OF THE YEAR
Winner: Tom McDonald-Phan, QBE Insurance
Excellence Awardees:
Jayden Hinshaw, Hollard Commercial Insurance (former)
Lachlan Bailey, Vero
Marilyn De Francesco, Allianz

UNDERWRITING AGENCIES COUNCIL UNDERWRITING AGENCY BDM OF THE YEAR
Winner: Jessica Jenkins, Brooklyn Underwriting
Excellence Awardees:
Chris Varkoly, ProRisk Underwriting
Colum Williamson, NTI
Harry Hill, CFC Underwriting
Jackie McCarthy, Underwriting Agencies of Australia
James Lee, Emergence
Scott Allen, CHU Underwriting Agencies

BLAKE OLIVER CONSULTING AUSTRALIAN GENERAL INSURER OF THE YEAR
Winner: Allianz
Excellence Awardees:
Berkley Insurance Australia
Vero

UNDERWRITING AGENCIES COUNCIL AUSTRALIAN UNDERWRITING AGENCY OF THE YEAR
Winner: CHU Underwriting Agencies
Excellence Awardees:
Accident & Health International Underwriting
ARAG Australia
Emergence Insurance
High Street Underwriting Agency
MECON Insurance
ProRisk Underwriting
Strata Unit Underwriters

AAMC GENERAL INSURER CLAIMS TEAM OF THE YEAR
Winner: Vero
Excellence Awardees:
Allianz
Berkley Insurance Australia
Zurich

WILBUR UNDERWRITING AGENCY CLAIMS TEAM OF THE YEAR
Winner: Woodina Underwriting Agency
Excellence Awardees:
DUAL Australia
FTA Insurance
NTI
ProRisk Underwriting
Underwriting Agencies of Australia

DUCK CREEK TECHNOLOGIES BEST DIGITAL STRATEGY – INSURER
Winner: Blue Zebra Insurance
Excellence Awardees:
Agile Underwriting Services
CFC Connect Cyber Platform
DUAL Australia
Emergence Insurance
High Street Underwriting Agency
ProRisk Underwriting

BEST SERVICE PROVIDER AWARD
Winner: Crawford & Company Australia
Excellence Awardees:
AAMC
Arteva Funding
DXC Technology
Gallagher Bassett
Hello Claims
Innovation Group Australia
Stelvio Australia
Wotton + Kearney

NATIONAL AWARDS
AUSTRALIAN BROKER OF THE YEAR
Winner: Jen Bettridge, Clear Insurance
Excellence Awardees:
Eli Tatarka, Scott Winton Insurance Brokers
Frans du Plessis, Grace Insurance
Sharon Rutherford, Honan Insurance Group

SMART NINE AUSTRALIAN BROKERAGE OF THE YEAR
Winner: CCM Insurance Group
Excellence Awardees:
allinsure
Honan
Imperium Insurance and Financial Solutions

KONA RECRUITMENT AUSTRALIAN YOUNG GUN OF THE YEAR
Winner: Nicole Pallavicini, Marsh
Excellence Awardees:
Taela Bloemers, Status Insurance Brokers (former Corpsure)
Teighan Carr, Honan Insurance Group