ANZIIF lifts lid on new ESG award | Insurance Business Australia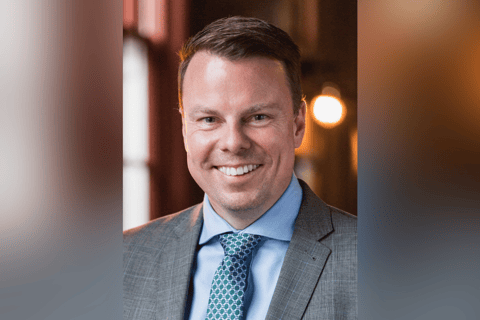 The recent Australian and New Zealand Institute of Insurance and Finance (ANZIIF) 2022 Australian Insurance Industry Awards, saw the introduction of new awards categories. One of them, the Excellence in Environmental, Social and Governance Change (ESG) prize, recognised outstanding ESG business strategies and practices.
QBE won the award ahead of finalists Honan Insurance, Insurance Australia Group (IAG), and Swiss Re.
"This is a testament to the hard work that's gone on across the whole organization over five years to really embed our ESG values across QBE," said Sue Houghton, CEO of QBE Australia Pacific as she accepted the prize.
Insurance Business asked Damian Falkingham (pictured above), ANZIIF's general manager of industry engagement, what prompted the new award?
"ESG is such a huge topic right now with so many companies working through how ESG issues affect their business's strategies and practices," he said. "ANZIIF wanted to showcase how organisations within insurance sectors have significantly contributed to the ESG development in Australia and New Zealand over the past 12 months."
He said by raising awareness through the new award, ANZIIF hopes companies who have not started their ESG journeys realise its significance. He also sees the award as a way for the insurance sector to show the community its ESG investment.
Read next: Delegates delighted by ANZIIF's 2022 Australian Insurance Industry Awards
Falkingham said the award criteria specifically focussed on the environmental strategy of companies across different verticals and size.
"It was great to see the initiatives these companies have undertaken and how they are reducing their environmental impact," he said. "This shows that the insurance sector is taking this seriously and wanting to evoke change."
The criteria were developed together with experts in ESG which also provided, he said, "some great learning" for ANZIIF. He expects the criteria to be continually refined for the awards in years ahead.
Falkingham said all the submissions for this year's award demonstrated commendable progress in understanding what's required to become sustainable and ethical in today's world.
"Including how ESG is linked to their overall strategy, policies they have in place and are developing, initiatives and measures they have put into action and how they have engaged with their people, customers and businesses."
The ANZIIF general manager said QBE was a standout in the category because it clearly presented all the policies embedded into its business to achieve ESG sustainability.
"QBE's proactive approach aiming to target 100% renewable electricity sources across its global operations by the end of 2025 was clear and concise," he said. "It is one thing to commence this journey, however QBE has done a great job in communicating awareness and education of sustainability issues through workshops and online resources and for setting minimum sustainability expectations for suppliers, partners and clients."
Across 17 categories, a range of industry players were recognized for their achievements during an Oscars style awards ceremony.
The evening kicked off after foyer drinks with an indigenous welcome from David Barnett. He reminded guests that they were sitting in a very ancient location familiar to Australia's first human inhabitants.
"About 60,000 years ago, I've been told by scientists, Sydney Harbour was basically a creek up Parramatta river, so we would have walked across it," said Barnett, a descendant of the Dhurag and Derrubbin nations along the Hawkesbury River region of NSW. "So, welcome on behalf of all of our people and I hope you have an awesome night."
Read next: Insurance Business Australia Awards: Highlights from a night of triumphs
Prue Willsford, ANZIIF's CEO, started her welcoming address by observing the 100s of assembled guests.
"Well, well, well! Look at this room, you look fabulous!" said Willsford, who also looked fabulous in her chocolate velvet suit. "It is so good to have the gang back together."
Comedian and writer, Craig Reucassel, best known for his work with The Chaser, hosted the night with witty aplomb.
ANZIIF's awards were followed by another huge industry event last week: the 2022 Insurance Business Australia Awards at Doltone House on Sydney Harbour.
More than 500 insurance professionals, including brokers, authorised representatives, insurers and underwriters enjoyed all the excitement and pizazz. The intense work of the industry's best was recognized in 25 prestigious categories.
The night's fun included a pre-awards cocktail reception, red carpet, dinner banquet and awards ceremony – and, of course, live entertainment throughout the evening.
"It can't be understated just how important it is to extend external recognition to those who strive for excellence in their professional field," said James Toth, founder and director of Kona Recruitment (Kona).