AUB makes New Zealand performance a strategic priority | Insurance Business New Zealand
AUB Group Limited, an ASX 200-listed insurance group that defines its strategic priorities on a yearly basis, has included improving the group's performance in New Zealand as one of its top priorities for the year ending June 30, 2023 (FY23).
When AUB reported its FY22 financial results back in August, the New Zealand broking division posted a 15.3% decline in underlying pre-tax profit. The result was mainly attributed to the underperformance in brokerage BWRS (BrokerWeb Risk Services) and to millions in costs related to AUB's technology investment dubbed as 'Project Lola'.
BWRS, 50% of which was first acquired by AUB in 2014, became wholly owned by the insurance group in 2019. In FY22, as part of an ongoing remediation, multiple branch managers were replaced while new brokers were also appointed.
Last week, at AUB's annual general meeting (AGM), chief executive and managing director Mike Emmett (pictured above) told attendees: "Good progress has been made with the transformation of BWRS with a new team of branch managers, and many new brokers and team members are now on board with a focus on business growth."
New Zealand focus
At the AGM, Emmett outlined the FY23 strategic priorities of the group. "Each year we define and describe execution priorities for the year ahead," noted the CEO. "For FY23, we highlighted the following: improve and enhance New Zealand performance; leverage Tysers; optimise our network; execute on strategically aligned acquisitions; [and] enhance our partner proposition.
"While I won't go through each of these, I would like to highlight the key role that Project Lola in New Zealand will play in transforming our proposition to members of our broking network and our engagement with insurers."
Read more: NZbrokers CEO on where to add value
In AUB's view, the "substantial" investment in the project will provide future revenue and margin opportunities by implementing what Emmett described as a market-leading broking and insurance platform in New Zealand. The goal is to digitise and significantly enhance sales and policy management processes while providing brokers access to growth insights.
For FY23, high on the agenda is the successful pilot implementation of Project Lola. This includes interfaces to select insurers, as well as the commencement of rollout to the NZbrokers network. Also spanning the NZ focus is the accelerated revenue and profit growth for AUB's portfolio of brokers in the country.
Beyond Kiwi shores
Outside New Zealand, the company's priorities include leveraging London-based Lloyd's wholesale broker Tysers, which came under AUB ownership in September.
"The acquisition of Tysers provides a number of significant transformational opportunities to the group, most notably to enhance our offering to clients and our network of brokers and agencies to access the Lloyd's insurance market and to substantially increase our ability to leverage benefits of scale and value capture," declared Emmett, who is pictured below with Tysers CEO Clive Buesnel.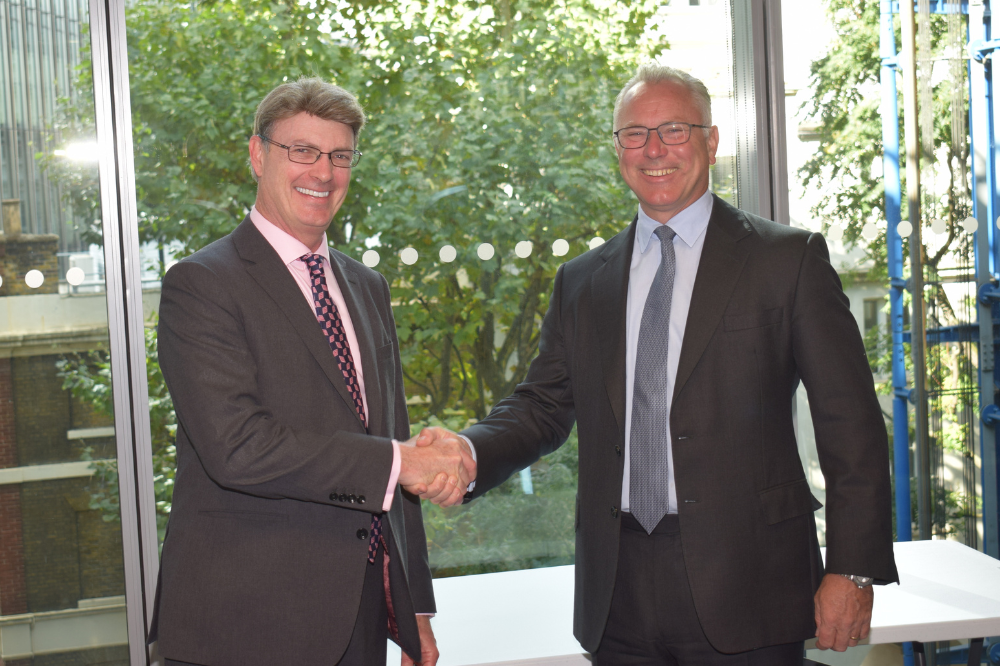 According to AUB, the UK transaction is poised to deliver AU$25 million in margin enhancement and cost synergies, on a run-rate basis, by the end of FY24.
"AUB Group is performing very pleasingly, and early signs are that Tysers is an excellent asset that will more than deliver the strategic and financial benefits anticipated at the time of acquisition," added Emmett.
The chief executive also highlighted that AUB's overall performance in FY22 was underpinned not only by continued momentum in the Australian broking division but also by BizCover's growth and profitability.
"This has been another eventful year and another good year of performance from businesses across our diverse group," he said at the AGM in Sydney.
"It would be remiss of me not to recognise the continued challenges our clients and our teams are experiencing, having moved very rapidly from a period of COVID-lockdown to a period of rising inflation, supply chain challenges, and clients faced with catastrophic climate-related events. Despite these challenges and the broader economic environment, our teams continue to deliver excellent results."
For the current financial year, AUB is forecasting its underlying net profit after tax to be somewhere between AU$107.5 million and AU$115 million. The earnings estimate, which is higher than the FY22 result, includes Tysers and group debt costs.