"There's a lot more to insurance than people realise" | Insurance Business New Zealand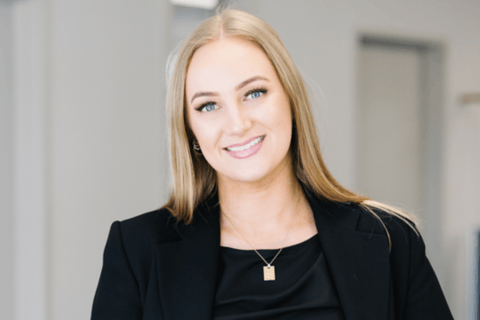 Broker Coral Stroud (pictured) had planned to work in insurance for only six months; now, more than six years later, she's telling Insurance Business what she loves about being part of the often-misunderstood industry.
Daughter of a liability manager, the sociology and criminology graduate recalled: "I wasn't really sure what I wanted to do. I thought, you know what, maybe I'll just work for six months, save some money, and then go to an OE (overseas experience) or something like that… My dad has been in the insurance industry for 40 years or so, and my sister followed in his footsteps.
"I didn't want to work with my dad, so I said: 'Do you know anyone that I could get a job with?' He said 'yes' and then put me in touch with Aon, so I started working there. Suddenly, it's been nearly six and a half years, and that little admin job turned into a claims job, which then brought me to Hamilton [from Auckland]."
Currently, Stroud works as an insurance broker at Bridges Insurance Services, having previously served as claims consultant and broker support. Come March 2023, she will have been with the NZbrokers member for five years. Among the Rising Stars 2022, the 27-year-old believes there are both pros and cons of being a young insurance broker.
"Definitely something that I struggle with being a younger broker is when you have to deal with people that have been business owners for 30, 40 years, and they have a very different mindset," Stroud told Insurance Business. "[It's hard] when someone's been in the business for 30 years and they've never had a claim, and you're trying to say they need this cover. I always find that it's less of an issue with young people, because I feel like there's more trust in our relationship.
"When someone's trusting you with their finances as a broker, there needs to be that trust there. You need to trust that they're telling you all the information, and they need to trust that you're going to properly insure their business. So, that can be something to struggle with a little bit with existing clients who had established relationships with brokers [before me]."
Read more: Rising star on insurance broking: "Give it a go and give it your all"
It's no surprise, then, that Stroud enjoys working with start-ups and young entrepreneurs, with a view of growing with them and their business. She is also particularly keen when it comes to technology liability, seeing it as an opportunity not only to help insurance-wise but also to learn about innovations.
"I'm all about educating people on insurance, especially people that have just set up a new business," shared Stroud. "I'm saying to them: 'Look, this is where your risk is, this is where we see a lot of claims, these are some claims examples'. A lot of times they just get insurance because they have a contract and have been told they have to have this certain cover to work on the site. Then they're saying: 'But why do I need it', and I'm explaining to them why they need it and getting to educate them.
"Especially because I did work in claims for about four years, I can give them examples and say: 'I've seen this, this is how we dealt with it, this is what you can look out for, this is how you can protect your business'. I've had clients who are robotics engineers and they're making autonomous vehicles and things like that, so it's really cool because they get to educate me on what they do. I love that side of things, just continuous learning. In turn, I can educate them on where I see their risks lie."
That isn't to say, though, that Stroud doesn't want to work with older clients. In fact, she'd like to be able to educate more people, if she could, in terms of what insurance offers and essentially reversing the industry's negative reputation.
Read more: Time for an insurance industry rebrand?
"It can be such a hard thing to explain to a client that they have to look at the whole bigger picture," she lamented. "When insurers pay out claims, where do they get that money from? They have to collect clients' premiums. That's definitely something that, as brokers, we are struggling with in today's market, is explaining the price to clients because everyone's tightening their pocket.
"It's definitely something that I think, as brokers, we do need to educate our clients on more. And just people in general, to receive a little bit more education on insurance and the way that society as a whole relies on insurance to function, because if there wasn't insurance, so many people would become displaced and be in worse-off situations."
Right now, Stroud – who earns satisfaction from knowing that her clients are properly insured and that she has done the best job she can – said she tries to educate one client at a time.
The broker told Insurance Business: "I think people view insurance as being an unnecessary evil… At the moment I'm trying to do it one client at a time, but it would be good if there's a way that we can educate larger groups of people all at once to remove this perception of the insurance industry. I think there's a lot more to insurance than people realise."