Coversure financial adviser on what "you can't fake" | Insurance Business New Zealand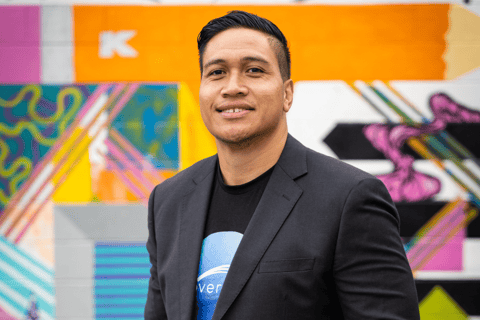 Fifteen (15) years ago, Tavita Milo (pictured) got his start in insurance in a classic case of falling into the industry. Now, the Coversure financial adviser spends his days 'not faking it' when it comes to building relationships with clients and making sure they have airtight coverage.
An AA Insurance alumnus, Milo finds fulfillment in putting together protection plans based on those client relationships – a role that does not seem to rattle the 35-year-old one bit.
"We like to solve problems for other people, but it's not stressful," Milo told Insurance Business. "And with all the new regulations that the government has brought out, we're on top of that, we're compliant. We love going out and connecting with all sorts of people.
"So, I think the job itself, the product side of it, you can say it's boring – but by the end of it, when we get to know people and their families and how we can protect them and serve them, that's really the satisfaction of the job. So, [it's] not stressful at all."
As for the lead generation aspect of the job when Milo was just 'finding his feet' when he came onboard Coversure about three years ago, the financial adviser said it quickly dawned on him that he didn't need to look too far.
Read more: Insurance stalwart "genuinely never thought about doing anything else"
Turning to people from his church, rugby club, and gym, Milo asserted: "You serve those people you know and then those people will tell other people, and then having the courage to actually ask people for referrals and say, 'Hey, do you know anyone out there that would benefit from my services and would like to have a chat about insurance?'"
Milo, sharing his approach, added that there are no presentations or the like when he first meets with clients. For the father of three (including twins born less than a week ago), it's all about knowing the insured and building the relationship.
"Most of my first meetings with clients, we just have a coffee or a beer or wine or whatever, and then we just talk about life and their families and then about insurance," he noted. "We don't even bring the laptop out or any kind of application forms, nothing. The next meeting, then we start doing that.
"It's building that relationship, building that trust with the client. But you've got to do it genuinely; you can't fake it… And it's a two-way street – you've got to share as well."
Read more: Rising star on insurance broking: "Give it a go and give it your all"
In Milo's view, he is privileged to be trusted by his clients.
"Especially in the insurance industry or financial services, you get a lot of access to people's private information that it's a privilege for you to sit across from them," Milo told Insurance Business. "I take it as a privilege, and I don't take it for granted that these people are sharing the most private information they don't even share with their parents or their other close family.
"You genuinely have to take that wholeheartedly and do your due diligence and make sure you're providing them with the right cover so that when they do need insurance, that there's no guessing game… We've got to do all the checks to make sure that the cover is foolproof. We've created this culture of making sure we do it right the first time."
Moving forward – particularly starting March 17 next year, when those providing financial advice must either hold or operate under a full licence – Milo believes there is going to be a "massive opportunity" for the qualified ones like himself.
"There's a big clean-up in the industry at the moment," declared Milo, who pointed out that the number of financial advisers will drop. "Come March 2023, unless you are [New Zealand Certificate in Financial Services] Level 5-qualified, you can't give advice anymore… It benefits us because it actually makes you a better adviser.
"If you don't take the time to actually learn the different laws and the different steps that it takes to become a financial adviser, then chances are you won't take the time to go through your clients' information they've given you and then set up a good protection plan for them."