Do New Zealand builders and renovators need contract works insurance? | Insurance Business New Zealand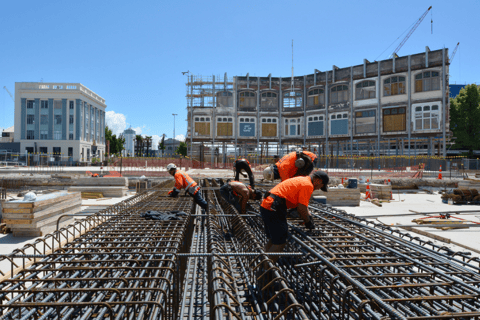 With the COVID-19 pandemic triggering a renovation boom among property owners in New Zealand, lack of proper coverage during the remodelling process has become a major source of risk, a recent survey conducted by insurance giant AMI and market intelligence firm Ipsos has found.
The poll, which was participated in by a national representative sample of 536 homeowners, has revealed that more than half, or 54%, of the 170 respondents who took on home improvement projects in the 18 months ending in November 2021 did not consider taking out contract works insurance (CWI) and a further 14% were in the dark about what this type of coverage really is.
Read more: Renovation boom could leave homeowners underinsured – AMI
"Homes undergoing major renovations enter a phase of being less structurally sound, which is why most home insurance policies have exclusions in place when homes are being worked on," said Wayne Tippet, executive general manager of claims at AMI. "Contract works insurance is there to cover any damage caused while your home is structurally more exposed to risks."
Tippet added that homeowners should put "their insurance needs top of mind" – especially with the survey results showing that 62% of renovators were planning further improvements to their homes this year – noting that getting CWI should be among their priorities.
What is contract works insurance and how does it work?
In New Zealand, contract works insurance is called by several other names, including builders risk cover, construction insurance, and contractors all risk coverage, but the purpose remains the same.
North Island-based building design company Summit Homes defines CWI as "indemnifying the policyholder(s) for sudden, unforeseen, and unintended physical damage or loss to the contract works during the period of insurance."
Simply put, contract works insurance covers the cost of repairing or redoing ongoing construction or renovation projects damaged by an insured event such as fire, theft, or vandalism.
Read more: Report suggests mandatory insurance for new home builds and major renovations
Policies pay for up to the coverage limit, added Summit Homes, noting that the limit should accurately reflect the total completed value of the structure, including materials and labour costs but excluding land value. The design firm also said that the best way to determine the appropriate limit of insurance is by looking at the construction budget.
Most policies end on practical completion of the works, when any part of the works is occupied or used by the owner, on the expiry date shown in the policy, or whichever comes first.
Who arranges contract works insurance?
For new home constructions, the contract will typically require the builder to arrange coverage to cover any property that is being built, according to the Department of Building and Housing's website. But when the work undertaken is for an existing structure such as home renovations and extensions, the building contract will typically require the homeowner to arrange the contract works insurance.
What does contract works insurance cover?
A contract works insurance policy provides coverage for sudden and accidental loss or damage to the construction or renovation project caused by an insured event. These perils include fire, theft, burglary, construction collapse, flooding, or storms. Damages caused by natural disasters such as earthquakes, landslips, and tsunamis are typically not covered but can be included as an add-on.
Damage to construction equipment and tools are also not usually covered, as are faulty workmanship and materials, which are covered by professional liability insurance. Consequential loss or losses due to delay, penalties, and liquidated damages, and damage to existing property, unless it has been specifically agreed upon to be included in the cover, are likewise excluded. CWI also do not provide protection if the builder fails to complete the work. An independent building guarantee is needed for this type of risk.
Read more: Insurer warns builders and tradies about break-ins and theft
Insurers in New Zealand providing contract works policies
The table below shows some insurance companies in the country offering contract works insurance, along with what their policies cover.
Insurer/Policy name

Coverage

AMI Contract Works Insurance

Existing structures
Building materials
Loss in transit
Professional fees
Speedy recovery
Inflationary increases in the cost of labour and building materials
Demolition and clean up
Reinstatement of insurance

Aon Contract Works Insurance

Physical loss or damage to residential/domestic home building projects being completed

* Registered Master Builders Association (RMBA) partner insurance broker

ASB Contract Works Insurance

Loss and accidental damage while building work is being done
New builds or structural alterations to the current house
Building materials, equipment, and tools being transported to the building site

Chubb Construction All Risks – Builders Risk Insurance

Contractors' plant and equipment
Delay in start up
Non-negligent liabilities
Public liability

FMG Contract Works

Principal's supplied materials
Increased costs during construction
Professional fees
Escalation during reconstruction
Natural disasters, including earthquake, volcanic eruption, tsunami, hydrothermal activity, and landslip (optional)

MAS Contract Works Insurance

Damage to structures in construction
Materials on site
Materials in storage
Transit of materials
Professional fees
Increased costs
Demolition and disposal
Maintenance period
Damage to existing structures

NZI Construction Insurance

Contract works single project: For one-off projects; includes liability cover
Contract works - erection all risks: Loss arising from erecting, installing, and testing plant machinery and equipment
Contract works annual: For builders working on several projects throughout the year
Advanced consequential loss
Contractor's plant and machinery
Machinery breakdown
Machinery breakdown business interruption
Stock deterioration
Electronic equipment
Total development: For property developers

QBE Contract Works

Transit
Materials in storage
Expediting expenses*
Removal of debris*
Professional fees*
Increased costs during construction*
Increased costs during reconstruction*
Protection costs*
Testing and commissioning of machinery
Temporary buildings*
Road reconstruction (annual policies only)

* Payable in addition to the sum insured

State Contract Works

Materials and equipment on the construction site
Construction and maintenance period
Materials in transit
Professional fees
Increased costs during construction
Reinstatement of insurance
Removal of debris
Optional extension for temporary buildings

Vero SiteCover

All permanent and temporary works to be executed
Principal supplied goods
Removal of debris
Professional fees
Increased costs during construction
Increased costs during reconstruction
Maximum liability

Zurich Construction Insurance

Construction all risk: Unexpected material damage or loss on-site
Erection all risk: Unexpected physical damage to the contract works of projects predominantly consisting of the assembly or installation of machinery, plant, equipment, and steel structures
Delay in start up
Advance consequential loss
Advance loss of profits
Third party (public) liability