Kaikoura anniversary one month out | Insurance Business New Zealand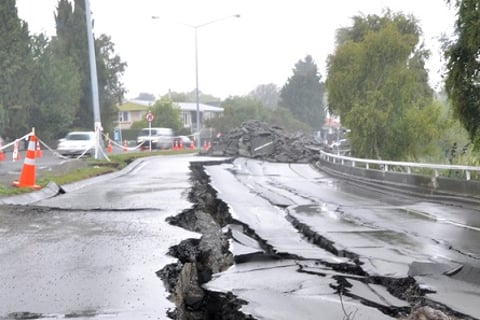 We're one month out from the first anniversary of the Kaikoura earthquake that caused extensive and significant damage around the Kaikoura area and central Wellington. We look back at what's happened over the last two months leading up to the anniversary.
Last week, Insurance Business reported that
Statistics House, owned by CentrePort, had finally been given the go-ahead to be demolished
. The five-storey building has been empty since last November's earthquake, with Statistics New Zealand staff housed in temporary offices around Wellington.
CentrePort also announced last week that it
expected to receive $456 million in insurance income
for the 2018 financial year ending June 30, 2018. It also announced via its 2017 financial results that it had received $173 million in insurance income, as well as $9 million in additional business interruption cover.
Earlier this month, The National Carriers' Association and the New Zealand Shippers' Council (NZSC) protested against a levy Napier Port is
charging truckies to deliver and collect freight from the port
. Napier port
defended the levy
saying it was impossible for it to absorb the additional $2 million in insurance premiums into its business.
As of October 1, Napier Port will charge $0.47 per tonne delivered or collected from the port. For customers shipping containers, this equates to an average of $8.25 small shopping container (20-foot equivalent). The port said the insurance cost hike was down to the damage national ports suffered during the Canterbury and Kaikoura earthquakes.
A month ago, Insurance Business reported that the Insurance Council of New Zealand (
ICNZ
) said insurance providers were committed to getting
90% of Edgecumbe claimants affected by flood water back into their homes by Christmas
.
ICNZ CEO
Tim Grafton
said providers were confident that most flood settlements, and most earthquake settlement offers, would be completed by the end of 2017.
ICNZ also announced last month that the cost of the Kaikoura earthquake to its members, with claims to August 31, 2017, was already totalling more than $2 billion. The majority of losses were from commercial claims, $1.48 billion, with residential claims coming in at $550 million. ICNZ confirmed that $420 million in commercial claims had already been partially or fully settled. ICNZ has 26 members which include major insurance providers and reinsurers.
The National Road Carriers Association said in August that truckies were "key players" in averting an economic disaster after the November 14 earthquake.
The earthquake dramatically disrupted the movement of freight between the North and South Islands with rail disruptions and a section of SH1 being badly damaged – the main route between Blenheim and Christchurch.
The Association said it put extra trucks on the road and kept the flow of goods and freight going by responding to the sudden escalation in demand for road freight transport's services.
"We've continued to supply Christchurch and the rest of the South Island with very little disruption, yet the extra time and effort has been colossal," the Association's spokesperson said.
Related stories:
CentrePort predicts $456 million insurance income for FY2018
Stats House to be demolished