Jump to winners | Jump to methodology | View PDF
INSURING A RISK-RESILIENT FUTURE
The world can be a dirty place. Left unchecked or uninsured, pollution events can lead to high cleanup costs and legal expenses as a result of historical or ongoing contamination.
According to AXA XL, there are four areas of concern for the environmental insurance industry going forward. First, there's damage from extreme weather. Not expected to diminish anytime soon, climate change-driven events frequently lead to the release of pollutants, increasing exposure to cleanup costs and other environmental liabilities. Second, there are chemicals. Litigation in 2018 regarding a popular weedkiller has led to similar litigation of PFAs, also known as 'forever chemicals,' which have been found in many household products.

Rounding out the quartet of trends are airborne diseases, such as Legionnaires' disease, and mold. To address similar concerns, Insurance Business UK hosted a roundtable discussion in April featuring leaders in the field. Two of the participants were Emilie Walsh, partner in environmental liability at McGill and Partners, and James Alexander, environmental practice leader at Lockton Companies.

After starting out as an environmental consultant, Walsh switched to insurance to focus on environmental liability 10 years ago. Since 2019, she's been with McGill and Partners, based in London but operating internationally.

"It has been a growing insurance sector over the past two decades, as drivers for environmental insurance are on the rise," she says. "But in the last year I have seen a steep change in the general awareness and prioritisation of environmental issues. So, by default, we are seeing more value being placed on our products.

"Walsh thinks clients and brokers need to be educated more on what environmental impairment liability (EIL) insurance is and the gaps in pollution coverage in their existing property & casualty insurance programmes.

Meanwhile, Alexander characterises the UK environmental insurance sector over the past year as "vibrant, diverse, positive, problem solving and rapidly maturing despite the relatively low gross written premium compared to other lines. The post-pandemic environmental, social and governance [ESG] renaissance could be the tipping point for wider uptake."

Walsh believes that in the near future, the general liability market could tighten as underwriters price for or remove sudden and accidental pollution cover. For her, this is a crucial distinction between the UK market and the "more mature" US market, where insurers are less likely to include pollution coverage.

"This, teamed with more prevalent regulatory enforcement, drives wider purchase of the specialist cover," she says.

"This is particularly the case in higher hazard industries like mining, up- and downstream oil and gas, and waste management operations. The London environmental insurance market will likely see more opportunity to fill this gap in the non-US space.

"Alexander believes that "[in the near future], we will see technical innovation and application of big data increase both in availability of insurance with the potential for natural damage claims increasing in a parallel trajectory".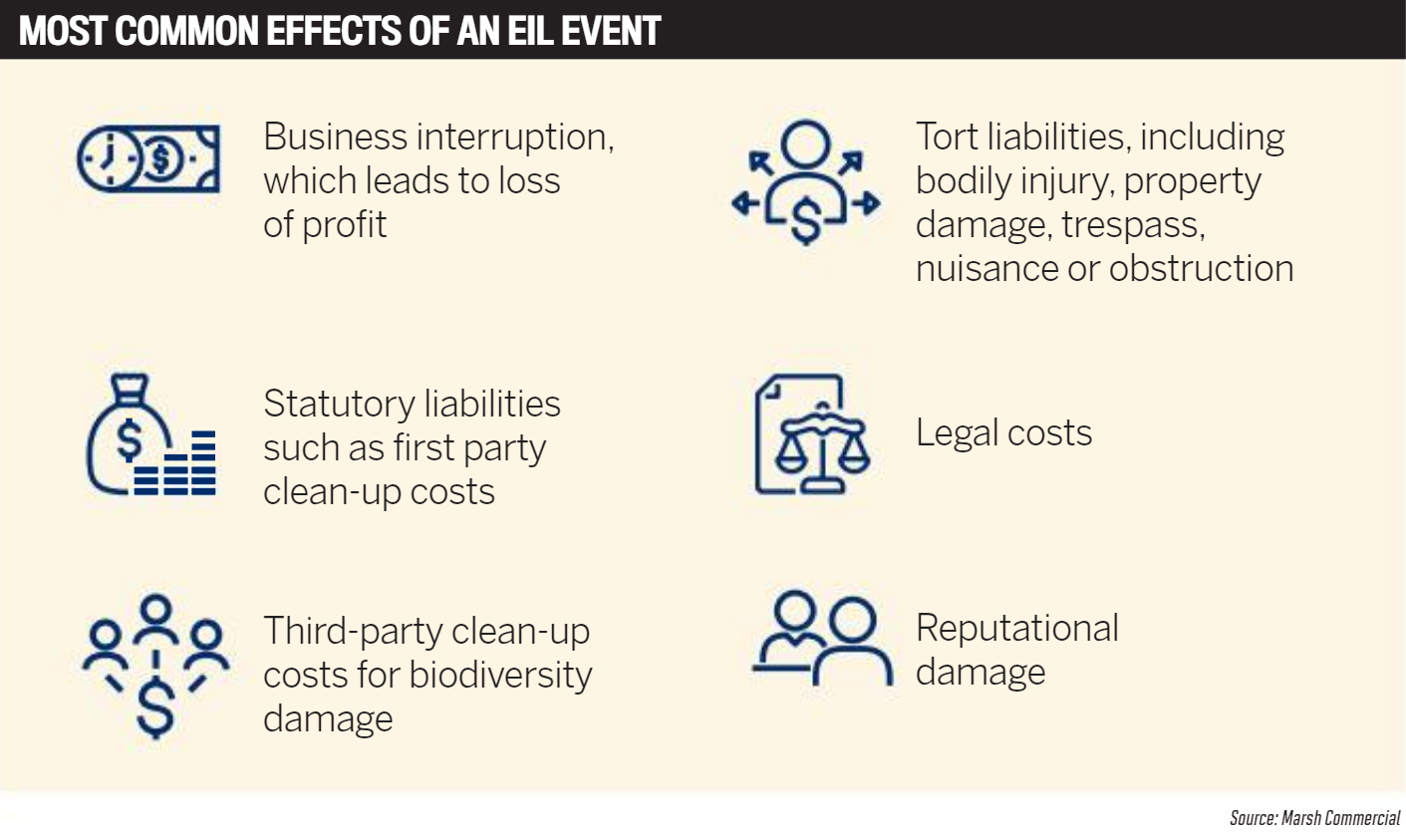 Growth of policies and claims
When it comes to trends in environmental insurance, Alexander says he's seen stable premiums and slightly tighter coverage, but the changes have been bigger in the US than in the international market.

"Premium remains stable, coverage is slightly tightening, bigger changes in the US compared to the international market," says Alexander. "Loss trends are large on some large premises policies, following regulation and tighter enforcement intervention levels.

"Walsh says claims are still predominantly for catastrophic situations, which don't happen regularly, but as the number of policies increases, so does the number of claims. Examples include claims for fuel storage leaks, waste recycling centre fires and brownfield site remediation, including odour issues. She also notes claims related to per- and polyfluoroalkyl substances in the US.

And of course, climate change (CC) is an ever-present concern in the environmental insurance sector. "Severe weather events and conditions can be attributed to CC, and these in turn cause or exacerbate pollution conditions," says Walsh. "As clients start thinking more seriously about their impact on the environment, they also think about their environmental damage and pollution exposures and therefore consider potentially transferring liabilities.

"The ESG factors are worth mentioning and clarifying. Because it has the word 'environmental' in it, people often think there is a direct link with environmental liability. However, ESG requirements do not necessarily translate into a liability. As corporations look to report on these matters and take action to improve the E in ESG, this might more clearly identify their risks and therefore liability, which in turn opens conversations about environmental insurance."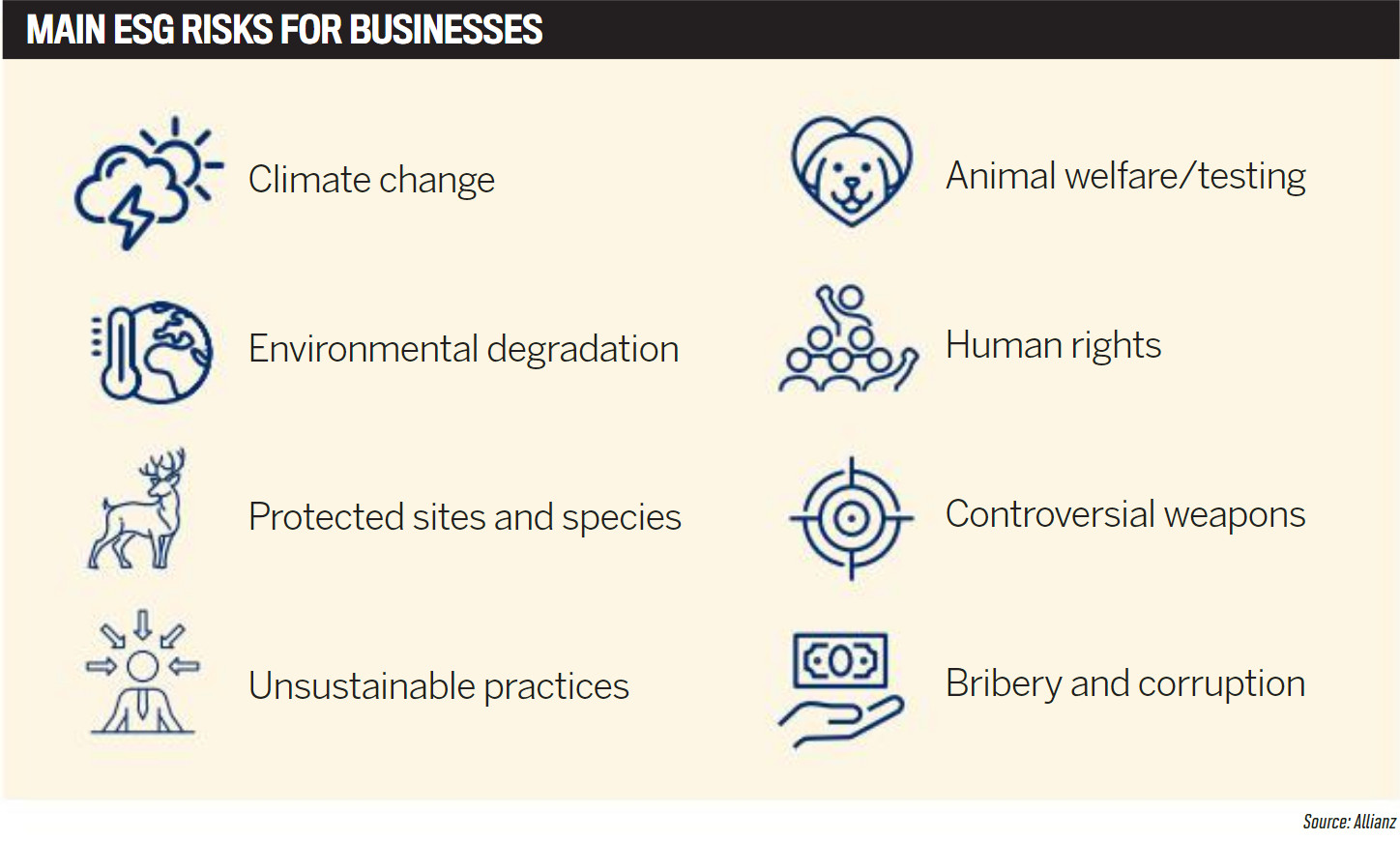 What brokers are looking for
For this year's issue of the 5-Star Awards in environmental insurance, IBUK surveyed hundreds of brokers on what types of coverage were most important to them. Leading the pack is EIL at 91%.

"Indirectly, CC means more pollution events and therefore a risk driver to buy environmental liability insurance, but this has not necessarily translated into a significant uptake of EIL policies," says Walsh.

"EIL policies are, and have been, paying claims for CC-derived pollution events for many years," says Alexander. "It's the existential threat to biodiversity from CC that many are still ignoring. Exclusionary ESG values have a larger effect on liability markets than the EIL markets." He also says EIL is most critical for enabling business activity.

"Our biggest challenge is the prioritisation of EIL insurance," says Walsh.

"In a hard market, in which we arguably remain, the price increases on the larger insurance programs — property and excess casualty — means that we are even further down the list of insurance priorities. However, this also represents an opportunity where clients can look to other products to alleviate risk transfer costs.

"In second place is historical pollution coverage (pre-existing exposure) at 89%. Walsh posits that her transactional mergers and acquisitions clients are most likely to value this coverage over anything else. Alexander cites this coverage as the best "to deal with the legacy of the past".

The next most critical type of coverage is site/premises liability at 86%, followed by transportation of pollutants as cargo at 81%. "Fuel storage and distribution companies will value site liability as well as transportation coverage," says Walsh.

In fifth place is product pollution at 76%. Rounding out the pack are contractors' liability at 75% and professional liability at 64%.

"General contractors and fuel delivery companies [need] contractors' pollution liability [CPL]," says Walsh.

"We are seeing more uptake of contractors' pollution liability insurance across the board, as it is often required by contract, but particularly in Canada, where there is now a requirement to hold $5m limits of CPL cover if signed up to a Canadian Construction Association contract."

Meanwhile, Alexander says contractors' pollution liability is important to cover mobilisation and exacerbation.

Expertise is paramount
IBUK's survey also asked brokers what qualities they look for in their environmental insurance carriers.

In first place, 96% of the participants said that underwriting expertise was most important.

"This is fundamental and goes hand in hand with speed of response and service," says Walsh.

"Environmental insurance can often be an afterthought or a policy that needs placing in a short timeframe, so dealing with underwriters who know what the client needs and are able to deal with complex risks in the more hazardous areas is important."

Alexander notes that underwriting expertise allied to appetite and capacity is important.

Second was claims payment/processing at 89%. "This is ultimately what the client is buying," says Walsh.

In the third spot was flexibility/customisation of policies at 85%, while competitive pricing came in fourth at 84%.

"In the environmental insurance market, the biggest competition is still the client opting not to purchase the product," Walsh says. "Therefore, price is a major factor in recommending policies, when balanced out with coverage provided."

Finally, rounding out the survey was access to risk mitigation partners at 77%.
Aspen
Chubb
Liberty Specialty Markets
RSA
SCOR
Zurich
'Market-leading' is a phrase many insurance companies use when describing their products. This year's 5-star winners in environmental insurance can claim that title on the back of hard market insight from the people who matter most: insurance brokers.