Jump to winners | Jump to methodology | View PDF
INSURTECH'S NEW LUMINARIES
The insurtech market in the UK continues to thrive amidst a wider business environment that has been disrupted by the COVID-19 pandemic. Not only has insurtech attracted billions in investment in recent years, but it has also accounted for nearly half of all investment in the European insurtech space since 2020, according to UK Insurtech.
Of the more than 100 insurtech firms operating in the UK, 16 deserve to be recognised as 5-Star Insurance Technology Providers. These companies range from purveyors of development platforms and claims automation platforms, to creators of a wide variety of solutions, all aimed at speeding up and optimising the processes of the insurance market.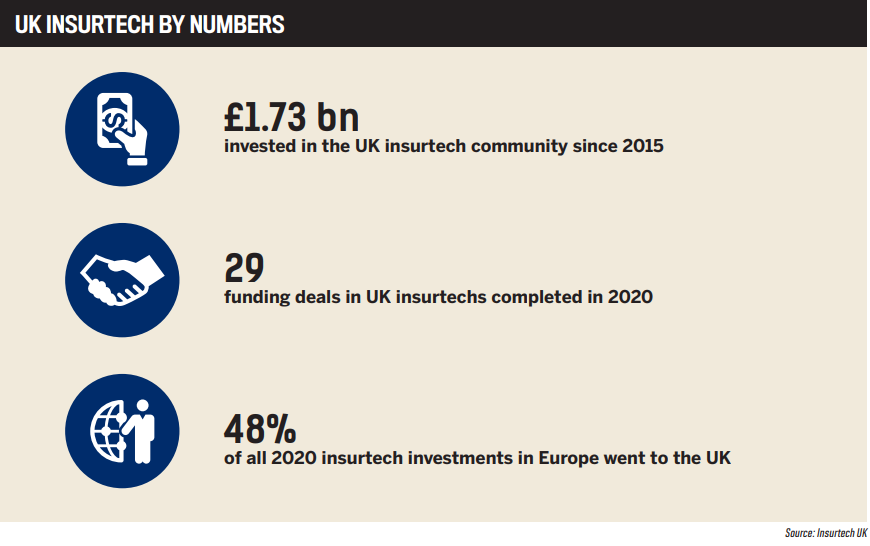 Integrated product features
One of this year's Insurance Tech Providers is YuLife, which provides life insurance, wellbeing and rewards in one easy-to-use app.

"YuLife's unique product offering is centred on the company's ability to harness the latest trends in game mechanics, data science and AI principles and leverage these innovative techniques to transform individuals' behaviours and change their mindset to help them lead healthier lives," says Sammy Rubin, founder and CEO.

"In this way, YuLife created an insurance product which offers ongoing value for the end user, utilising the latest technological trends to turn healthy lifestyle habits into a reality." YuLife motivates those who use the app to remain engaged through fun wellbeing activities, from walking and cycling to mediation and mindfulness, contrary to the trend reported by Deloitte that 31% of life insurance policy holders let their policies lapse.

YuLife also provides companies with a valuable workplace benefit, which seems to support YouGov's finding that 87% of office workers are more likely to stay with employers who care about their wellbeing.

"YuLife invests in its technology because it is the first life insurer to put life first, transforming the adversarial 'win-lose' model of financial services – by which either the insurer 'wins' and the policyholder 'loses', or vice versa – into a 'win-win' model which benefits both insurers, who gain from reduced risk, and policyholders, who gain tangible incentives to improve their mental, physical and financial wellbeing," adds Rubin.

"In this way, financial products are no longer staid, bureaucratic and excessively complex, and instead offer tangible value for their users on an everyday basis."

The metrics back up Rubin's statement. Over the past year, the app has driven over tenfold growth in gross written premiums. User retention is 95% on paying premiums. Of those who use the YuLife app, 38% use it daily, 67% say they have healthier lifestyles, and 87% feel more energised at work. At Havas Group UK, a customer, 86.9% of employees say they're happier, 84.5% feel more positive at work and home, and 86.9% feel more energised.

Cloud-based and scalable
Acturis, a software-as-a-service provider for general insurance, has won for developing a scalable platform to match market demand and deploy easily across multiple international territories. Founded by co-CEOs David McDonald and Theo Duchen in 2000, the company set out to help optimise the insurance market to meet the needs of modern business.

"[Our mission is to] make the transaction of insurance as simple and efficient as possible – regardless of market or class – and create a digital marketplace that works for everyone in it," says Jeff McCracken, sales and marketing director at Acturis.

In addition to simplifying e-trade and back-office processes, Acturis enables omnichannel distribution across mobile and remote working environments, enhanced management information and reporting, as well as integration with third-party service providers.

Acturis helps transform businesses by enabling them to integrate documentation, eliminate re-keying, cut administrative time and optimise business processes. Other competitive differentiators include unrivalled e-trade services delivered in a timely and cost-effective manner.

"The 500 brokers and 50 insurers and MGAs on our system are collectively trading £10 billion of premium every year in personal and commercial lines across over 700 e-traded products," says McCracken.

The system has maintained more than 99.9% availability over 10 years, and is hardwired with security and regulatory compliance. Thanks to its reliability, Acturis has received nearly £100 million in investments over the years, and has built 8 out of 10 of the UK's top insurer extranets. Its product is used by over 95,000 people in more than 40 countries.

"AI is no longer the future, it is now, and at Acturis, we are making that a reality for our community," says McCracken about the company's endeavours.

"We have applied the power of AI to the referral process for insurers, using machine learning models to remove manual review for simpler cases and augmenting underwriters' decision-making for the complex ones.

"Our next port of call in the world of AI is to harness its power to identify the customers most likely to want to buy further products and services to supplement their core purchase. This will allow brokers to focus their cross- and upselling energies on those clients most likely to respond favourably."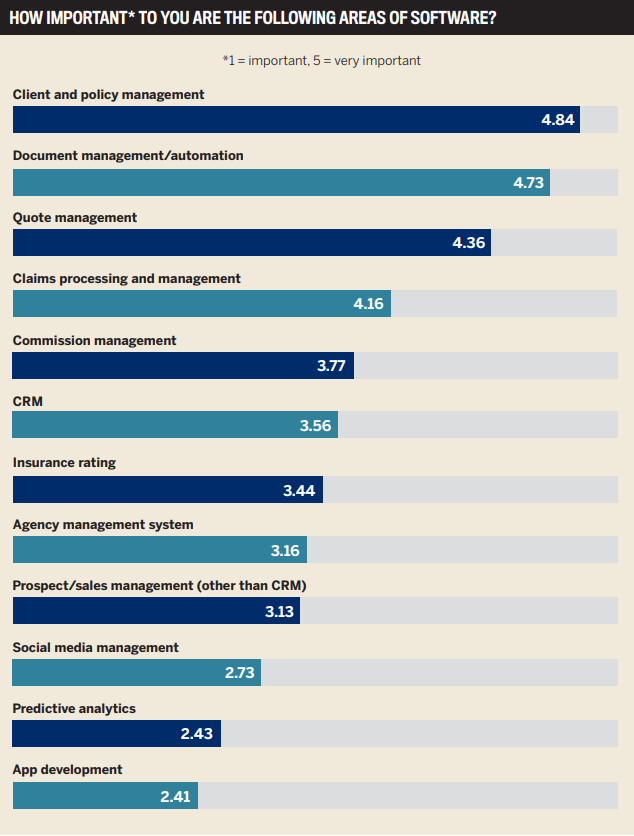 Simplified, speedy processes
Another 2021 award winner, Ignite Software Systems, aims to be a viable alternative to the "Big 5" legacy software houses for brokers of all sizes. The company's product alleviates pains such as excessive manual processes and distribution hurdles, and offers fast innovation and high customer satisfaction.

"Ignite provides end-to-end insurance policy management systems to UK insurance brokers," says Toby MacLachlan, Ignite's managing director.

"[The product] is cloud based, aggregator connected, data enriched, and highly experienced in personal lines such as motor and pet insurance. It supports bordereaux and electronic data interchange (EDI) schemes, third-party rating engines, a proprietary insurance accounting system, and has a wide suite of application programming interfaces."

The software differs from that of smaller competitors in that it offers a full suite of functionality capable of running a successful digital brokerage – everything from data enrichment to customer self-service, from EDI to aggregators, from payments to accounting. And the metrics are excellent.

"Ignite brokers using our self-service platform can support over 10,000 customers per member of staff, compared to an industry average of 1,000–2,000 per member of staff," says MacLachlan.

"Our top three brokers grew their new business by 81% in 2020."

Following its acquisition by Verisk-owned Sequel in September, Ignite has much to look forward to. The new arrangement, MacLachlan says, will provide access to greater expertise and global data to help boost the competitiveness of employer brokers and insurer partners.

"[The merger] will increase Ignite's already impressive growth rate and potential as a provider for larger brokers looking for innovative tech with large-scale backing."
Acturis
Applied Systems (TAM)
Charles Taylor InsureTech
DOCOsoft
Durell
FCA (RegData)
Frenkels Calculator
Ignite Software Systems (Broker)
Insure Apps
Insurwave
Open GI
SchemeServe
SSP (Pure Broking)
Total Systems (Bluescape)
YuLife
Participants ranked the insurtech software according to the following features, from most important to least important: client and policy management, document management/automation, quote management, claims processing and management, commission management, customer relationship management (CRM), insurance rating, agency management system, prospect/sales management software (other than CRM), social media management, app development and predictive analysis.
Nominees that gained an 80% or higher rating were given 5-star awards for excellent service and performance.