Jump to winners | Jump to methodology
Best of British
The 2023 Insurance Business UK 5-Star Brokerages have been recognised based on key metrics: revenue, revenue growth, policies written growth, client growth and number of new clients.
Brokerages were selected based on business per broker – ensuring that the best insurance brokerages are celebrated regardless of size.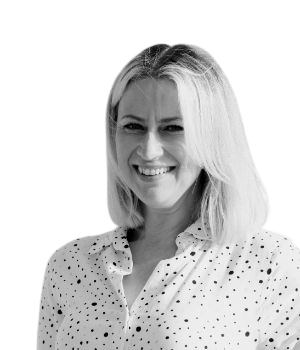 "PIB Insurance Brokers is a dynamic, fast-growing business, with a wealth of knowledge and an entrepreneurial spirit that drives new ideas"
Charlie Upton
PIB Insurance Brokers
Underlining how impressive the 5-Star Brokerages have been, IBUK's data showed that on average the winning brokerages had:
119% active client growth


89% revenue growth


106% growth in policies written

Customer-centric 5-Star brokerage
Sioma Insurance Consultants, a five-year-old brokerage based in London's Mayfair, is focused on putting the client first.
"We're absolutely obsessed with ensuring that if our clients have a claim that their policy will respond," says managing director Alexander Margolin. "That means never cutting corners with advice, choice of insurer or policy wordings.
"Instilling this culture within our business has been incredibly important, and our clients know that what they are buying will be there in their time of need."
Sioma has returned impressive numbers that show it is ahead of the average 5-Star winner in 2023.
Not only did it grow the business in 2022 by £2 million in GWP, it also:
garnered 125% growth in revenue


posted 67% growth in policies written


achieved 133% growth in the number of active clients

Industry expert and Insurance Search CEO Nick Hoadley highlights that impressive data on growth in active clients is key to assessing a brokerage.
"[Growth in active clients] is very important," he says. "It shows the value proposition is compelling. It means that they are beating the competition, they are beating the market, and they are innovating and doing things to attract new customers to their organisation."
Sioma has also deployed its skills to harness tech and avoid having to onboard extra administrative staff, allowing the brokerage to remain focused on its core business.
Margolin says, "The faster you grow, the more administrative staff you have to deal with. By engaging with the latest technology systems, we can overcome this hurdle while keeping our employee count as low as possible."
Another area in which Sioma is leading the way is dealing with the cost-of-living crisis by supporting their clients through it.
"Interest rates and inflation are the big topics right now," says Margolin. "This has a huge impact for our real estate clients who are seeing increased insurance premiums at a time when the cost of debt has increased 500%. We navigate this by encouraging our clients to undertake reinstatement valuations of their properties to ensure they are insuring the correct amounts and not at risk of underinsurance."
Margolin also comments on some of the problematic aspects of merger and acquisition (M&A) activity.
"The brokerage space has seen significant M&A in recent years," he says. "This often results in poorer services to SME and mid-corporate clients, which means as a business, we are doubling down on our physical presence and face-to-face meetings."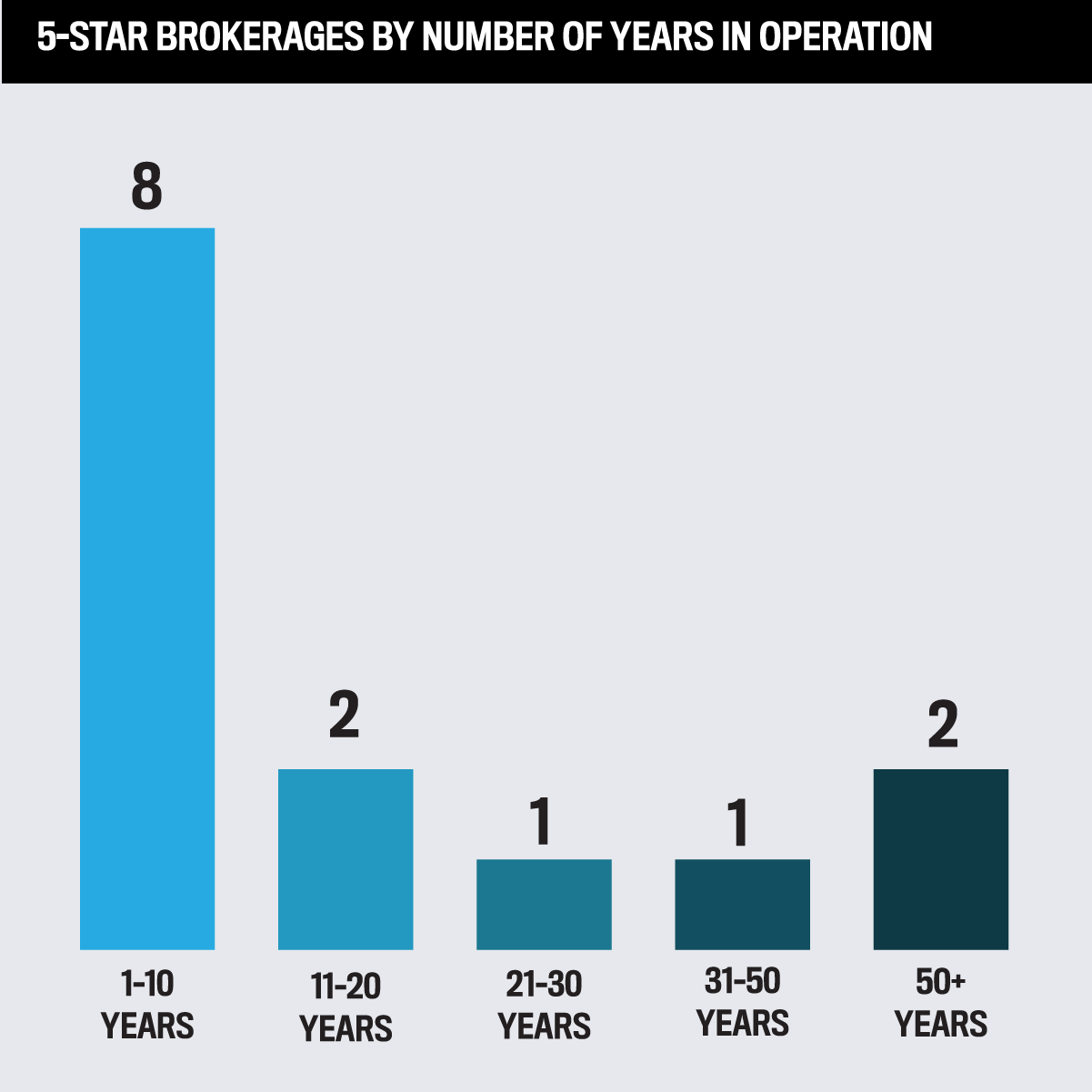 Collaborative 5-Star brokerage
PIB Insurance Brokers attributes its success to a renowned culture.
"Our culture is one of collaboration," says Charlie Upton, regional managing director of East Midlands. "As a business, PIB's focus is one of specialisms and therefore, we have some fantastic expertise around the group. Our culture is about sharing that knowledge and helping colleagues provide the best possible advice and solutions for our clients.
"We don't act as an island; we build teams of people who support clients in various sectors providing insights and developing close relationships as trusted advisors."
There to educate and support clients, PIB keeps them up to date on market conditions, which have been volatile over the past few years.
"Client understanding of how macroeconomic climate affects their insurance policies is a key challenge; we've seen a lot of disruption in the past few years from Brexit to COVID and the war in Ukraine," says Upton.
"These events can affect insurance dramatically. For example, supply chain issues in the automotive sector are increasing claims costs and therefore, insurer profitability leading to rising premiums. To overcome this, we help to educate our clients on key topics through a series of client academies and also through regular bulletins."
The PIB bulletins cover topics pertinent to the clients, including:
This client-centric approach has enabled PIB – a dynamic business with an entrepreneurial spirit – to:
increase revenue by 49% to £345 million


grow adjusted EBITDA by 36% to £91 million

This momentum looks set to continue as PIB has undertaken a scheme to train its own people and instil best-practice industry standards.
"We recently launched our new apprenticeship scheme to encourage school and college leavers to join PIB," explains Upton. "Developing our own talent is also key and we have heavily invested in our learning and development function to support this development at all levels."
Industry expert Hoadley praises PIB's efforts in this area. "Committing to a marketing strategy around talent building and an employer value proposition is really important. That is a way of attracting the best candidates to the business and having a robust acquisition process as well."
The firm also continues to expand organically, and through a program of acquisition and integration.
"By bringing together companies and individuals recognised as leaders across a range of specialist markets, we're able to draw on expertise and insights gained over many years to deliver the highest levels of service to our clients," adds Upton.
The manner of doing that is part of PIB's strategy.
"Our focus has always been on organic growth in addition to our M&A and integration strategies," says Upton. "Investments in businesses and people that are specialists in their areas have allowed us to perform well in this regard."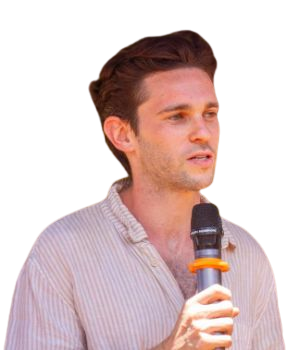 "Run by a team of ex-underwriters and management team all under the age of 35, Sioma offers a fresh, modern approach to insurance broking"
Alexander Margolin
Sioma Insurance Consultants
Attracting and retaining talent
According to IBUK's survey, 79% of the brokerages had fewer than 10 new brokers join their business.
For Hoadley, the ability to bring in high-quality employees to an organisation and retain them is fundamental for a 5-Star brokerage.
"How many employees leave each year and how many employees join the organisation on a year-by-year basis gives a very good understanding of the stability of the business," explains Hoadley.
"Employment stability helps to attract more talent to the organisation and that helps for growth. It's also a sign that there's a good culture and working environment. If the staff are happy, that generally means the clients are happy.
"So that's key and really pivotal to all insurance brokerages," he adds. "Once they get that right, it then becomes a lot easier to attract other high-performing talent to the organisation and create a culture of high performance and grow in a high-performing way."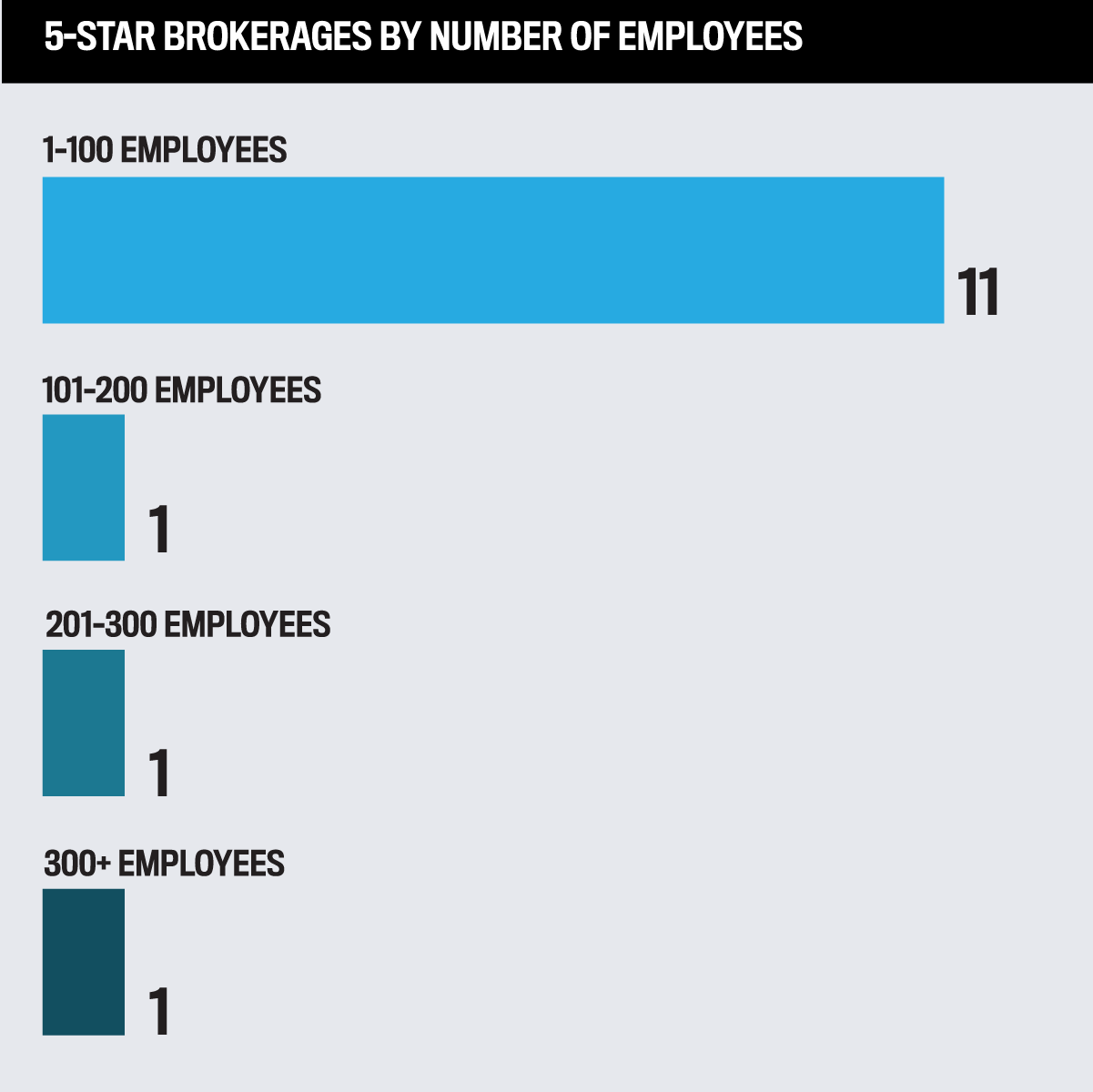 1. FMB Insurance Services t/a Coversure Ely
2. Jensten Insurance Brokers
3. GetaQuote t/a Coversure Hull
4. The Broker (Haverhill) t/a Coversure Haverhill
5. The Plan Group
6. Sioma
7. Broadway Insurance Brokers
8. GL Risk Services t/a Coversure Falkirk
9. FR Ball Insurance
10. Yutree Insurance
11. PIB Insurance Brokers
12. Talbot Jones t/a March Insurance Services in Wales
13. Higos Insurance Services
14. Sutcliffe & Co. Insurance Brokers