Insurance and consultancy boss on firm's new ownership | Insurance Business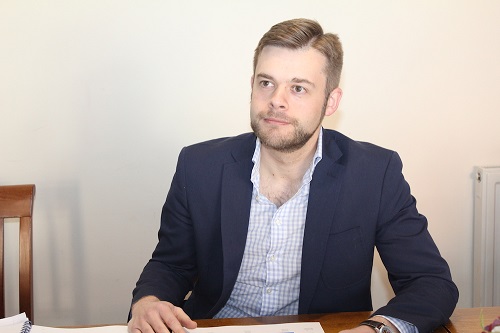 An "outstanding agency" was how Tokio Marine HCC chief executive Christopher J.B. Williams described Qdos Contractor when it was revealed that the insurer/consultancy was being snapped up from The Qdos Group. Now CEO Seb Maley (pictured) lifts the lid on the acquisition, sharing with Insurance Business the benefits he believes the deal will bring to Qdos Contractor customers and partners.
Maley, a lover of cricket and music, tells us how he found himself at the helm of the private company which this year was ranked by The Sunday Times BDO Profit Track 100 as having the highest profit margin in the UK. He talks about the country's burgeoning independent contractor and freelancer market, as well as his goals moving forward under the firm's new ownership.
How did your insurance career begin, and what made you stay in the industry?
It was more by chance than design. When I joined Qdos in 2003 the company primarily focused on tax and, while we had legal expenses policies backing up our expertise, it was largely consultancy-driven. I started out as a tax consultant providing advice to contractors and then in 2006 we introduced indemnity and liability policies. These proved to be very popular and gradually we became known for our insurance policies as much as our tax expertise.
Our sector is fairly niche from an insurance perspective, and we straddle both insurance and consultancy. This creates a rather unique environment with plenty of exciting opportunities, and I'm delighted to be able to work in such a fast-paced and evolving industry.
Amid the growing independent contractor and freelancer market in the UK, what have been the biggest challenges for you as Qdos Contractor CEO?
In recent years, there has been a structural change to how people approach work, with millions now operating as freelancers and contractors. And this evolution of the workforce has led to a number of legislation changes to the way in which these workers and the companies engaging these individuals administer and insure themselves against this tax, known as IR35.
In many respects, recent reform to IR35 did lead to panic in the contractor market, and our agility and forward-planning has been key in making sure our insurance solutions are cutting-edge, totally compliant and that each party has protection and peace of mind.
With Tokio Marine HCC acquiring the firm, what do you foresee as the most significant change or benefit for Qdos Contractor?
The acquisition is a genuinely positive development, and there are a number of benefits for Qdos Contractor customers and our partners.
Firstly, the agreed sale is not a private equity deal, so it's quite different to a number of recent acquisitions in the contractor market. We've worked with Tokio Marine HCC for over 10 years now, and they know our staff, share our values, and are focused on growing into this market for the long term.
Tokio Marine HCC are keen to ensure we have the resources we need to continue developing innovative insurance solutions at very competitive prices for the UK's growing contractor market and other parties in the supply chain.
Not forgetting, the contractors and freelancers we provide insurance products to will now effectively hold policies directly with Tokio Marine HCC – one of the world's most trusted insurance companies.
What goals or priorities have you set both for yourself and for the business moving forward?
Working as a contractor or freelancer can be quite lonely and daunting, and we've become known as a real representative for workers in our space. This is something I want to continue building on in the future. We are also keen on expanding into the wider self-employed market and into territories internationally, where contingent workers are becoming more prevalent.
Personally, I want to ensure the ethos of our company always remains intact. We've been very successful at nurturing talent within the business, bringing bright and hugely promising people in at an early age and allowing them to develop. An enjoyable working environment is pivotal too and we are always collectively thinking of innovative ways to achieve this.
If you were to swap jobs with anyone, with whom or in what sector?
It's difficult not to give a cheesy answer to this question and reply with something inspirational or exciting, like a doctor or pilot. Therefore, the answer I will give is the polar opposite to this; I would love to be a cricket statistician.
I've always loved cricket and have been particularly fascinated by the numerical and statistical element of the game. When I used to play, before my career was cruelly ended by having children, I used to be the first one (and normally only one!) to volunteer to do the scoring. The thought of doing that professionally and being able to watch matches every day really appeals to me.
Name one thing your insurance peers probably don't know about you.
All through my childhood and teenage years I was intending on being a musician. I played the trombone, did my grade 8 when I was about 14, but eventually decided not to go to music college. More recently I've tried to get back into music and have been self-teaching myself piano and guitar, both of which have driven me to the point of insanity.
Related stories:
Tokio Marine HCC makes swoop for Qdos Contractor
Tokio Marine boasts US$9 billion war chest for deals