HNW: The next generation | Insurance Business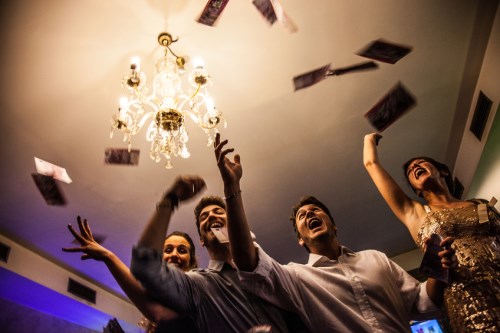 Lazy, entitled, delusional and narcissistic – those are the rather unpleasant stereotypes that float around the generation born since 1980, dubbed millennials.
However, as this issue of Insurance Business UK is proving with its focus on the industry's successful young guns, the reality is that they can be motivated, innovative and, above all, leaders.
The need to separate the truth from the fiction when it comes to young people isn't just necessary in the search for new hires – it's also necessary in the search for new clients and particularly the new generation that has amassed a high-net-worth.
Putting a name on the value
Mid net worth (MNW), high-net-worth (HNW) and ultra high-net-worth (UHNW) have become buzz terms similar to the word millennial itself – but understanding the differences between the classifications is crucial when starting to understand your customer.
"In general terms, the criteria for each proposition is defined by the sums insured, with each proposition having increasing levels of personalisation and less standardisation as you move up the wealth spectrum," says Mark Coffey, managing director of Oak Underwriting.
"The approach for HNW and UHNW is focused around the client with high levels of personalisation, a personal face-to-face relationship with very few insurer-imposed conditions and the highest level of cover provided within the policy wording. The approach for MNW customers is much less personalised but with superior wording and policy limits than the standard market, and the ability to structure the coverage more accurately for valuable items or collections. Quality of service underpins all of these propositions, including the claims speed of service and payment philosophy."
Adrian Ewington, Home & Legacy's underwriting and markets director, believes that there are some key similarities across the groups.
"They all tend to have a certain level of risk awareness, and an understanding of why we expect them to be open and honest with us in terms of their disclosures," he says. "Another consistency is their expectation for an extremely high level of service – fast response times and high customer satisfaction rates. Clients have a right to expect excellent service when they are paying for a high-quality product."
Demanding but different
So what differentiates a millennial HNW client – typically under the age of 35 – from those from an older generation? Lennox Bunting, London market manager at
Zurich
Private Clients, believes that time is of the essence with the next generation.
"The next generation is undoubtedly more tech savvy but this has not changed their attitude and approach to insurance," he says. "That said, there is a higher expectation on service, especially around delivery of documents – no one has time to wait around for more than 24 hours to receive a quotation or a simple policy endorsement."
"Both demographics are demanding in terms of customer service, but in di erent ways," says Ewington. "The younger generation expects insurance providers to be available 24/7, with electronic access to policy documentation and more ways of getting in touch, like web chat. Whereas the older generation tends to favour the more traditional routes of getting in touch with us and may appreciate receiving documentation in the post. "That said, the younger generation does still want to develop a relationship with a provider that can grow with them."
While nobody can predict the future, research in the area of consumer purchasing seems to suggest that the next generation fi rstly decides how they wish to buy before deciding what to buy – this, according to Co ey, should push brokers to look at new, more digitally focused ways of presenting their business.
"The HNW market has traditionally not given the client any choice, leaving the broker market as the only option," he says. "As the world continues to become ever increasingly digitalised, it is logical to conclude that younger clients will want to engage with their insurer in the same way. This presents an opportunity to create digital solutions in the HNW space.
"However, while it is relatively easy to envisage this within the MNW lower end HNW market, the UHNW space is unlikely to change due to the complexities and exposure these clients present."
Time to be tech-focused?
With a digitalised generation comes a host of new technologies to insure – ranging from wearable technology to digital art. The emphasis appears to be on the broker to try to educate themselves in these new areas to capitalise on their potential. "Ever improving technology brings emerging risks that must also be understood and managed by all parties," says Bunting. "For example, digital art with customer records kept in the cloud could be susceptible to data breach by cyber attack. Likewise, wearable technology that would hold personal information could be susceptible to a malicious attack. The issue around where liability for the insurer starts and stops is one we're particularly alive to."
Coffey, however, believes that although new technologies have emerged, most should be straightforward to insure – and customer behaviour is still largely focused on the same areas.
"Most policy wordings in place will automatically cover wearable technology and similar types of newly available products. Therefore, there is no observable trend in this area," he says. "However, one observation is simply that customer purchasing behaviour tends to remain relatively unchanged in comparison to previous years, with newly acquired property, jewellery, art and cars being a
constant, albeit with some minor fl uctuations and variations within each area."
Winning them over
According to a Gallup survey in 2015, millennials are the least likely generation to be engaged with insurers and are also more than twice as likely to buy their insurance online. However, there is some hope for brokers – particularly if they have insured the millennial's parents in the past – as families generally influence their choice of insurers.
The key, however, even in these cases, is to try and understand that the client is di erent from their mother and father. An American magazine once described millennials as less "two-point-four children" and more "four buddies and a dog" – and while this contrast may be less pronounced among high-networth customers, there is a real need to understand the customer on a personal level.
"Get to know your client; understand their passions and interests," says Ewington. "And, importantly, understand their lifestyle. Many high-net-worth individuals may be cash rich but time poor. Savvy brokers know the market and the products available well. They'll know which insurers and providers have an appetite for the di erent types of risks their clients present."
Coffey agrees that it's up to brokers to take the lead and be fully aware of their customer's nuanced insurance requirements. "Put simply, brokers should understand the demands and needs of each client and match a suitable product accordingly," he says.
"Of course, this requires a probing discussion to gain a true p icture of what the client's insurance needs are currently, and are likely to be in the short-term future. "This also implies that brokers must understand the entire proposition of any insurer that they recommend.
"This should go wider than wording coverage and also include the flexibility, quality of service and overall trust in the insurer's ability to satisfy the customer at any point of contact – in particular if they need to make a claim."