Cornish Mutual names new chair | Insurance Business UK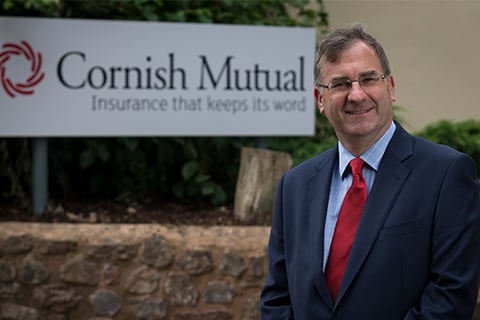 All good things must come to an end, and as Ian Pawley steps down after 10 years at the helm of Cornish Mutual, the South West rural insurer will be hoping that Jeremy Oatey (pictured) can pick up the baton with style.
The farming and rural specialist, which insures businesses across Devon, Somerset, Dorset and Cornwall has today announced that Oatey will chair the board of directors on the back of its annual general meeting, which was this year conducted via conference call thanks to the restrictions implemented due to the coronavirus outbreak.
Oatey is a well-known figure at the firm, having served as non-executive director since 2014 and he brings a strong farming background to the role – he owns a South East Cornwall based contract farming company, Agricola Growers Ltd., and was named Farmers Weekly Arable Farmer of the Year back in 2013.
"I am delighted to be taking on the role of chair at Cornish Mutual. The company has a long history, solid values and is a very well respected organisation across the South West," he said. "I look forward to working with the board and the entire team in continuing and further developing the business and the important role it plays in our rural communities.
"Ian has made an outstanding contribution as chairman. He has led the board through a period of change, helping Cornish Mutual successfully adapt to the different needs of the agricultural community.
"My background in farming, combined with the knowledge I have gained as a long-standing board member, will enable me to help steer the company in the direction which best suits the new requirements of its members. As we seek to adapt to the needs of farmers and business owners in the modern world, I am committed to maintaining the values of honesty and transparency for which Cornish Mutual has always been known."
Pawley, meanwhile, who has lived and worked in Cornwall throughout his professional life, congratulated Oatey and wished him well for his period in office.
"I feel privileged to have been a director and chair of Cornish Mutual," he said. "The company is in excellent condition, having benefited from the commitment of former managing director Alan Goddard and new managing director Peter Beaumont, working alongside previous chairs and board members.
"The company has grown considerably in recent years, but has maintained its ethos of placing the interests of members at the forefront of its plans. One key achievement has been becoming a Chartered Insurer, an accolade which reflects the dedication of people working across the company. I am confident that Peter Beaumont will support Jeremy and the board to ensure the future success of Cornish Mutual."