MD on taking an ethical stance on credit hire | Insurance Business UK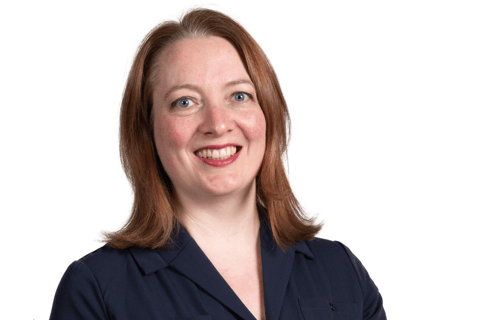 When Cogent Hire launched last year, it hit the market with a clearly stated ambition – to take the "evil" out of the "necessary evil" perception of credit hire. Now over a year into its growth strategy, the handl Group-backed firm has built a strong reputation for its collaborative and ethical approach to credit hire, bolstered by high-profile contract wins and its consistent approach to providing thought leadership and insight to the market.
What a difference a year makes in turning conversations from conceptual ideas into tangible actions, noted MD Kirsty McKno (pictured), as she reflected on the year that was. Cogent put its first vehicle out in June last year, and to mark the anniversary of this milestone the team embarked on a road trip to meet with its insurer partners and to determine their response to this post-reforms credit hire offering.
She highlighted that the quality of that feedback alone has offered proof that the UK insurance market has embraced the opportunity to look at credit hire differently and to take a partnership approach to creating change across the sector.
"What's been really exciting for us over the last year is that we've been able to work with a supply chain, to get to a place where we have a real partnership with that supply chain," she said. "It's because of that partnership that we're able to create solutions for some of the problems in our industry at the moment. And there are lots of problems because, from a motor perspective, there's a perfect storm of issues at play."
The premium increases being seen across the motor sector are being precipitated by a range of challenges, including repair parts delays, difficulties in setting booking dates with repairers, semiconductor chip issues, vehicle supply problems and extended time periods in credit hire. How Cogent is approaching this perfect storm, she said, is by actively working with its supply chain to get in on the ground of these challenges and establish new ways to work together.
Read more: New MD discusses launching a new way of handling credit hire
"Understanding the challenges [our partners] are facing and how we can work together to overcome them has been one of the best parts of Cogent Hire for me," she said. "We've made this mutually beneficial and it has had a much more cooperative feel to it. We think of ourselves as having three customers – the person who refers the work to us, the person who has had the accident and needs the mobility solution, and the person who is paying.
"And if we don't forget the person who's paying in that three-way customer journey, we actually ended up with a much better claims journey overall."
Cogent's consistent advocacy of Green Parts initiatives has been critical to its success to date, McKno said, as using green parts doesn't just improve the environmental credentials of credit hire but also the claims experience of the customer and the hire duration. By bringing a green part in, the customer is taken out of the hire vehicle more quickly while the repairer is paid more quickly as the vehicle in question is taken out of the repair cycle.
"Our thought process at Cogent Hire is that the industry is facing this perfect storm so how can we work together to find a solution every time something hits?" she said. "That approach is what's got us to the point where our average duration time is 24 days, while the typical duration is double that at the moment, if not longer."
Cogent is very fortunate to work directly with Europcar which has a fleet of over 40,000 vehicles, she said, and having that strong relationship gives the firm the confidence to know it can get a customer the right vehicle at the right time. The business has also formed strong links with other providers of specialist vehicles – and that same partnership-first approach is holding Cogent in good stead across the entire value chain.
"By making it more mutually beneficial," she said, "you find that at times when capacity is stretched, and demand is high, the people that you're working with are more likely to work with you than other people because they know that they'll get a good deal with you. And that's been a key underpinning focus for us all the way through the last year - that to achieve the results that we want, we need to treat everybody with respect."
Cogent was delighted to win its Zurich non-fault contract earlier this year, McKno said, and has relished working with the insurance giant to find innovative new ways to handle claims. In addition, the firm has been through a tender process with several other insurers and is currently in the middle of completing several more.
"For us, as a small company to be invited into those tender processes is very exciting," she said. "And we had a three-year plan - but actually we've already got to the three-year [point]. We never expected to be in a place where these big tender opportunities have come along but they have done because I think insurers are starting to recognise that a different way of doing things can work.
"And from last year, when we put our first hire out and had two employees, we now have 20 employees and we're moving offices and have recruitment out to double that figure. From a standing start to get to needing new offices and recruitment at this level has been pretty phenomenal."
Cogent is working at any one time with at least five different insurers in different ways, McKno said, and is anticipating being able to deliver further good news to the market regarding its partnerships in the near future. Looking at the strides the firm has made, she noted that at the heart of this exponential growth is the team who have made this "non-stop rollercoaster year" happen.
"I'm really proud of our team," she said. "And I'm really pleased and excited by the people we've met and joined with over the last year, and just seeing the incredible people and incredible knowledge in this industry… It seems like every day there's something new happening, a new contract or a new conversation.
"It has been great finding all these people in the industry who have all along had the thought they want to do this differently, but haven't had anybody to do it differently with. And joining forces with another company that wants to do the same thing just makes you both so much stronger."