Thomas Cook 'left with no choice', enters compulsory liquidation – expect a barrage of claims | Insurance Business UK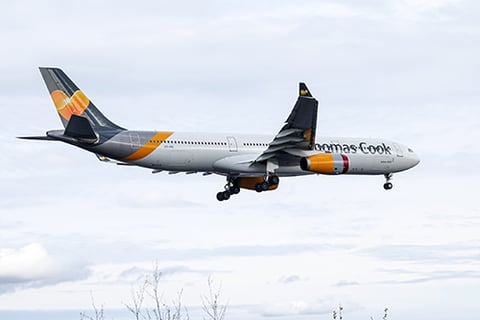 Insurers will be bracing themselves for a barrage of scheduled airline failure insurance (SAFI) claims this morning after travel giant Thomas Cook collapsed, leaving hundreds of thousands stranded.
Thomas Cook Group Plc, which includes Thomas Cook Airlines, failed to secure final terms on its recapitalisation and reorganisation over the weekend. All firms within the group have now ceased trading.
"Despite considerable efforts, those discussions have not resulted in agreement between the company's stakeholders and proposed new money providers," explained Thomas Cook in its September 23 statement. "The company's board has therefore concluded that it had no choice but to take steps to enter into compulsory liquidation with immediate effect.
"An application was made to the High Court for a compulsory liquidation of the company before opening of business today and an order has been granted to appoint the Official Receiver as the liquidator of the company."
Meanwhile, the UK's Civil Aviation Authority (CAA) said it is working round-the clock amid what it called a "hugely complex" repatriation, after all holidays and flights provided by Thomas Cook were cancelled.
"The government and the Civil Aviation Authority are now working together to do everything we can to support passengers due to fly back to the UK with Thomas Cook between September 23, 2019 and October 06, 2019," stated the CAA, which noted that after that date passengers will have to make their own travel arrangements.
As for those who have not yet left British soil, they are advised not to proceed to the airport. Not only are their Thomas Cook flights cancelled, but the CAA's programme also does not include any outbound flights from the UK.
The regulator added: "Some of Thomas Cook's package holiday bookings include flights with airlines unrelated to the Thomas Cook Group. If your return flight is not with Thomas Cook's airline, it will still be valid. However, other elements of the package such as accommodation and transfers will be affected."
Thomas Cook chief executive Peter Fankhauser described September 23 "a deeply sad day for the company which pioneered package holidays and made travel possible for millions of people around the world." In today's update, Fankhauser said they have worked exhaustively to resolve the outstanding issues on an agreement to safeguard Thomas Cook's future.
"Although a deal had been largely agreed, an additional facility requested in the last few days of negotiations presented a challenge that ultimately proved insurmountable," he conceded. "It is a matter of profound regret to me and the rest of the board that we were not successful.
"I would like to apologise to our millions of customers, and thousands of employees, suppliers, and partners who have supported us for many years."