Allianz Insurance names new CEO – swoops for big Aviva name | Insurance Business UK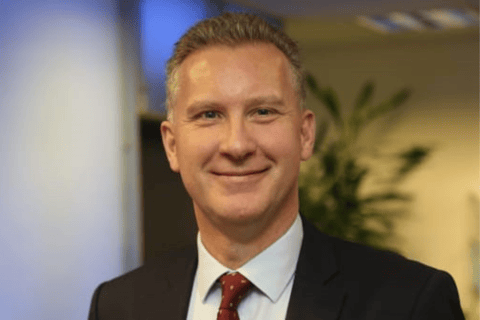 UPDATED
There's breaking news and then there's breaking news and the announcement that Colm Holmes, currently CEO of Aviva General Insurance, will be taking over from Jon Dye (pictured) as CEO of Allianz Holdings is firmly in the latter bracket. After eight years leading Allianz Holdings, Dye will step down as CEO in November 2021.
Dye joined Allianz in 2003, becoming its CEO in 2013, and during his tenure he has overseen several acquisitions including that of the general insurance businesses of Liverpool Victoria (LV=) and Legal and General (L&G), aiding Allianz in becoming one of the leading personal and commercial lines insurers in the UK.
In a Press release, Allianz noted that Dye's legacy includes the successful integration of Allianz UK and LV= and his role in helping Allianz achieve a step-change in its market position.
Chris Townsend, board member Allianz SE, said: "I would like to thank Jon for his leadership of Allianz Holdings since July 2013, in particular for working through our recent UK acquisitions and successfully navigating through the challenges of the pandemic. We look forward to Colm joining us to take our business forward and capitalizing on our strong market position."
Meanwhile, commenting on the news, Dye noted that he had thoroughly enjoyed his 18 years at Allianz and that it had been his privilege to lead the business as part of a successful team. He said he would be working closely with his colleague during the handover period of the next six months to ensure that the business is in the best possible shape for Holmes to take on.
Holmes, who has held senior leadership positions at JP Morgan Chase, Zurich Financial Services, and most recently, Aviva, where he served as CFO and GI CEO, was noted by Allianz for his deep understanding of the UK P&C market. The release noted that he will work towards strengthening Allianz's position in the UK.
The change is subject to regulatory approval.
Aviva has also revealed who will be stepping up to take over Holmes' role, with Adam Winslow being appointed CEO of Aviva UK & Ireland General Insurance. Winslow, who was most recently CEO of Aviva's international businesses, will continue to report to Aviva Group CEO Amanda Blanc in his new role. He will also remain a member of Aviva's group executive committee.
Winslow brings over 20 years' experience in the general and life insurance industry, including roles at AIG and Allianz as well as senior management experience in personal and commercial lines, across operations and broker relationships.
Commenting on Winslow's appointment, Amanda Blanc, group CEO of Aviva, noted that the insurer has significant ambitions for growth in general insurance in the UK & Ireland as it continues to transform the performance of its core businesses following the reshaping of the group.
"Adam's talent and capability have been amply demonstrated in his leadership of our successful programme of eight divestments over the past eight months," she said. "Having now concluded the strategic refocusing of our portfolio, I am delighted to appoint him to this pivotal role, and his next challenge in Aviva."