Cameron says leaving EU would be 'disastrous,' and doctors recommend giving e-cigarettes to smokers | Insurance Business UK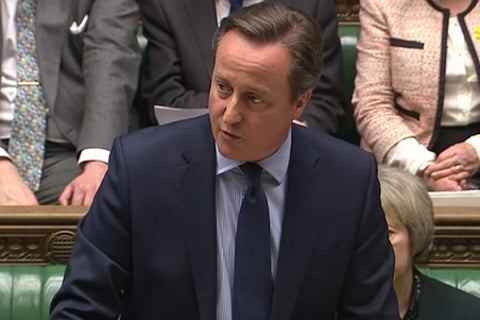 Cameron: Leaving EU would spell 'disaster for working people'
Prime Minister David Cameron says voting to leave the EU would be "a disaster for working people," according to a BBC report.
Cameron and former TUC chief Brendan Barber, writing in
The Guardian
, urged UK citizens to vote to remain in the EU, saying jobs and wages would both take a hit if the UK left.
Cameron and Barber wrote that they were "united in our conviction that Britain – and Britain's workers – will be better off in a reformed Europe than out on our own."
Employment Minister Priti Patel, on the other hand, said leaving the EU would give businesses now tied up in EU red tape "freedom to prosper," the
BBC
reported.
"Remain" currently holds a seven-point lead heading into the referendum, according to a Reuters report.
Labour MP suspended over antisemitism scandal
Jeremy Corbyn has suspended a Labour MP over remarks she made about Israel.
Corbyn said that Bradfor West MP Naz Shah had apologised to him for a series of Facebook posts from 2014 in which she appeared to endorse a suggestion that Israelis be deported to the United States, according to a
Guardian
report.
Corbyn's aides defended Shah at first, while David Cameron accused Corbyn of failing to recognise antisemitism within the Labour party. But later in the day the party announced that Shah had been suspended "by mutual consent" while the claims against her were investigated by the compliance committee of Labour's national executive committee,
The Guardian
reported.
Doctors say e-cigs should be offered to smokers
The Royal College of Physicians is encouraging smokers. Well, in a way.
The medical body has released a 200-page report claiming that smokers should be encouraged to use e-cigarettes to help them quit, according to a BBC report. With the right controls, the study claims, vaping could improve millions of people's lives. It also claims that fears that e-cigarette use is a gateway to smoking are unfounded.
The study claimed that e-cigarettes were at least 95% safer than regular smokes, the
BBC
reported.
UK auto industry sees best performance in 12 years
The UK's auto production spiked by nearly 10% in March, with a new car rolling out of a factory every 16 seconds, according to a report from ThisIsMoney.
That's the best performance in the last 12 years, with 159,074 vehicles built in Britain in March – about three quarters of which were for export – and 443,581 vehicles built in the first quarter.
Domestic output was up 8% for the quarter, and export output spiked 11%. Each employee in the auto industry generated an average of £79,700 of value per car built in 2015,
ThisIsMoney
reported. That's a 1.3% increase over 2014, and twice the national average among all UK workers.
Britain lags behind Europe when it comes to women on company boards
Britain is falling short when it comes to closing the gender gap in executive positions, according to a
Guardian
report.
With women in just 23.2% of company board seats last year, the UK is falling short of the European average – and is way behind Norway, where 38.7% of board seats are held by women.
The UK has falled to ninth place on European Women on Boards' (EWoB) list of the 12 leading European economies. That's a slip from eighth place in 2011, despite the UK having nearly doubled female board representation in the intervening years. Still, a government-backed report recommends that at least a third of UK boardroom positions should be held by women by the end of the decade, the
Guardian
reported.
A Business Innovation and Skills Select Committee spokesperson, however, insisted that the UK's student funding system is "fair and sustainable," the Guardian reported.
English university graduates have highest student debt in English-speaking world
University graduates in England finish their education with the highest debt in the English-speaking world, according to a BBC report.
A new study by Sutton Trust found that those who graduated from English universities last year owed an average of £44,000. Average debt in other English-speaking countries ranged from around £15,000 to £29,000, the study found.
"The massive increase in tuition fees from just over £3,000 to £9,000 per annum and the abolition of the maintenance grant results in the poorest English university graduates facing debts on graduation of over £50,000 with interest rates on the debt compounding at up to 3% over inflation," said Sir Peter Lampl, chair of the Sutton Trust. "These debt levels are by far the highest in the English-speaking world and are more than double average debt levels at universities in the United States, where students study for four-year programmes, rather than three."
A spokesperson for the Business, Innovation and Skills Select Committee, however, insisted that the UK's student funding system was "sustainable and fair," according to the
BBC
.
Cameron: Farage has 'poncey, foreign-sounding' name
Perhaps next they can insult each other's looks. Yesterday, the prime minister of the United Kingdom mocked Nigel Farage for having a "poncey, foreign-sounding" name on the floor of the House of Commons.
David Cameron praised Labour MP Ben Bradshow for pronouncing the UKIP leader's name as "Farridge," the
Mirror
reported.
I'm glad he takes the English pronunciation of 'Farage' rather than the rather poncey, foreign-sounding one that he seems to prefer," Cameron said.
Farage, who tells people to pronounce his name as they would "garage," tweeted in reply: "What does the Home Counties-raised, Eton-educated David Cameron park his car in? How would he pronounce it?"