CII, AXA, Deloitte on how to achieve greater commercial success | Insurance Business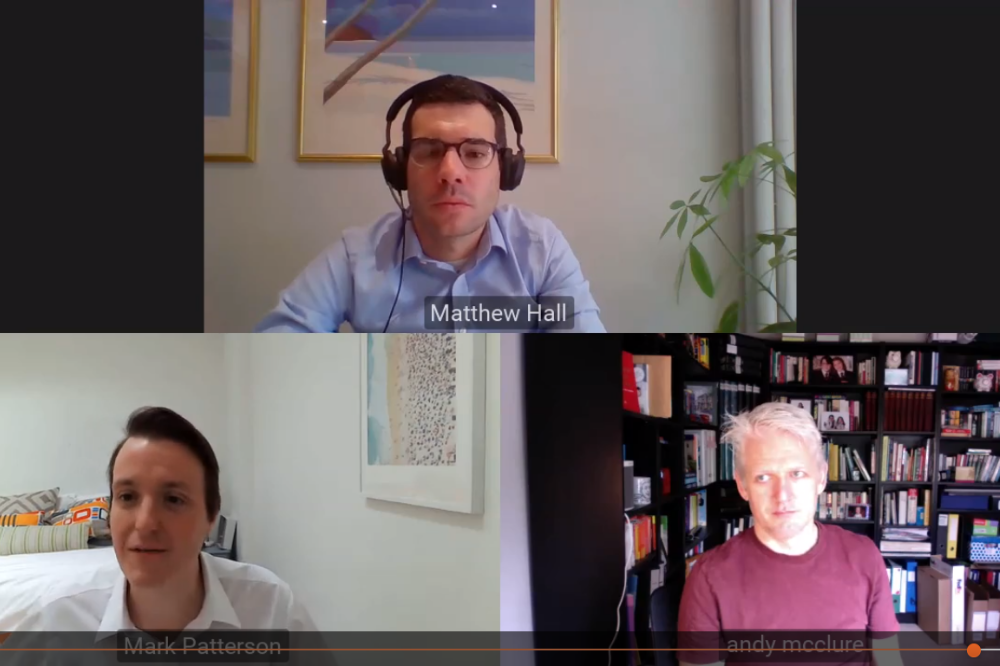 "What our customers and clients expect from us is probably the single most important driver of the business decisions that we take."
This was the contention of Matthew Hall (pictured top), strategy & operations manager at the Chartered Insurance Institute (CII) at the CII's recent webinar discussion on the 'Post COVID Landscape for Insurance'. Hall believes that there are three key areas that insurance professionals should focus on to improve their chances of achieving commercial success and that each must be addressed from the perspective of customer expectations.
It would be an understatement to say that the pandemic has caused considerable uncertainty about what the future holds, he said, and the constantly evolving environment means that customers are expecting flexibility in their products and services. Insurance professionals need to be ready to engage positively with this uncertainty by designing new products and services that are centred on flexibility.
"It's much easier to build flexibility in from the start than try to add it to existing products, which is something some insurers are struggling with at the moment," he said. "Of course, providing this flexibility does carry commercial challenges, it can add to the administrative burden, and it can make corporate financial strategy and planning more complex for an organisation.
"But there is also considerable commercial opportunity. Flexible policies can fill gaps in the existing markets and allow our members to engage with new customer groups, especially younger and less affluent demographics. Flexibility can also reduce the feeling some customers have of feeling restricted or bound to their policy. If customers feel that they are in control, then that can help to develop greater loyalty and trust."
Mark Patterson (pictured bottom, left), global P&C lead and partner at Deloitte UK highlighted that the demand for flexibility was a key takeaway from a recent Deloitte report which gauged the mindset of around 8,000 customers. But what customers want, he said, is flexibility in its simplest form. This is what insurers need to provide to customers, especially during the current crisis when individuals looked to go online and suspend or cancel their motor insurance and found they either couldn't or that to do so was overly complicated. Simplification of this, is the kind of flexibility that customers are actually looking for.
Hall noted that the second key areas for insurance professionals to explore is that of establishing clear communication about exactly what a customer can expect from a policy. When people make a claim, they expect that insurance will put things right quickly and effectively and, during COVID-19, many customers discovered this was not the case. Between non-coverage for specific circumstances and complicated wordings and exclusions, the profession needs to work on its communication.
Besides, he said, insurance professionals need to expand their customer care and communication beyond just financial compensation and look to the non-financial support that is valuable to customers in their time of need. Claims payment is increasingly being viewed as a minimum level of service. Client care doesn't mean that insurers or brokers must become therapists or carers, but instead that colleagues are equipped with the listening skills and capabilities to identify vulnerable clients and direct them towards support services.
Read more: Rising claims professionals move to help flood victims
"Having a duty of care to our customers is an essential part of being an ethical professional and ensuring that our industry has a positive societal impact," he said. "With that in mind, it's important to remember that there are commercial benefits to taking this approach too. A customer that was provided with help when they needed it most is more likely to trust you, and that trust builds loyalty and a good reputation… In addition, a proactive approach has benefits as well as tackling these duty of care issues before they become a major problem or cause significant negative effects will be more cost-efficient for the insurance sector in the long term."
Andy McClure (pictured bottom, right), director of proposition & marketing at AXA Health, noted that insurers need to ask themselves whether they are simply the people that pay the cheques or whether they are willing to help customers to get back on their feet and keep them mobile, housed and healthy. The industry needs to pivot to the latter to make sure that it is delivering what customers need as simply and as accessibly as possible. If disruptors such as Tesla get to the stage where it's all about mobility, then traditional insurance companies are going to find it pretty tough to compete against.
"I think we have to basically stop being an industry where I would argue, at our worst moments, we simply open the chequebook and pay out," he said. "We have to be a bit more thoughtful about how we're helping people live their lives. If we can do that, it is a fantastic future for us. But if we don't do that, the other guys will come in and eat our lunch."
Hall stated that the final area for insurance companies to focus on to encourage greater commercial success is that of evolving their digital skills and knowledge base. The restrictions imposed by the pandemic have impacted everybody to some degree, he said, and led to an explosion in the use of technology and digital communications. Many across every sector have had to quickly adapt to making purchases and transacting business entirely online.
Read more: Digital evolution must happen across entire insurance ecosystem
"In thinking about how this drives our members' strategies," he said, "I think it's really useful to consider technology as a facilitator to respond to other customer expectations, rather than as an expectation in itself. For example, in a remote environment, it's almost impossible to engage with customers on their wellbeing if you cannot communicate with them virtually. It doesn't matter how great your flexible cover products are if it's difficult for customers to find them and purchase them."
A lot of customer behaviour is still driven principally by the price or the product or trust in the provider, he said, but customers have a minimum expectation of technology. This expectation is increasing rapidly, with functionality and accessibility particular priorities within that.
Also essential to note, Hall said, is that the early months of the crisis saw customers sympathetic to organisations dealing with the same challenges as everybody else. Now that period is over, people in many markets expect those adaptations to be complete and to be able to make digital transactions with ease. Organisations that can deliver high-quality at home functionality and services will be able to build that trust with members through communication and can gain a critical commercial advantage in reaching their customers and clients.
"These areas are not exactly new to the industry - trust and reputation have always been key to building customer loyalty and digital technology has been an important issue in insurance for at least 20 years," he said.
"But these issues have been accelerated and highlighted by the pandemic. And when we consider them in the context of the expectations of our customers. I think we can all really appreciate just how much things have changed in the past 12 months. At the CII, we think the best way to prepare for change and to prepare for the future is to make sure you have the right skills and knowledge for that future."