CII reveals new chairs for broking and claims societies | Insurance Business UK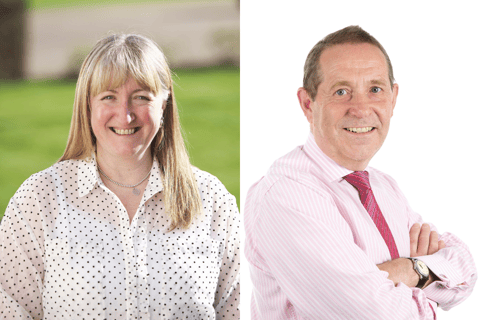 The Chartered Insurance Institute (CII) has today announced the appointment of new chairs to two of its specialist communities - the Society of Insurance Broking (SIB) and Society of Claims Professionals (SOCP).
As reported by Insurance Business UK earlier this week, Laura Hancock (pictured above, left), director of YuTree Insurance, is replacing Yutree's Kevin Hancock as the chair of SIB. Meanwhile, Ashton West OBE (pictured above, right), non-executive director of Weightmans LLP and director of Fidu Consultancy, is taking over from MS Amlin's Sue McCall as chair of the SOCP.
In a Press release, the CII noted that chair appointments are made on a biennial basis and follow the natural completion of the tenure of their predecessors.
Commenting on her appointment, Hancock, who brings significant previous board experience to the role, said she was delighted to have been named chair of the SIB. It was a natural next step for her, she said, having completed a long stint on the board of the British Insurance Brokers' Association (BIBA) – and one that will see her continue to champion and support brokers under the banner of the CII.
"It is an honour to have been given this opportunity," she said, "and I will work tirelessly to ensure that I make a difference to the work that the wider CII do, and to the individuals in the broking community that this board seeks to support."
West, who spent 15 years as the chief executive of the Motor Insurer's Bureau and five years as a non-executive director of the Insurance Fraud Bureau, currently chairs the board of trustees for The Road Safety Trust. Discussing his appointment, he said that having served as a board member of the SOCP for the last two years, he was "honoured" to be nominated as the new chair by his fellow board members.
"It is an exciting time to be a part of the CII's specialist claims community board," he said. "All of the board members bring a wealth of different experience and are passionate about finding ways to add value to our members who work in the claims profession, and we look forward to sharing more on this shortly."
Adding his thoughts, Tim Groves, programme development and partnerships manager at the CII, said: "The society boards are dedicated and passionate about serving and supporting as many members in their sectors as possible. I know Laura and Ashton will build on the great work undertaken by Kevin and Sue, while also bringing new and fresh ideas to how we can best serve our members."
What are your thoughts on this story? Please feel free to share your comments below.