Insurance catchphrase steals scene at House of Commons | Insurance Business UK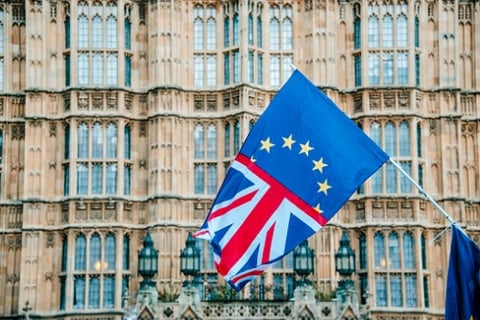 "The United Kingdom will only leave without a deal on March 29 if there is explicit consent in this House for that outcome."
These weren't the words that caught the most attention yesterday following Prime Minister Theresa May's latest statement on Brexit; instead, it was her use of an old Compare the Market TV advert catchphrase that raised quite a ruckus.
But first, for context, here's part of what the Prime Minister stressed in her speech: "Let me be clear, I do not want to see Article 50 extended. Our absolute focus should be on working to get a deal and leaving on March 29."
After May addressed the Members of Parliament, among those who spoke in response was Scottish National Party's Ian Blackford MP. Pushing for the extension of Article 50, the latter cited what he described as little evidence of the government's capability to make rational decisions.
"Prime Minister, your strategy to run down the clock is disastrous," Blackford told May. "Isn't it the case that you continue to fail to reach an agreement on the backstop?"
He continued: "Isn't it the case that the government cannot get alternative arrangements on the backstop that were promised at the end of January because the EU will not renegotiate? The EU has repeatedly made it clear the withdrawal agreement is non-negotiable."
The MP also pointed to the "overwhelming advice" to rule out a hard Brexit.
Reacting to Blackford's concerns, the Prime Minister retorted: "If he wants to end the uncertainty and deal with the issues he raised in his response to my statement, then he should vote for a deal. Simples."
Various 'Simples' ads, featuring Compare the Market's fictional meerkat Aleksandr Orlov, have been running for more than a decade.
Reactions, including from MPs themselves, have since poured in – with the BGL Group-owned insurance intermediary tweeting: "We welcome the Prime Minister's commitment to keeping life Simples. While we are not experts on her deal, we are preparing a new deal on energy bills which we will be putting to the people in the near future."
On a more serious note, London & International Insurance Brokers' Association (LIIBA) chief executive Christopher Croft has offered his insights on May's speech.
"We welcome the Prime Minister's announcement in that it would appear to lessen the risk of the UK leaving the EU without a deal," said Croft in a statement sent to Insurance Business. "But it stops short of removing this option – an outcome that would not be in the best interests of LIIBA members or their clients.
"Ultimately, we need to turn our attention to our future relationship with the EU, recognising that we will need to create a concept of equivalence for intermediation as a starting point for any discussion of enhancing that position."