Konsileo CEO on the employer-employee relationship | Insurance Business UK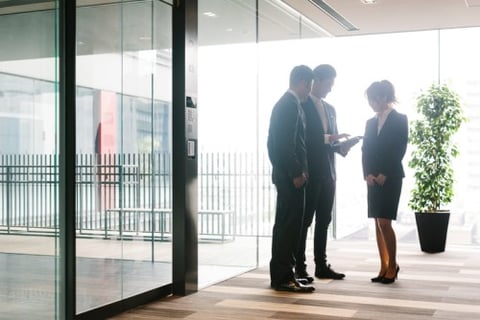 "A lot of energy has gone into examining the insurer-broker relationship and too many insurers, and probably too many brokers, think that's the crux of the problem," said Konsileo co-founder and CEO, John Warburton. "But the problem no-one addresses is the employer-employee relationship."
Speaking with Insurance Business, Warburton discussed the development of Konsileo, a start-up commercial insurance broker, and provided insight into how the evolution of organisational structure has impacted the broking model.
Operating on a platform of technological innovation built on the traditional foundations of a strong broker-client relationship, Konsileo uses technology to ease the administrative burden of regulatory compliance, thus enabling brokers to spend more quality time with their clients. Since its inception in 2015, Konsileo has gone from strength to strength and now employs 25 brokers.
Read more: Veteran brokers join Konsileo's roster
The idea for Konsileo came about, Warburton said, after he saw the rapid consolidation of the broker market, wherein traditional high street brokers became part of roll-ups which decreased their autonomy without offering administrative efficiency or improved technology.
The key vulnerability of these roll-ups, Warburton stated, was staff and post-merger integration. This vulnerability, which was causing people to leave in droves, he said, combined with the operational difficulties associated with these acquisitions, created a gap in the market for a technology-led broker. Konsileo was founded by Warburton and Peter Henderson to fulfil this value proposition.
"Insurers spend far too much time glad-handing the people who run broking firms," Warburton said, "and actually, what really matters, is the people who work for brokers at the trading level."
The fundamental role of the people who run broking firms , he outlined, is to assist in the development of great client relationships where they can, and then to get out of the way so brokers can carry out their core function. It's about giving the broker the tools and the support they need to operate competently, he said, and then trusting that they know what they're doing.
Konsileo collaborated with the CII and PKF to create a report on 'the future of commercial insurance broking' in 2018, which outlined the opportunity for broking firms to respond to the changing requirements of their employees by offering a "flexible and open-minded approach to working practices."
"Most brokers don't have an employee proposition that's worth writing down," Warburton said, "and most of them are taking their people for granted."
Highlighting the phases of organisational structure throughout corporate history, Warburton outlined how many brokers are still running their business with a top-down authoritarian approach instead of moving to a more evolutionary approach with self-management.
Konsileo emphasises this approach of employee self-management, he said, and has encouraged this through its creation of technologies that free up its brokers to focus on relationship management. This has allowed Konsileo to develop as a lean organisation without the need for many managers and with reduced administrative costs as the broker can do their own administrative work. This, in turn, has allowed the company to essentially offer its advisors a 50/50 split and a more flexible approach to their work.
"Insurance brokers are really helping the UK economy, and economies generally, to work because they are stopping businesses from doing risk-seeking things and are helping to get them insurance that enables them to take out loans for investment and to employ new people," he said. "So we, as insurance brokers, have got this genuinely noble purpose."
Evolutionary purpose is a central tenet of the organisational culture which Konsileo values and Warburton believes that the noble purpose of insurance brokers has been somewhat lost in the scramble for higher profit margins. Re-establishing this sense of purpose is key to creating a healthy organisational culture, he said, and encouraging employees to invest in themselves as brokers.
Creating Konsileo as a full-stack broking firm and developing its technology in conjunction with starting as a broker has been a challenge, Warburton said. Using a standard technology package would not have enabled Konsileo to create anything innovative, he detailed. It would also have been difficult, he said, to build the broker culture valued so greatly by Konsileo, if they had just been involved with the technology development side of their business proposition.
"The big picture," Warburton said, "is understanding what the value drivers are in insurance broking and how they're very tied up with the value that individuals bring."
In order to achieve that value, he outlined, employees need to be treated well and they need a structure around them that supports every facet of their professional development. Konsileo is not developing technologies to disrupt the client relationship model of insurance broking, Warburton said, but to augment that relationship and take it to new heights.