Meet the insurance industry's landspeed record champion | Insurance Business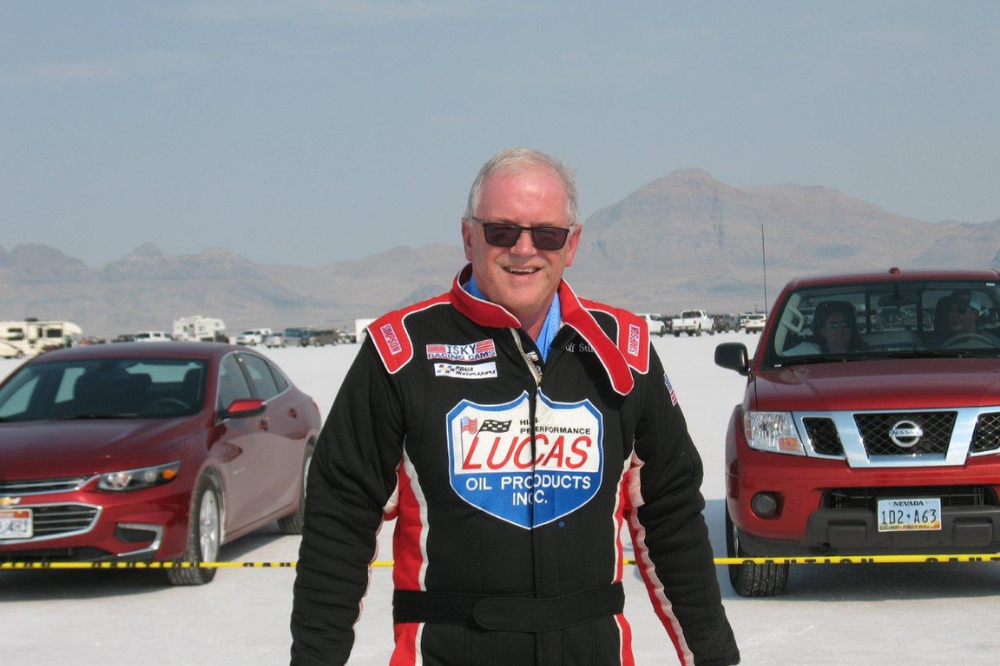 It was the American author Phyllis McGinley who noted that "a hobby a day keeps the doldrums away", and during lockdown the critical role that interests play in providing distraction and relaxation has only become more and more evident.
Some insurance professionals have been fortuitous in the activities they dedicate their time and passion to. Examples include director of Johnson Insurance Services Max Johnson who has continued training for an Ironman Triathalon throughout lockdown, and Sharon Brown, MD of Harbour Underwriting, who has been able to exercise her passion for horse riding and dressage during the crisis.
On the other side of the spectrum are people like Shannan Fort, partner, financial lines, cyber, at McGill and Partners who has been eagerly anticipating lockdown lifting so they can enjoy afternoon tea at the Roseberry lounge at the Mandarin Oriental, followed by a trip to the Akasha spa at the Hotel Café Royal in Picadilly. And then there's those whose passions will not be enabled by a lifting of local restrictions but of global embargos on travel.
Geoff Stilwell (pictured above in his firesuit), CEO and managing director of Beech Underwriting, is among this crowd who are still waiting for the green light allowing international travel so he can join up with his land speed team and get back to the business of setting land speed records.
Read more: Can this insurance exec break the landspeed record?
"We're all spread far and wide across the world. Part of my team is based in New Zealand, part in Mexico, part in the UK, and part in the US," he said. "We actually debuted our race car in January 2020 just before the pandemic hit at the Grand National Roadster Show in Pomona, California and the car was ready to go, all we needed to do was put fuel and oil in it and we were ready to rock 'n' roll. And now it's in my workshop in Los Angeles, sitting on its jacks with a cover on it. But we are working on another land speed car as well, plus my 1934 Roadster."
Never one to take a moment to slow down, Stilwell and his team are looking forward to getting back behind the wheel and heading to Bonneville Speed Week 2021, where between 600 and 700 teams are likely to be represented this year. This Speed Week is a worldwide phenomenon, he said, which people from every corner of the planet ship their bikes and their cars to America to take part in. Stilwell himself first became involved with race cars through his father who used them to build them when he had a car repair business and who did a lot of work with the film industry.
"I'm one of the lucky ones," he said, "and the car is there so now I just want to drive it. The car is ready and designed it to go 350mph plus, and if I do go over 300mph for the land speed record in my class, I will be either the fifth or sixth Brit to ever do so… And I tell you when you're going at those speeds it's good fun, it really gets the adrenaline going and it gets your attention.
"Of course [land speed racing] is not everyone's cup of tea but for us, we do it for the love of it. There's no prize money, you just want your name in those record books and [hopefully] to join one of Bonneville's very exclusive clubs that commemorate your achievements with specifically coloured hats and t-shirts. You get a red hat for being in the 200 club, a blue hat for 300 and a black hat for 400 - but more people have walked on the moon than have done over 400 miles on the floor."
For Stilwell and his team, the hope is that international air travel will open up in good time to bring them together at Bonneville Speed Week 2021. It takes a team of 12 to run the car, he said, and they're all volunteers. That's what doing something for the love of it really looks like.