Meet the next 'influential' man in insurance | Insurance Business UK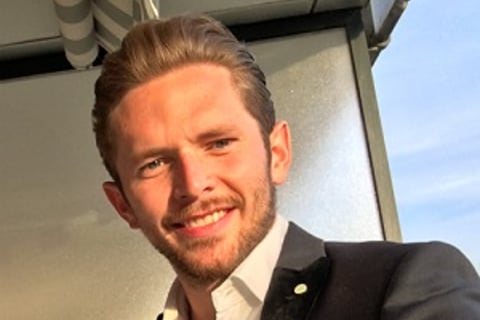 At the young age of 17, Oliver Rose entered the industry with a simple goal: to earn a living. But several years and promotions later, the 30-year-old director of One Call Insurance now finds himself in a position to create a huge impact on the industry.
Recently named as an
Insurance Business UK
Young Gun, Rose's rising status in the industry has reached new heights in 2016. In May, the British Insurance Brokers Association (BIBA) declared him the national Young Broker of the Year. No less than the trade group's chief executive recognised Rose's potential to become the next significant man in insurance.
"Oliver's achievements set him apart. He is a worthy winner of the award," BIBA chief executive Steve White said as he announced Rose's victory. "Oliver will no doubt be an influential figure within the insurance sector as his career develops."
It was a "proud moment" to hear White's praises, Rose said as he vowed to achieve even bigger things in 2017, such as attaining over £180,000,000 GWP and breaking the half-million live policyholder mark.
"Having spent my full working life in the insurance industry, I will continue to fully commit to my business and the market as a whole," Rose told
Insurance Business UK.
"Being responsible for the distribution of a broker writing over £150,000,000 GWP in 2016, I feel I have the necessary skills, drive and backing to make a big impact in our sector both now and in the future."
How did your insurance career start?
I originally started at One Call by applying to work in our Doncaster call centre. Being 17 at the time, my focus was just on starting to earn a living.
What is the most fulfilling part of your job?
It has to be the people. Not just the people I work with daily in our office but many of the individuals within the industry, there are some fantastic characters and genuinely committed people involved with our business.
What career highlights are you most proud of so far?
The two major milestones of my career were being invited to join the board of One Call Insurance three years ago and earlier this year being awarded BIBA's Young Broker of the Year title.
Describe insurance brokers in three words.
Hardworking, dynamic, stressed.
How would you change the industry?
I would like to see regulation be more prescriptive. Something has to change within our industry to allow companies to be more progressive. Insurers and brokers are finding it ever more difficult to trade which in turn is impacting consumers directly, not only on price but quality of service.
How are your improving yourself and the business?
Investing heavily in people and technology. One Call will see some huge changes in 2017 and have scheduled launches of products never seen before in the UK market. Having been personally involved throughout these changes I have also seen the benefits as a business of developing new ideas and the refreshing mentality that comes with it.
Name a person, famous or not, who has influenced your life.
I would have to say my MD (Nik Springthorpe) at One Call. Having been mentored by him for some 14 years I feel I have learnt more in and out of the workplace from one person than many would over their whole career. Also some people consider him mildly famous so I'm ticking two boxes there.
What's the best advice you've ever been given?
Stay loyal.
Who is Oliver Rose outside the industry?
I play a lot of sport, watch a lot of sport and use as much of my spare time as possible travelling the world.
Complete this sentence: If I wasn't in insurance, I would be…
Sober.
If you were Prime Minister for one day, what would you do?
Lower IPT.
What advice can you give to newbie brokers and to those who want to join the industry?
Do something new, creative and different. The market is moving quickly but often in absence of real direction. If I could start afresh I would create something in the market that is fit for this day and age - many existing insurers and brokers suffer due to legacy systems and outdated products. If you are lucky enough to be starting now invest every spare penny you have in technology!
Related stories:
Young Guns 2016
Women of Influence 2016
UK Specialty Brokerages 2016