Thirty UK insurtech companies to watch out for in 2021 | Insurance Business UK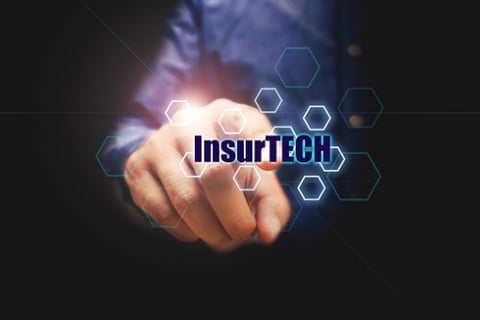 The insurtech sector has emerged as one of the most significant players in the UK's fintech industry, continuously reaping investments, even amid a myriad of economic disruptions caused by the pandemic. Last year, UK insurtech companies received total investments amounting to $361 million (£262 million), a rise of more than 60% from 2019, according to the latest data from London-based growth platform Tech Nation.
The report said that investors were primarily attracted to the enhancements these companies provide to the insurance value-chain and marketplace, including price comparison websites, insurance telematics, home automation, cyber insurance, online brokering and underwriting services, and claims software.
Insurance Business searched business information website Crunchbase's data to find the country's leading insurtech providers based on total investments. Here are the top 30 insurtech companies in the UK to watch out for in 2021:
1. Zego
Total funding: $201.7 million (£146.5 million)
Number of investors: 12
Number of acquisitions: 1
Zego provides simple and flexible policies through its mobile app and website, covering businesses of all types and sizes. It offers a range of motor, professional, and commercial insurance policies. The start-up continues to launch new products and expand into new countries.
2. Gryphon Group Holdings
Total funding: £180 million
Number of investors: 2
Gryphon Group Holdings' infrastructure is based on digital and cloud-based technologies. Liss Systems, a UK company owned by Nasdaq-listed technology group EXL, serves as the firm's core platform technology partner, while Space acts as its digital interface technology partner. The company focuses on life, critical illness, and income protection, and sells through intermediaries. The business has acquired the rights to use the Guardian brand.
3. Bought by Many
Total funding: £105.9 million
Number of investors: 7
Number of acquisitions: 2
Bought By Many uses search and social media data to sell insurance and disrupt insurance distribution. It is the first UK pet insurer to offer online form-free claims. The company designed its policies using more than 40,000 customers reviews. As a result, its insurance policies boast features that are new to the market and, at the same time, it was able to avoid adding features that clients do not like about other policies.
4. Tractable
Total funding: $59.9 million (£43.5 million)
Number of investors: 16
Tractable is a software company that develops artificial intelligence for accident and disaster recovery. Its AI can estimate the repair costs just by looking at photos of the damage through the use of deep learning to automate visual damage appraisal. Tractable's AI Review and AI Estimating products help insurance companies improve their claims processes and produce live, end-to-end estimates of vehicle damage.
5. Cytora
Total funding: $41.4 million (£30 million)
Number of investors: 13
Cytora has developed a technology called Risk Engine, which can be used by commercial insurers to help them target and price risk using AI algorithms. The company has already developed partnerships with major insurance providers, including QBE, XL Catlin, and Starr.
6. Marshmallow
Number of investors: $31.2 million (£22.7 million)
Number of acquisitions: 6
Marshmallow focuses on car insurance and uses a proprietary pricing algorithm to lower prices for foreign-born drivers. The firm's mission is to improve the financial health of the 250 million people who live in a foreign country by offering affordable insurance. To achieve this goal, the company says it invests in technology to reduce operating costs and passes those savings on to its members.
7. Instanda
Total funding: $28 million (£20.3 million)
Number of investors: 4
Instanda provides insurers and brokers a software-as-a-service (SaaS) management tool to build, launch, distribute, and monitor new insurance products in a fraction of the time it would traditionally take. The company has already partnered with several insurance providers, underwriters, and brokers in North and South America, Europe, and Australia.
8. Quantemplate
Total funding: $25.6 million (£18.6 million)
Number of investors: 13
Founded by insurance industry veterans and computer scientists, Quantemplate offers a platform for data integration, automation, and analytics for reinsurance, P&C, and life insurance companies. It was recently named a European FinTech Top 50 company and a Global Insurtech Top 21.
9. Hometree
Total funding: $24.4 million (£17.7 million)
Number of investors: 17
Hometree offers a range of products and services, including home coverage plans that protect homeowners against breakdowns in their heating, plumbing, and electrical systems.
10. Superscript
Total funding: $24.4 million (£17.7 million)
Number of investors: 9
Superscript, formerly known as Digital Risks, offers a host of commercial insurance products designed to meet the evolving needs of small to medium-sized businesses. It provides bespoke subscription-based coverage for all types of risks. The company has partnerships with some of the world's biggest underwriters.
11. Cuvva
Total funding: £17 million
Number of investors: 14
Cuvva is an hourly car insurance start-up that has sold more than three million policies and supports more than 450,000 clients. Its user-friendly mobile app provides customers an instant quote just by keying a registration number, providing an estimate of the car's value they are borrowing, choosing a time they want to be covered for, and taking a picture of the vehicle. Cuvva also has access to various data sources to check driving licence data and protect against fraud.
12. By Miles
Total funding: $21.3 million (£15.8 million)
Number of investors: 8
By Miles offers pay-per-mile car insurance that is specifically designed for lower mileage drivers. The insurtech charges car owners a fixed annual fee to cover their cars while parked and then bills them monthly, based on the number of miles that they drive.
13. Trunomi
Total funding: $16.3 million (£11.8 million)
Number of investors: 10
Trunomi offers data rights management technology that enables businesses to request, receive, and capture customer consent to the use of their personal data. However, it does not see or store customers' personal data due to its patented technology, and because of this, the start-up's technology is not bound by jurisdictional borders surrounding personal data.
14. DeadHappy
Total funding: $12.8 million (£9.3 million)
Number of investors: 5
DeadHappy provides digital pay-as-you-go life insurance services. The insurtech specializes in flexible life insurance policies. Its offerings include pricing insurance based on current circumstances and the option to add further coverage on a rolling basis.
15. Anorak Technologies
Total funding: $12.4 million (£9 million)
Number of investors: 5
Anorak offers a platform that uses data science and machine learning to find the life insurance policy suited to the user. It is backed by Kamet, the insurtech start-up studio backed by AXA Group's knowledge, capital, and assets.
16. Wrisk
Total funding: $12 million (£8.7 million)
Number of investors: 10
Wrisk is a trusted partner to insurers and brands, helping them launch and operate tailor-made, regulated insurance solutions. The company's insurance app covers virtually everything from cars and technology to furniture and jewellery. Wrisk also provides a monthly auto-payment plan, so customers are not locked into a full year's insurance.
17. Canopy
Total funding: $9.6 million (£7 million)
Number of investors: 5
Canopy seeks to re-engineer the property rental market by allowing users to pay their rent via smartphone and helping them save by replacing their cash deposit with the DepositFree insurance policy.
18. Setoo
Total funding: $9.4 million (£6.8 million)
Number of investors: 1
Setoo's SaaS platform automates the process of creating, integrating, and distributing protection products. The platform can create new, super-targeted protections within minutes, addressing consumers' actual concerns, and generating automatic compensation without the need to file any claim. Like Anorak, Setoo is backed by Kamet.
19. Laka
Total funding: $9.4m (£6.8 million)
Number of investors: 7
Laka offers a peer-to-peer bicycle insurance platform to cover bicycles and other cycling equipment in the event of theft or damage.
20. Cazana
Total funding: $9.3 million (£6.7 million)
Number of investors: 8
Number of acquisitions: 1
Cazana uses big data and predictive analytics in assessing millions of automotive transactions daily to determine the value and risk associated with every vehicle on the road. Its systems are used by manufacturers, dealerships, finance companies, and insurers globally.
21. So-sure
Total funding: $8.7 million (£6.3 million)
Number of investors: 4
So-sure has created a digital platform for the entire insurance value chain, using a proprietary model and anti-fraud technology to deliver what it calls "win-win insurance." The company offers customers a 10 times faster claims process and up to 80% money back if clients do not claim. For underwriters, it provides an increase on addressable market while reducing loss ratio.
22. Urban Jungle
Total funding: $8.2 million (£6 million)
Number of investors: 7
Urban Jungle uses technology to help young customers get access to cheaper and better home insurance. The company offers building, home contents, and tenants liability insurance.
23. Neos
Total funding: £6 million
Number of investors: 10
Neos bundles advanced IoT-enabled hardware, 24/7 support, and unlimited building and contents home insurance in a mobile phone app. Customers can use the app to look at dashboards or live camera feeds, respond to issues such as a leak or intruder, and contact the Neos team to get professional assistance.
24. Digital Fineprint
Total funding: $7.1 million (£5.2 million)
Number of investors: 10
Digital Fineprint's (DFP) data sourcing platform provides insurers with granular insights on SMEs they would otherwise find difficult, time-consuming, and expensive to acquire. Its Risk Alerts solution facilitates the underwriting process, while the Broker Profile tool enables insurers to find the best brokers to support specific products.
25. Insurwave
Total funding: £5 million
Insurwave's SaaS platform connects insurance buyers, brokers, and sellers. It uses cloud and cryptography technologies to reduce corporate risk and enables the elimination of tedious reconciliation, high data integrity, and greater insight for insurance buyers, brokers, underwriters, and reinsurers.
26. Corax
Total funding: $5.2 million (£3.8 million)
Corax provides data, modelling, and loss analytics on the cyber exposure of millions of interconnected companies worldwide via its scalable tech platform, extensive dataset, and AI-enabled probabilistic modelling. Corax is used by insurance and reinsurance carriers to accurately underwrite and manage cyber risk exposure. It is also used by insurance brokers and agents to provide clients with precise cyber risk assessment and cover recommendations.
27. Humn.ai
Total funding: £4.7 million
Number of investors: 4
Humn.ai provides fleet insurance and risk management services. The company uses its Rideshur platform to accurately price any road segment in real-time.
28. Artificial Labs
Total funding: £4.2 million
Number of investors: 2
Artificial Labs provides building tools for insurers that allow them to operate faster, and more efficiently and accurately. These tools are built on top of a shared core, called ArtificialOS, which is a suite of API-driven building blocks designed for insurers, brokers, and underwriters of all sizes. Artificial Lab's service-based architecture means it can quickly combine these blocks and integrate applications according to insurer requirements, from policy management to AI-based automated claims.
29. Insly
Total funding: €4.9 million (£4.2 million)
Number of investors: 10
Insly is a cloud-based platform that allows insurance brokers to search and manage clients, policies, objects, and payments. It essentially serves as a customer relationship management platform for the insurance sector.
30. Akinova
Total funding: $4.1 million (£3 million)
Number of investors: 5
Akinova was founded by insurance, technology, and capital market experts. It acts as an independent electronic marketplace for the transfer and trading of insurance risks. Akinova has already partnered with several industry giants, including Hiscox and MS&AD Insurance.