UK insurance brokers stressed, anxious, and overwhelmed | Insurance Business UK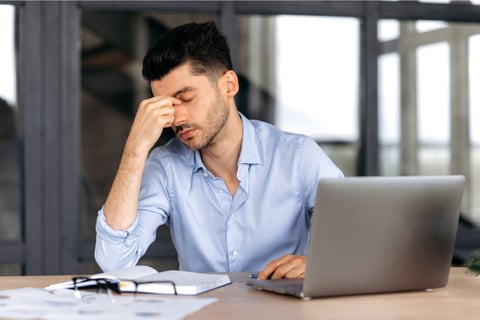 Despite firms' increased focus on colleagues' mental wellbeing, more insurance brokers in the UK are finding themselves overwhelmed and experiencing stress and anxiety, according to the 2022 broker wellbeing survey of insurer Ecclesiastical.
Here are some of the findings from the annual poll that was conducted by FWD, on behalf of Ecclesiastical, among 238 brokers:
70% experienced stress at work over the past 12 months (up from 61% in 2021)
44% experienced anxiety (up from 41%)
41% felt overwhelmed (up from 36%)
96% feel they have the tools to deal with stress
61% reported an improvement in attitudes at their brokerage towards mental health (up four consecutive years)
Ecclesiastical – which works with Mental Health in Business to support brokers in managing stress and building resilience – found that the top three causes of stress for insurance brokers in the workplace are heavy workloads, dealing with regulation, customer demands, dealing with insurers, and staff shortages.
Worryingly, the proportion of insurance brokers who feel able to report their mental health issues shrank for the fourth straight year.
"Heavy workloads, regulation, and insurer service levels are really piling the pressure on brokers, who are increasingly stretched due to staffing issues, and that's borne out in the results of our fourth annual broker wellbeing survey, which shows stress and anxiety are at record levels," commented Ecclesiastical commercial director Adrian Saunders, whose camp provided mental health first aid training to 32 broker firms this year.
"Regulation is a significant challenge, driven by the current amount of regulatory change creating additional work, particularly for smaller firms that often don't have the access to resources."
Saunders continued: "There are a lot of positives to take from these results, though – brokerages are continuing to prioritise the mental wellbeing of their staff, which has been on an upward trend for the past four years, and brokers feel better supported than ever before. It's also encouraging to see that awareness and understanding of mental wellbeing has risen across the industry."
Wellbeing measures being implemented by brokerages include flexible working, stress management advice and guidance, confidential helplines, counselling support, and mental health awareness training.
The commercial director, however, added: "There is one note of caution for firms. Some brokers told us they were frustrated at the volume of generic guidance being issued. Firms need to be mindful of offering more personalised support, so it's not seen as just a tick-box exercise."
The findings were published today, October 10, which is World Mental Health Day.