Zurich Insurance unveils Swindon office | Insurance Business UK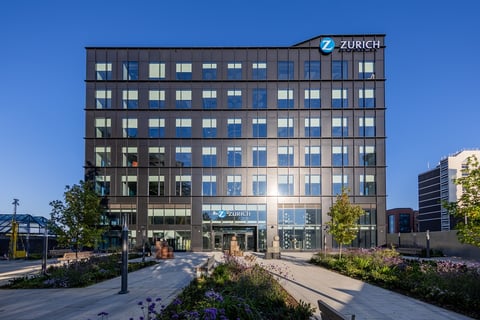 Zurich Insurance has opened Unity Place, its new office building in Swindon, which the insurer says has been built with its staff's wellbeing and the local environment in mind.
According to Zurich, the new facility demonstrates its commitment to Swindon, where it has a long history as one of the town's largest employers. The office is part of the ongoing regeneration of the town centre, as a workplace of over 1,000 staff.
The international insurer claimed that the building ranks among the top 10% of commercial buildings for sustainability in the UK and has been designed with input from its Swindon-based employees. The building is completely powered by renewable electricity. It also features electric car charging points, plants on every floor, storage for bicycles, improved recycling points, energy-efficient LED lighting, and a beehive and bird boxes to support local wildlife.
Some of the office's furniture is partly made from recovered ocean plastics. A multi-faith room and a nursing room will be available to staff.
The building was awarded the BREEAM "Excellent" accreditation for the project design stage, and it aims to receive a further "Excellent" accreditation upon completion in the coming months.
"We are delighted to announce the opening of Unity Place, an office designed with the future in mind," said John Keppel, chief sustainability Officer at Zurich UK. "We are committed to becoming one of the world's most sustainable businesses, and this state-of-the-art building takes us one step closer to achieving that aim."
"Unity Place is an excellent building both on the outside and on the inside," said Councillor David Renard, leader of Swindon Borough Council. "It's a great addition to Swindon's skyline and a shining example of what a private business can do to improve the local area. The eco-friendly features of the building are something that everyone should be aspiring to and we're proud to be the home of such a state-of-the-art office."