What are the pressures on customer-facing staff? | Insurance Business UK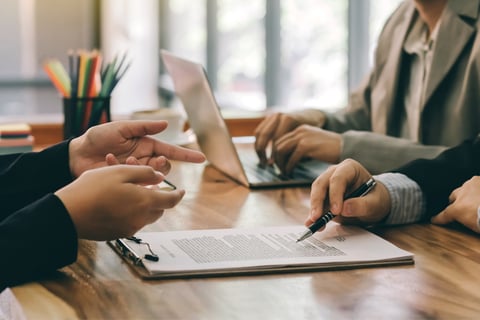 With almost three decades of customer contact centre experience to her name, Ageas's Caroline King has enjoyed front-row seats to seeing how the environment has evolved. In the last two-to-three years alone, that environment has changed almost beyond recognition, she said, propelled by an array of economic and social forces that in turn have shifted customers' expectations and behaviours.
As customer operations director at Ageas, King wears two distinct hats – that of having collective accountability for the design and execution of the firm's customer strategy, and reporting line responsibility for the majority of Ageas's customer-facing team. It's a role that gives her specific insight into how the tumult of the external environment puts pressure on customers – which all too often translates into pressure on front-line customer contact staff.
"Anyone facing into customers on a day-to-day basis is having to be very adaptive and to learn to support and deal with those customer demands differently," she said. "Bringing us up to recent history, we had the two years of COVID and having got through the other side of that, we find ourselves back into a situation where some customers are feeling the effects of financial hardship.

"And for products and services like ours [in insurance], which let's be honest, can be grudge purchases because they're not luxury items like buying a new car - it's motor insurance, it's protecting the things you love like your home – so that can make for quite a challenging environment."
King noted that these changes cannot be accredited only to macro trends because it has happened in conjunction with a significant change in the way people work and the world they work in. Looking at her own team, she said she can see the interplay of rapidly evolving customer demands playing out against a backdrop in which everybody works very differently in the new normal of a hybrid environment. And putting those two things together can make for a very different day's work.
For King and her team at Ageas, a two-pronged approach to creating a healthy customer contact environment is critical. The first piece of the puzzle is in supporting customers while the second is around protecting staff, she said, but the two elements have to come together to create meaningful change.
Protecting vulnerable customers
Ageas's support for vulnerable customers goes back in history beyond COVID, she said, and centres around the creation of the Ageas Care Programme which equips the insurer's teams to spot, identify and support vulnerable customers. The definition of vulnerability can be very far-reaching – including financial hardship, bereavement, changing personal circumstances and disabilities – and can also be limited to a specific point in time, for example, the moment of a claim.
"So, the Ageas care programme, when we first designed it, was set up to help our agents spot vulnerability, that's the first order," she said. "And then the second is to enable them to feel that they have the skills and the knowledge to support those customers. That's been [enabled] through the creation of tailored training, delivered through both e-learning modules and classroom-style training to our front-facing teams.
"And we've subsequently rolled that out across the entirety of Ageas, because my view is that we all have a responsibility to support customers, whether we're front of house or not."
That was the first part of the programme, she said, and Ageas has also created a series of online tools that go hand-in-hand with that. These allow teams to tap into an array of resources designed to help them deal with the customer in the moment. To achieve this, the insurer partners with external organisations including debt management specialists, charities such as Samaritans, and professional firms that help them build a wealth of skills and resources for the teams to access as and when needed.
To maintain this level of care, Ageas has developed the capacity for its team to highlight and record the needs of vulnerable customers so they are supported throughout their 12-month cycle with the insurer. COVID represented an opportunity for the insurer to refresh its care programme, she said, allowing it to put in place some changes and additional training tools and resources for the team. Now, Ageas is undertaking another refresh in the context of the cost-of-living crisis to make sure it's doing enough to support its customers and people alike.
Supporting front-line staff
When customers are undergoing financial pressures, sometimes this can result in outbursts when they can become frustrated or angry. While this is understandable, King said, it's absolutely not acceptable for staff to be on the receiving end of any abuse when they're trying to help customers. It was with this in mind that Ageas has joined calls for crackdowns on people who abuse customer-facing staff – a subject King and her team are very passionate about.
"Our people are there to support customers and help them as best as they can," she said. "And therefore, they know they should be respected in that same way, even when we do understand that sometimes things can be challenging and frustrating for customers."
Examining some of the support initiatives Ageas has implemented to empower its internal teams, she noted that the resources aimed at caring for vulnerable customers are essential to giving the teams the tools and skills needed to navigate challenging conversations. The insurer also provides additional internal resources for its people – including its mental health programme which has seen teams of staff trained and qualified as Mental Health First Aiders.
"They're very visible and accessible to our teams, so they can reach out anonymously and get support that way," she said. "We also have an employee assistance programme open to our teams as well. But, really importantly, we see it as the absolute responsibility of all of our line managers to have pastoral care of their teams. So, therefore, we do spend and invest quite a lot in making sure that our line managers have those soft skills to enable them to support their teams."
Supporting teams in a remote working environment
It's an area of emphasis that has only become more critical in the current hybrid working environment, King said, as for all the benefits of flexible working, having agents at home on their own does bring its challenges. Ageas wants to bridge the gap that remote working creates when it comes to getting prompt advice and support from your peers, colleagues and line managers – and has invested in a variety of technologies to bridge that gap.
"It doesn't happen very often for us but if you do have a customer who is being angry or abusive, that feels very different in your own home than it would in the office," she said. "It's not the same when you can't just go grab a coffee and have a quick chat with somebody, it feels much more personal and much more isolated."
These are the kinds of considerations that have occupied the minds of the Ageas team over the last 12-18 months, King said, as they strive to make sure both customers and staff alike feel supported.
"One of the things we see coming through very strongly in our customer feedback is satisfaction when they speak to us," she said. "They speak to an expert. They receive empathy. They receive the support and understanding that they want and that they need. And we see that those investments in the programme and that training that we're doing to support difficult situations are really playing through for customers. So, we're definitely seeing that return coming through in terms of the investment that we're making."
What are your thoughts on this story? Please feel free to share your comments below.