Massive prediction on insurance liability from climate change | Insurance Business UK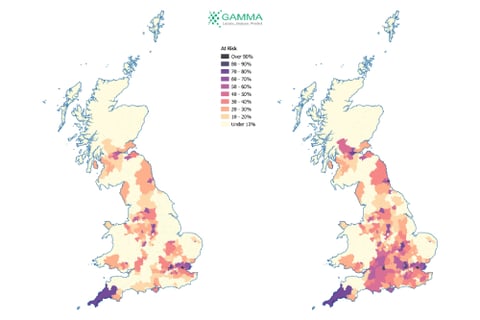 The impact of climate change will see more than 1.2 million properties in the UK newly at risk of flooding and 1.9 million addresses newly at risk of subsidence issues by 2050, leading to a potential insurance liability of £122 billion.
According to data from research firm Gamma Location Intelligence, 1,799,271 residential and commercial addresses are estimated to be currently at risk from flooding in the UK – a figure the firm predicts will increase to 3,066,318 properties by 2050, based on data from UK Climate Predictions and a 2˚C global temperature rise.
Read more: Government invests an additional £170m in flood defences
And should the worst-case flood increase scenario occur, Gamma Location Intelligence estimates a potential insurance liability of £122 billion, based on the average pay-outs on insurance flood claims in February 2020 following storms Ciara and Dennis.
"Global warming is already having an impact on our daily lives, but the effects of it will become far more tangible and extreme in the years to come. And Great Britain could be particularly affected," said Richard Cantwell, senior spatial data scientist at Gamma Location Intelligence. "The reality is that global temperatures are continuing to rise, and flooding is becoming more common place. If expected trends continue, a large number of properties will be newly impacted. As well as flooding, climate change is also increasing the risk to buildings stemming from subsidence. The dry summer in 2018 saw massive increases in losses. Such insights are not only valuable for homeowners, but also local authorities and insurance companies as we start to plan for the future."