Revealed: Most flood-prone cities in the UK | Insurance Business UK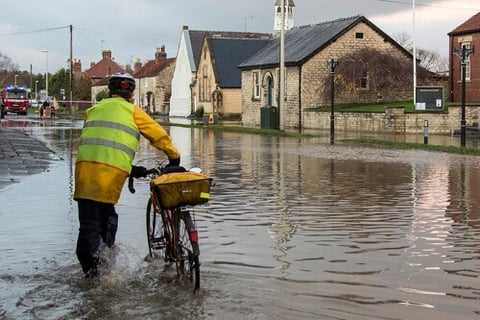 MoneySuperMarket, based on 1.25 million home insurance quotes in 2018, has released its top 10 list of the UK's most flood-prone cities.
For the second consecutive year, Hull made it to the top of the pile, even with it posting a decrease in the percentage of homes flooded. According to MoneySuperMarket, 7.5% – a tad lower compared to 2017's 7.6% – of houses in Hull flooded.
Next in line were Carlisle (3.5%), Lancaster (2.7%), Gloucester (1.9%), Llandudno (1.9%), Worcester (1.8%), Perth (1.8%), Oxford (1.7%), Halifax (1.5%), and York (1.5%). The last two cities were not part of the top 10 in 2017, when they ranked 14th and 17th, respectively.
Meanwhile it was also found that home insurance premiums see an average increase of 18.5% following a claim.
"Our data shows that home insurance premiums jump by almost a fifth after a claim, meaning that the extreme weather forecast for this week could end up costing Brits a lot of money," commented MoneySuperMarket's Tom Flack.
"As well as taking basic steps to protect and maintain your home against the elements, if you do live in an area prone to flooding, it's important to consider what you can do to minimise the risk of damage to your possessions."
Flack added that taking precautions to avoid a claim should also pave the way to cheaper options when shopping around for coverage.