Energy transition – why insurers need to keep it in their sights | Insurance Business UK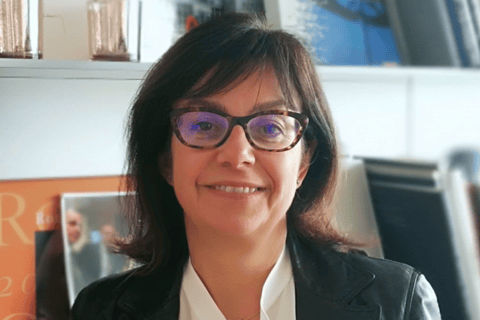 The energy transition is a topic of note on the agendas of regulators, governments, NGOs and financial institutions alike as the deadline set by the Paris Agreement – to achieve universal access to clean, affordable energy by 2030 and net-zero emissions by 2050 – draws ever closer. Industry developments, including the ESG scorecard launched by Chaucer and major reforestation programmes, highlight that this ticking clock is not going unheard across the insurance sector.
But what role do insurers have to play in the energy transition? And how they can keep their eyes on the environmental prize amid so many external market challenges? These were among the questions addressed by Isabelle Santenac (pictured) global insurance leader at EY, who leads a team of 24,000 industry professionals committed to helping insurers transform and reshape their businesses.
Read more: ESG considerations – how are they impacting underwriting?
Touching on her role, Santenac noted that every day brings something different but three key areas of focus govern the services she and her team provide the industry.
"Firstly, I work with the partners who manage our main insurance clients to ensure they have the right resources to service them, and ensure they bring the best EY has to offer to every project or initiative," she said. "The second is rooted in having a deep understanding of the industry, to enable us to anticipate and meet their needs. We develop solutions to help our clients navigate their strategies - tackling ESG, transformation, the regulatory agenda, and digital.
"Finally, I am passionate about sharing knowledge, developing skills and talent, and creating opportunities. I invest in mentoring and thought leadership that raises awareness of the DE&I agenda and talk about this on panels and at conferences. This is a priority for EY, and we weave this into everything we do."
EY's understanding of the broader environment in which insurance operates has enabled Santenac to develop a keen understanding of the factors impacting insurers, and she highlighted that the industry is committed to playing a significant role in the energy transition. This, she said, is reflected in the fact that many insurers are members of the net zero alliances for investors and for insurers. So, the importance of their role and the decisions they make – for example, investment in renewable energies - is heightened.
"[What's driving this is] the common recognition that we collectively need to react quickly and can no longer ignore what is on our doorstep - failing to act will have a significant impact on society, and the industry," she said. "Insurers are in a unique position where they can use their expertise to educate the society and help prevent the risk posed by climate change."
Read more: Howden introduces first-of-its-kind carbon credit insurance product
Santenac noted that by the very nature of insurance, insurers are well placed to support the energy transition, because the main role of the industry is to protect people and prepare society for a better future. The purpose statement of insurance reflects this, she said, and together insurers can create a better world.
"They can truly deliver on their purpose by taking an active role in mitigating the risk because it impacts everyone, everywhere," she said. "Insurers are well placed, not only because of their expertise, but because they are embedded in every corner of society, covering individuals and businesses."
There are several ways in which insurers can get involved with the transition. First on the agenda is impact investing, she said, whereby insurers invest with the transition to net zero in mind. Secondly, they can take a more collaborative approach with their clients to help them understand and accelerate their transition. Thirdly, they can be proactive in finding solutions with other sectors, governments, and key players – harnessing the ecosystem. And finally, they can be involved in proposing new products which encourage good behaviours.
The ability and willingness of insurers to engage with the transition are affected by several factors, not least the need for greater collaboration. The industry cannot act in siloes, Santenac said, and insurers cannot act alone.
"There has to be a collective effort to engage other players in this journey – there are many risks – and many opportunities to forge a stronger outcome by working together," she said. "Furthermore, there is a conflict of interest in short- and long-term decisions, which highlights the contradiction between environmental goals and the immediate needs of society."
A comprehensive examination of where insurers stand with regard to the energy transition requires recognition of the other external factors that are vying for businesses' attention in an increasingly unstable global environment. Inflation rates are starting to have a significant impact on the profitability of insurers, she said, and this means the transition and focus on climate change could fall lower down the list of priorities.
"[Meanwhile], the war in Ukraine creates a high risk of an energy shortage, which leads to countries using, for the coming months, more coal energy and fossil fuel because renewable energy cannot solve the immediate shortage," she said. "This again, highlights the current contradiction between long- and short-term goals."
However, Santenac has a clear message for insurers whose focus is at risk of slipping from the critical question of the energy transition. She highlighted that there is currently a "significant and valuable" opportunity to demonstrate how important insurers are in society and the impact they can have.
"By coming together to find a solution, instead of waiting for someone to make the first move, everyone progresses," she said. "If we do not address these issues, the protection gap widens, and this will have serious ramifications for the future. Insurers play a valuable role in people's lives and proactive, positive action will further their ambition to meet their net zero targets and deliver against their purpose."