Protestors stage another climate memorial outside Lloyd's HQ | Insurance Business UK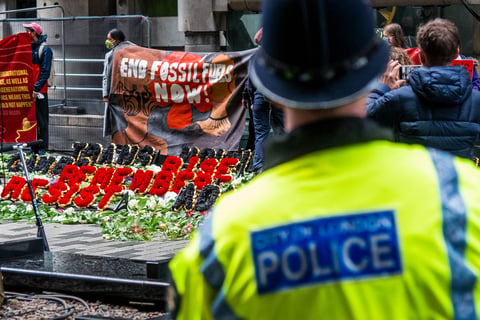 Image credit: Coal Action Network
Coal Action Network has staged a repeat of its October 08 climate memorial outside the Lloyd's headquarters in London. This time around, the October 29 encore was also participated in by the Pacific Climate Warriors and Friday for Future MAPA (most affected people and areas) Youth Strikers.
"Through the memorial brought to life the memories of every person harmed by the injustices of the climate crisis," said Coal Action Network's Elara Shurety.
"We've laid wreaths naming climate-wrecking projects we want Lloyd's of London to rule out underwriting today, and help to prevent billions of lives being destroyed by climate impacts. Lloyd's needs to stop ignoring the climate science and communities being affected by climate breakdown."
The event was held ahead of the 26th UN Climate Change Conference of the Parties happening from October 31 to November 12 in Glasgow. The groups are campaigning against insuring the Adani Coal mine, tar sands TransMountain pipeline, West Cumbria coal mine, and the Cambo oilfields.
"Our communities grapple with climate impacts every day," asserted Joseph Sikulu of the Pacific Climate Warriors. "As sea levels rise, we risk losing everything. The insurance industry should also understand the business risks of climate change. Climate-fuelled disasters like hurricanes and wildfires are costing the industry billions.
"It is in our shared interests to act by stopping the major driver of global warming: coal. Lloyd's of London must show leadership now and act on the climate crisis by refusing insurance for climate-wrecking coal projects like Adani's Carmichael mine in Australia."
Separately, as part of the day's Defund Climate Chaos protests, Insurance Rebellion spilled fake oil outside the iconic inside-out building that serves as the home base of Lloyd's.
An Insurance Rebellion member stated: "Lloyd's of London doesn't seem to be getting the message that insuring coal, oil, and tar sands is ensuring climate breakdown. We feel we have no choice but to escalate our actions at its headquarters.
"We can't stand by while its shareholders make huge profits from destroying the planet and killing us, so our actions will continue escalating until they stop. It is utterly grotesque that Lloyd's of London made its name and vast wealth as the main insurer of slave ships until slavery was abolished; it hasn't paid a penny in reparations to the communities it helped destroy, and it'll do the same with fossil fuels unless we stop it first."
In previous demonstrations, Insurance Rebellion threw green paint over the front of the Lloyd's building; set off a stink device; and dumped fake coal using a tipper truck.