FloodFlash widens partnership with Munich Re | Insurance Business UK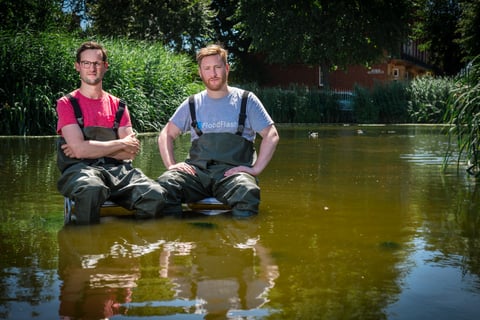 FloodFlash – the parametric insurance provider that is setting records by allowing same-day property flood compensation – has secured what the start-up called a "landmark" agreement with the major reinsurer Munich Re.
Originally, Munich Re just provided capacity for FloodFlash+, the insurtech's consultancy service that came to life last year to cater to large and complex risks. The unit aimed at mid-to-large-sized businesses is headed by Richard Coyle, who came on board last month as head of FloodFlash+ and capacity management.
Now Munich Re will take on the lead role in backing FloodFlash's core proposition, which offers rapid-payout cover for small- and medium-sized enterprises and landlords. Available since 2019, the mass market offering was previously underwritten by Everest Re.
"We couldn't be happier in growing our relationship with Munich Re," commented FloodFlash chief executive Adam Rimmer (pictured right with co-founder and chief scientist Ian Bartholomew). "They have a proven track record for supporting innovative products. Their pedigree in the parametric insurance space makes us even better suited.
"This partnership will ensure we can move faster and provide more flexible covers to our customers and provide a springboard for international expansion. We will set the standard for how underwriters and insurtechs can work together to address industry issues, starting with the US$58 billion yearly global flood underinsurance problem."
With the new tie-up with Munich Re, the London-based insurtech hopes to provide more quotes across the UK, aside from laying the foundation for FloodFlash's expansion ambitions to service the likes of the US, German, and Australian markets.
"We are really excited to increase the scope of our partnership with FloodFlash," added Munich Re Innovation Syndicate active underwriter Stuart Newcombe. "I look forward to working together on parametric flood insurance, filling a very significant insurance gap."
In January, FloodFlash compensated a policyholder less than 10 hours after the insured business was hit by floods during Storm Christoph.