Russell Scanlan lends support to hand sanitiser producers | Insurance Business UK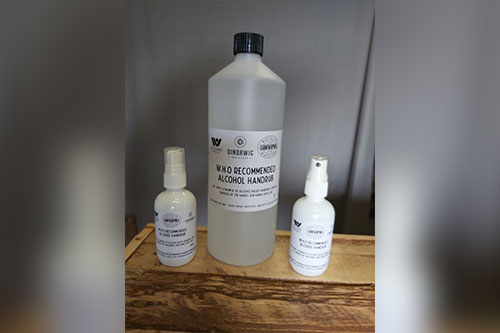 Have you been able to find hand sanitiser in the supermarket yet?
Chances are that unless you ordered in advance, you're still searching for what once seemed like "just another" item in the supermarket trolley. The coronavirus outbreak moved hand sanitiser from the shopping list to the wanted list – and, as a result, some distilleries switched their production to the product to aid the cause.
For these companies, support from their insurance brokers has been vital and Russell Scanlan's specialist insurance division Masterbrew has been aiding its clients.
The specialist works with breweries and distilleries and has been working with insurers and businesses to ensure production changes could be made swiftly.
Llanfairpwll Distillery on Anglesey and Ludlow Gin in Shropshire were among the first in the country to help, with the broker lending its support.
"We are a small business and like many others, lost our trade orders as the COVID-19 lockdown forced the closure of our clients' shops, bars and restaurants," said Rob Laming of Llanfairpwll Distillery. "Still, we had the facilities to help and when Welsh Drinks Cluster, our industry association, got in touch and suggested a move to sanitiser production we were very keen to help. We have been working closely with the Welsh Government and other local distilleries since that point to meet the overwhelming demand, and producing the sanitiser for those that need it in our community, delivering directly to district nurses, Marie Curie care nurses and local food banks to name just a few.
"Despite the demand for the product, which is not showing any sign of letting up soon, this is not a profit-making venture. We took on the challenge to help our community and the key workers risking their lives, while keeping our production line going and our doors open."
"We decided from the outset to work in partnership with other local distillers to help frontline NHS staff on a non-commercial basis," added Ludlow Gin's Shaun Ward. "Our customers have been incredibly supportive of what we decided to do and have relished the chance to spread the word on the importance of hand washing. We've valued the opportunity to give back to those working so hard in the health/care services and do something that could help save lives.
"When I started my gin making career, I never believed I would be asking myself moral questions as to whether I should be doing something for commercial gain or not. These are exceptional times and we must all do what we can if we are able, it's not the time to think profits. It's a great privilege to be able to help."
The Masterbrew team helped out with specialist cover – it states it is on hand to help anyone needing to switch their normal production in this manner during the pandemic.