From a junior at Lloyd's to a leader in the charge on terrorism | Insurance Business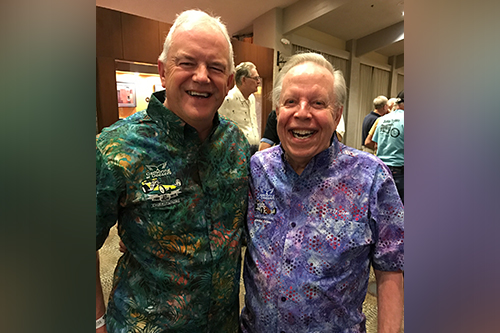 Progress in the insurance industry can seem a long way away when you first enter the sector, fresh-faced and eager but with so much to learn.
Imagine then if your first job was at Lloyd's of London itself, surrounded by figures such as the controversial Ian Posgate – one of the highest earners in Britain who was later banned from the market. For many, spending time with such legendary peers would be intimidating, but for Geoff Stilwell (pictured), now MD and CEO of Beech Underwriting, who entered the business on the junior box at Lloyd's back in 1972, that experience was inspirational.
"I thought I'd made it," he said, speaking to Insurance Business. "I joined Lloyd's when, in my view, a lot of the greats were still there. I sat about 15ft from Posgate and a few of the other guys there. You sat in awe of these people – people like that, they used to have brokers, people like me, queuing to see them. I kid you not, the first day I walked into Lloyd's the hair stood up on the back of my neck and I got a real tingle.
"It was a wonderful place to be. I feel I was there at the peak of its development. At one point, there were around 95 motor syndicates. We used to do the Lloyd's roadshows and we used to go around the country – doing two a day, three days a week and would get 500-700 brokers turning up. Now you'd be lucky to get 70."
Stilwell points to a number of fantastic mentors during his early years in the industry – from his first leader John Bryce, to the UK underwriter Mike Miller who later became his boss too.
"I was a gopher basically and then Mike had some sub agents that wanted to run their own syndicate and he said: 'why don't you come and join me,'" Stilwell explained. "We started the syndicate in the summer of 76, first of August. It was a motor syndicate with a marine segment as well. It was a wonderful time because of the people you met – I am still friends with many of the brokers I knew back then."
From there, Stilwell became one of the original members of the Towergate team with Peter Cullum before leaving there at the end of 2000 and deciding to start his own business – Beech Underwriting.
"My wife, no longer with us, was an actuary and that's how we started the business," he said. "We were one of the first people outside Pool Re to offer terrorism – we didn't have the capacity back and then and rates were relatively high.
"When we started Beech that's when we started properly writing terrorism with a £12 million limit. Oh, how times have changed."
With Beech, Stilwell chose to focus on terrorism because he believed back then "everybody was chasing everything else" – pointing particularly to a clustered commercial combined market.
"It is, to this day, hard work to write that stuff because everyone is doing something for nothing," he said. "We decided back then we just weren't going to write it – why chase 50 quotes and get two? With terrorism, our take-up rate is high, and our renewal retention rate is sky high. We've had 20-40% growth every year."
The key to that success, he stated, is that the company has a "great stand-alone online trading platform" which stands out from its peers.
"We don't charge anyone for using it," he said. "As long as they are an agent of ours, they have access to it. If you cannot put a quote on and have the documents within a minute for a simple household risk, something is very wrong. There is no way we could do what we do without that.
"We were ahead of the game. We've looked at trying to put it into some of the different quote systems and so on, but it costs too much to do that. That's why we offer something nice and simple, no charges – you can put a block of flats on the system and you'll get an answer within minutes."
Now coming up to nearly 20 years in business, Beech boasts some of the largest capacity out there and can trade in Europe and "almost anywhere in the world."
Still, despite its rapid growth, in Stilwell's heart, Beech will always be a "husband and wife venture" – his late wife passed on in 2005. He described his biggest regret as her not being around to see the success the company has had.
"If it wasn't for her support and encouragement, we wouldn't have done it," he said.