Is the COVID crisis accelerating the terrorism threat? | Insurance Business UK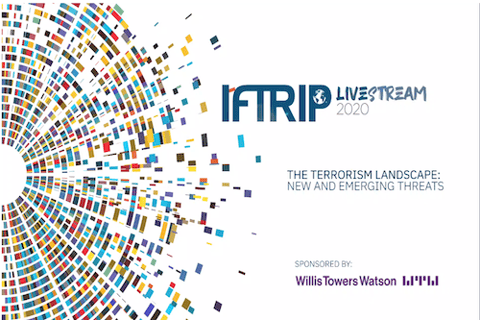 Insurance businesses have long attempted to change the 'grudge purchase' or 'necessary evil' narrative which surrounds their services. On top of that, most consumers would rather not think about the events that make insurance worthwhile. To consider life insurance or cyber insurance or home insurance is to entertain the variety of the all too real threats facing us at any given time.
Terrorism insurance falls firmly within this category and it is of little surprise that, for many businesses and individuals, the sheer scale of the COVID-19 crisis has caused terror threats to drop somewhat off their radar. Yet, as the recent International Forum of Terrorism Risk (Re)Insurance Pools (IFTRIP) Livestream event on 'Defining Terrorism' revealed, the terrorism landscape is a volatile one which must be continually assessed and evaluated for new threats.
Read more: Pool Re review makes call for evidence
At the IFTRIP panel discussion on 'The Terrorism Landscape: New and emerging threats', senior leaders from across the terrorism insurance and counter-terrorism sectors gathered to discuss whether the global pandemic is increasing the terrorism threat. Paddy McGuinness, the global head of terrorism, at Willis Towers Watson Financial Solutions, noted that COVID-19, and all the events encapsulated within the pandemic, has had something of a suppressive effect on terrorist groups and their ability to operate, but also on the ability of counter-terrorism forces to reduce their vulnerability.
"We're just at the tail end of a really big global effort to suppress Daesh in Iraq and Syria and elsewhere," he said, "and we had a good effect to some extent, but we haven't put the fire out, we put it underground, and now we're having a less suppressive effect. So, our vulnerability is somewhat increased, and the terrorists are suppressed by our actions and the pandemic, but [they haven't] gone away, and we should expect them to come back."
There's no question that the pandemic environment everybody is living in right now has limited or constrained formal terrorist group activity in some important ways, said Nick Rasmussen, executive director of the Global Internet Forum to Counter Terrorism (GIFCT). Terrorists can't move as easily as they might have earlier, and they certainly find it harder to congregate in large groups. However, while there has been this constraint placed on terrorist group activity, the pandemic environment has also provided some significant advantages to extremist and terrorist networks.
"When individuals are stuck at home, or stuck in locations where they're spending a significantly greater amount of time online, that of course opens up the online environment for all of the online recruitment and radicalisation activity that we saw take place so effectively during the height of the Daesh recruitment blitz," he explained.
Read more: Pool Re and NMU discuss changes to terrorism cover
Andrew Silke, professor of terrorism risk mitigation & resilience at Cranfield University highlighted his agreement that, while COVID has had a suppression effect in certain areas and on certain types of activity, a big spike has been seen in online activity. It is clear that engagement with extremist material online has gone way up, he said, and it is anticipated that this will lead to an increase in radicalisation going forward.
"I think the main concern is the economic impact of the pandemic," he said. "This is hurting government and industry, and finances going forward are going to be really restricted. In the UK, we've just come out of a long period of austerity government and, during that period, counterterrorism (CT) budgets were largely protected, and I don't think that's necessarily going to be the case going forward. Now I think the budget squeeze is going to be even harder after the pandemic, and whether we can protect CT going forward in the same way that we have in the past, I think there's a big question mark over that. And, as a result, we may see our capability in this area being eroded and being undermined, and that could only be good news for terrorists."
Read more: TriStar Special Risks MD on the changing appreciation of the role of terrorism insurance cover
Governments are distracted at the moment, Rasmussen said, and their resources are stretched as they deal with the pandemic. There simply isn't the focus and the attention that many governments would typically place on extremism and terrorism right now. It's simply not being directed at that problem set in the way that it was at an earlier stage. He also noted that some terrorist and extremist networks have been advantaged by the pandemic as it contributes in some ways to their conspiracy narratives that place blame or fault at the hands of Western governments, for example, or the oppressive state in some cases.
"In many ways, a terrorist narrative can be adapted to account for the pandemic and to even turn it to some form of advantage," he said. "But, at the end of the day, the point I would probably most align myself with is a simple one - few if any of the underlying factors contributing to the global spread of extremism and terrorism have been addressed. And so, if those underlying conditions have not been addressed, why would we expect this problem to have shrunk so significantly, simply because we're focused on something else right now?"