Marine insurers will 'feel the pain' of the container crisis | Insurance Business UK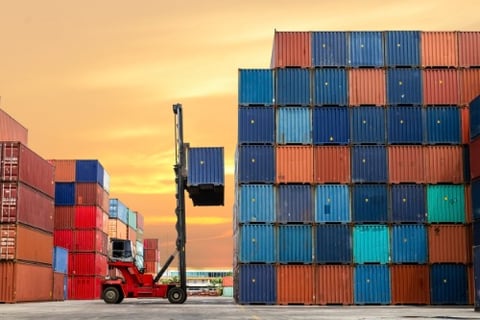 More than a year-and-a-half since the onset of the pandemic, the pressure on the world's supply chains has not abated as the vast network of channels – including ports and shipping vessels – relied upon to distribute goods remain in a perplexed state. The situation has caused shipping delays and skyrocketing freight costs – something that Jonathan Moss, head of marine and trade at DWF Group Limited – believes has "catastrophic" implications not just for the shipping industry, but also for businesses, consumers, and even insurance companies.
"The supply chain has faced major disruption globally due to the shortage of shipping containers, particularly since the COVID-19 pandemic," said Moss. "With factories closing and transportation coming to a halt, many empty containers have been left at ports and the amount of vessels at sea dramatically reduced. Further, tighter restrictions, minimal staff, together with a backlog of containers, have caused catastrophic problems for the shipping industry."
Read more: Disruptions galore from coronavirus hits shipping insurance market
Moss added that while China – where the majority of the world's shipping containers are exported from – has recovered from the initial effects of the pandemic, only a relatively small number of shipments have arrived at their rightful destinations due to strict lockdown procedures in the US and the EU.
The "perfect storm" of the Suez Canal blockage in March and other pandemic-related events like the partial shutdown of China's Ningbo-Zhoushan Port – the world's third busiest port – for two weeks last August after a dock worker tested positive for the coronavirus did not help the industry's cause either, he added.
"These caused significant delays for shipments, adding weeks and sometimes months to the cargo delivery time as ports were closed or operated with a skeleton workforce," he said.
Read more: Suez Canal unblocked – but reinsurers facing large losses
While Moss admitted that the brunt of the impact would be felt more by freight companies, retail businesses, and consumers, he said insurance companies would not escape the effects of these disruptions.
"Marine insurers will feel the pain with notifications across various insurance lines as vessels are delayed, cargo is undelivered, contaminated and lost, with consequential losses and business interruption losses claimed along the way," he said.
For businesses and consumers, Moss said the impacts "are far more wide-reaching."
"Serious delays have meant freight companies paying over the odds to receive shipping containers quicker than their competitors," he said. "Freight costs have soared from early 2021 to now and the cost of shipping cargo from China to Europe has quadrupled."
The latest data from London-based Drewry Shipping's world container index revealed that the composite cost of shipping a 40-foot container on eight major East-West routes hit $10,374.64 (about £7,618) in the week to September 16, up 323% from a year ago.
"Consumer shopping has also been impacted," Moss added. "The usual steady supply of goods has been interrupted for many businesses as vessels wait to load cargo at overcrowded ports, particularly in China and the US… Container imbalance, together with a shortage of containers, is hurting global trade. Containers are building up in some ports and unavailable in others causing bottlenecks, adversely affecting buying patterns and driving up prices in the shops."
However, Moss admitted that he did not see a "quick resolution" to the crisis.
"It will take time before supply chains can be back on track globally," he said. "While there are suggestions that the shipping industry cannot keep up with global demand, improvements are being made. Key players in the supply chain are discovering ways the operation of vessels can become more resilient to unexpected change, including by the adoption of organisational changes, enhanced logistics operations and blockchain technology for smart contracts, approvals and customs clearances."