Winter weather heightens risks for SMEs, warns Zurich | Insurance Business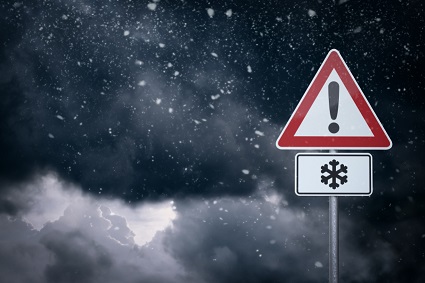 The UK has already seen freezing weather conditions cause havoc this winter, from flights being cancelled to schools being closed.
For SME businesses, winter weather conditions can increase the risk of property damage, injury and potential liability. However, careful preparations can help your business to avoid any slip-ups.
One common issue during cold weather is
escape of water
caused by frozen pipes, where even a small leak can cause significant property damage and interruption to your business – particularly if an event should occur while the property is unoccupied over the holiday period.
Ahead of any cold weather, SMEs should check that pipes are properly lagged, especially in areas that are poorly heated such as roof spaces. In addition, confirm that your boilers are serviced and the thermostatic controls are set to keep the premises well above freezing.
"If the heating system does fail, having plans in place to only use low risk forms of portable heaters, such as oil-filled radiators, rather than those using flammable liquids or gases, will help minimise the fire safety risks," comments Ralph De Mesquita, from
Zurich
's Risk Management team. He also adds that escape of water losses can lead to electrical problems or even fire.
"It's important that key business personnel, and any contractors carrying out work, know where the stop-cock is located in the premises and any actions to take following an escape of water. For example, it may also be necessary to have the electrical installation checked by a qualified electrician."
During winter months, SMEs should ensure that property inspections are regularly carried out, paying extra attention to at-risk areas such as gutters, chimneys, roofs and pipes carrying water. Should any damage occur that requires repair, it's essential that properly trained professionals are brought in to do the job, and that employees do not attempt dangerous work.
As well as property damage, harsh weather conditions and fewer daylight hours all contribute to a rise in slips and trips during winter, according to Zurich. As a result, businesses must ensure they take steps to minimise the risk of any incidents, which will help keep your customers and staff safe.
While customer and employee safety is the key priority, in today's litigious climate the potential for fraudulent claims being brought against a business should not be underestimated, warned Neil Fraser, claims proposition manager.
"SMEs should undertake a risk assessment to decide what they reasonably need to do to keep their property safe for staff and visitors. It is also important to keep a record of what they have done and when – ideally with photographic evidence," Fraser explained.
"That gives a business a good chance of defending any potentially fraudulent claims. We want to support SMEs, and unfortunately we do see them being targeted."
For small businesses, even a relatively minor incident can have a big impact, which is why it's vital that brokers help coach SMEs in taking active risk management steps, and
having a crisis plan
in place.
For more information, please visit
Zurich
's website or contact your usual
Zurich
contact. Find out more about the Zurich SME Proposition
here
.
Related stories:
Online reputation an emerging risk for SME clients, Zurich warns brokers
Zurich reveals it pays 99% of UK claims