5G: Revolution or exaggeration? | Insurance Business UK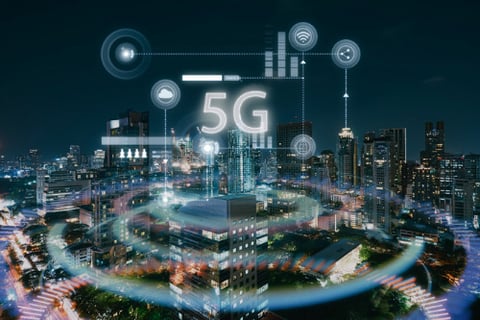 The race to fifth-generation (5G) wireless technology is on, with governments around the globe scrambling to support it. If they don't, many industry experts believe, they risk losing out on the futuristic opportunities that 5G could make possible, from self-driving cars to smart cities that can point vehicles to the clearest roads. These advances also promise significant economic incentives: A 2019 study from IHS Markit predicts that by 2035, 5G will create 22 million jobs and generate $3.5 trillion in economic activity globally.
The future's so bright
On the one hand, there is reason for optimism. By providing internet speeds approximately 100 times faster than those of 4G networks as well as lower latency, 5G can enable split-second uploads and downloads, make mobile connections more reliable and enhance the quality of virtual communications. Industry analysts believe it has the potential to alter the technology landscape much like how the launch of the internet and, later, smartphones, changed how people communicate and access information.
5G may make it commonplace for companies to hold virtual meetings by gathering 3D holograms of employees from around the world. The number of devices connected through the Internet of Things could multiply while communication across those devices improves. Self-driving vehicles could be adopted more widely as 5G-enabled responses surpass the speed of human reflexes and insurers can collect real-time data that demonstrates how autonomous vehicles behave on the road. Connected medical devices that enable the remote monitoring of a patient's health could ease that person's recovery and make best use of the medical provider's time. Sensor-connected cities could prevent traffic congestion or monitor the safety of water pipes and other infrastructure.
Are we ready?
But how soon will these innovations transform life as we know it? Kevin Werbach, business professor and author of The Blockchain and the New Architecture of Trust, told CNN Business he believes the advent of 5G won't represent a radical break from our current experience – and that 5G performance claims are misleading. He said the biggest immediate change it will bring is network slicing, which will make it possible for organisations in such sectors as financial, healthcare and manufacturing to access a virtual slice of network capacity to ensure consistent performance – and help them avoid the need to create a separate network.
Furthermore, since 5G will only be as good as the infrastructure supporting it, we have years before governments can make its most futuristic benefits possible. Julie Song, president of Advanced RF Technologies, told Forbes that 5G's initial benefits could largely be seen indoors where people are accessing internet-connected devices. So, robotic surgeries will be a more commonplace near-term innovation than fleets of driverless cars on the roads.
As 5G enables these changes, there will be new risks to monitor and manage. 5G has the potential to interfere with satellite communications related to everything from weather prediction to aviation. A broad expansion of devices capable of transmitting real-time data and taking responsive action could also make 5G technology vulnerable to hacking.
Connected medical devices could introduce personal-injury and data-security risks. Finally, there is ongoing debate about the potential for 5G radiation to cause health problems, and the scientific evidence, while inconclusive to date, could yet uncover hazards.
"As 5G becomes more widespread, insurers will need to partner with clients to assess the risks," said Mark Lawrence, technology underwriting development manager for Travelers Europe. "While technology changes quickly, insurers can only underwrite risk in accordance with the data currently available. The more we know about emerging risks, the better we can tailor cover to new exposures."