Drones: The next growth area for brokers? | Insurance Business UK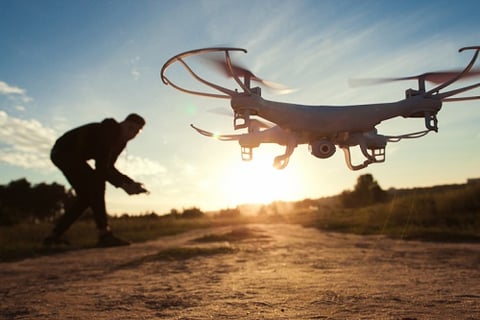 Drones coverage could become a more mainstream area for brokers in the future as the sector sees a boom in usage, says Hiscox.
This week, Hiscox-underwritten specialist drone insurer Moonrock Insurance announced it would be providing brokers with wholesale access to its commercial drone cover.
According to James Halesworth, senior development underwriter in the schemes team at Hiscox, drone usage is transforming business sectors and creating a growing market.
"There are huge changes in industries across the UK that are realising how the use of drones can affect them, cut costs and improve their industries," Halesworth told Insurance Business.
Businesses in media, photography and surveying are leading the way with drone usage, but there is a growing interest in using the technology for dangerous and life-threatening processes such as inspecting fires.
In the past few years, the number of insurers active in the drone space has grown from a handful to around a dozen, according to Halesworth. As a result, there is an increasingly competitive market for coverage.
"At first the policies definitely varied, and we came in and tried to simplify the product and offer as wide a coverage as we could, but I think, as is the case with most industries, it tends to get a lot closer together [when there are more products in the market]," the underwriter said.
"How we sell and what we sell will be different to the market and everyone will do things slightly differently, but the covers themselves are pretty wide now, as they should be."
Currently, Moonrock's Hiscox-backed proposition is only available to commercially-qualified pilots using drones for commercial purposes.
"We've decided at this point not to play in that [recreational] space, and I think they are two very different things," Halesworth said.
"While I know others in the insurance market will definitely go into that area, it's not something that I think is a valid product at the moment. However, going forward will [recreational] insurance become mandatory like car insurance? Quite possibly. And that's when it becomes a whole different proposition."
Some brokers are already receiving enquires from clients about drones, largely those in the photography and surveying space. But in such a specialist area, a detailed knowledge of the product and surrounding regulations is needed – which is why the Moonrock product is currently being extended to wholesale brokers only.
"It's difficult for us to want to open that up to all brokers right now. It's a lot easier for me to want to deal with one broker and appointed representative, and really understand where it's working and where it isn't, and to keep an eye on the market," Halesworth said.
"I presume it will definitely become a more widely available product for brokers in the future. I foresee that and don't think that's a bad thing. But I think at least we can give a really good grounding to that."