Generali UK CIO on how insurers can make their digital transformation work | Insurance Business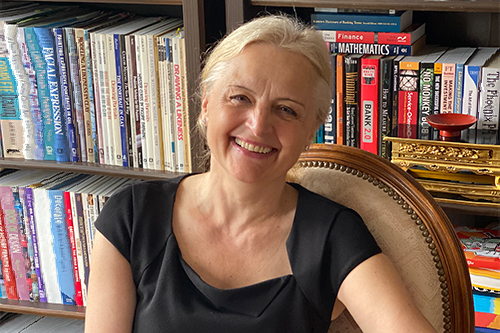 In insurance, as in so much of life, timing really is everything. This has only become clearer during the COVID-19 pandemic which saw those companies which had already embraced remote working and digital communication channels reap the rewards of this investment when lockdown hit. In a recent discussion with Insurance Business, Yanna Winter (pictured), CIO, head of IT for Generali UK highlighted the benefit of the timely nature of the business's digital transformation and the challenges involved with transforming a previously paper-based operation into a digital-first one.
Read more: Digital evolution must happen across entire insurance ecosystem
"Like any other insurance company at the moment," she said, "from an IT perspective, we're at the intersection of three things that we need to deliver. One is functionality. The second, inevitably, is regulatory security requirements. And the third one is always cost. And there's that balance, because we all have good ideas, we all have needs but if we can't afford them, then we just have to prioritise correctly."
For Winter, who has been working on some of the biggest digital transformation projects in the UK in the financial services industry throughout her career, which spans around three decades, her experience has taught her how the nature of such digital transformation strategies has changed. Long gone, she said, are the times when the approach to such implementations was to say, "it will take seven years, and it will take £500 million to finish the transformation." It is now more important to implement change one careful slice at a time. This approach leaves businesses with what Winter referred to as "islands of stability". If the change is incremental and done from budget year to budget year, then, at the end of each year, the business and the transformation are in a comfortable place.
Working in the insurance space is particularly interesting, she noted, as these organisations do not want to be faced with big monolithic programmes and are facing the major pain point of legacy systems.
"It is relatively straightforward to put a label and say, 'this is a legacy system, it is complex, therefore, I need to replace it'," she said. "But again, if we don't have the time and capacity or the resources to replace those big systems, so we come back to needing a different approach. I describe this as the 'divide, conquer and integrate' strategy.
"You need to be very careful in the analysis of what you have in your legacy systems, what you have to preserve, what you have to add, and how then you can integrate these pieces... We cannot just say 'wipe the lot and start from a clean slate'. It's not going to happen. Plus, there's a lot of value in what we already have, there's value in the data, there's value in the know-how, in the algorithms, in the pricing algorithms, and the risk management. So, from an IT point of view, we have to be careful about what we preserve."
Generali's digital transformation drive is a four-part process involving firstly the resolving and implementation of its integration strategy, secondly infrastructure, thirdly data and finally applications. The logical progression of these steps is that, with its integration resolved first, she said, the company can widely implement its 'divide, conquer and integrate' strategy.
Read more: Applied Systems Europe on the value of knowledge sharing
In conversation with her IT peers across a range of sectors, Winter said, when the lockdown was first announced, CIOs were often asked whether or not the crisis would slow down the rate of implementation of their strategies. The common consensus reached among them, however, has been that now more than ever is the time to accelerate the rollout of the infrastructural processes which have enabled businesses to continue working through the crisis.
When it came to the infrastructure transformation which formed the second wave of Generali's IT transformation, there were three things which made the most significant difference and each of these was deceptively simple – laptops, collaboration and the move to paperless. The infrastructure transformation featured two major parts. The first of these, Winter said, was that everybody in Generali UK got a laptop.
"A little bit by coincidence and a little bit by luck, all the laptops for people in the UK who didn't have laptops already, as a big percentage already had them, arrived the week before lockdown," she said. "So, I retained a small skeleton team to go and work, in safe conditions, to build the laptops and ship them to our people's home addresses. And it was a very smooth, seamless experience with people just picking them up and working from home."
The second part of this infrastructural shift was the move to the cloud, Winter said. The company does not want to own data centres or to look after them, and the move to the cloud means that this is being done professionally by another entity.
When it comes to implementing such transformations, it can be difficult to emphasise the requirement for such change until a crisis situation has unfurled. Winter highlighted that even as recently as March 2019, she would have to explain the changes she was rolling out to others in the industry who did not yet see the need.
"They wondered, why can't we just continue working the way we are?" she said. "And I remember a very interesting conversation with somebody in IT from another business and asking how we would handle it if something goes wrong. 'OK, we can walk down the street to where we have emergency offices', they said, so I asked what would happen if we don't have access to another office, if we don't have access to London? 'That will never happen' was the reply. Famous last words."