Insurwave CEO on the opportunities facing the insurtech sector | Insurance Business UK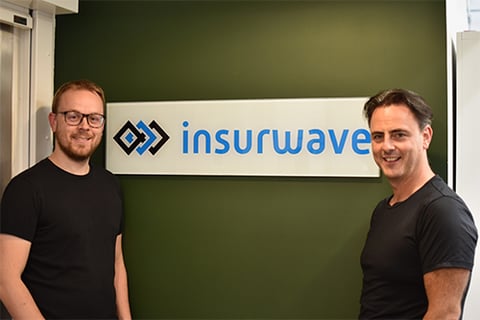 2020 offered a blend of threats and opportunities to the UK insurtech market and 2021 looks set to maintain the status quo. Offering his perspective on what the year ahead will hold for the sector, as well as for Insurwave, the insurtech platform of which he is CEO, David Power (pictured right) highlighted that the key challenge surrounds communication.
The speciality line space where Insurwave operates, he said, has not traditionally been flush with insurtech and so businesses must discern how to effectively communicate how technology, automation and data can transform the insurance industry for the better. This will inevitably lead to new opportunities for technology companies to partner with brokers and insurers to build new insurance solutions.
Read more: Insurwave CEO on how business will use fresh funding to expand its proposition
"By combining [technology] with what insurance companies are great at we can bring the best of the insurance market to the insurance buyers," he said. "And I think, once we are open to believing that technology can only make us better and open to collaborating, with technology partners being brought into the traditional model, then we're all going to benefit. And it really will create the space that this sector needs – one of innovation and of change."
Between the work it has done with its broker and insurer partners and its involvement with Lloyd's Global Health Risks Facility, Power can attest that there is no part of the market that Insurwave engages with that is not up for transformative change. How quickly and how effectively this can be executed are the more subtle elements of the journey, he said, but, in terms of appetite and intent, engagement is at an all-time high.
"That's the opportunity," he said. "The challenge is to translate this into real value for all participants and, to be frank, we are dealing with traditional sectors that look at technology and see it as a mixed blessing, in some cases because they might need to adapt their business models to leverage technology. Sometimes that fear does lead to some resistance, though I have to say we haven't met a lot of that.
"But in the detail of the implementation, we're now getting increasing populations of people getting involved with technology in specialty lines, which has not been an area that has historically been easy to bring technology to. But now that more players are coming into the space, that intent is becoming real and the measure now is going to be translating that intent into real business models and new innovations in speciality lines. And I think that will happen, but it's going to take a bit of time."
Looking to 2021, Power said he is excited about the year ahead and pleased to see that insurers, brokers and reinsurers are empowering internal team members to become "innovation scouts" who are keeping an eye on new opportunities. Senior leaders at insurance businesses giving their people equal accountability to find exciting new technology-driven partnerships and solutions, and to bring them into the fold, is driving collaboration across the board.
One really interesting aspect for the insurance industry to embrace, he said, is the role that it can play in the rollout of the COVID-19 vaccine, as enabled by technology. For the sector to become an active player in distributing the vaccine, it needs solutions able to handle the huge amount of data available. Insurwave is working with Lloyd's and Parsyl in the rollout of the vaccine to developing countries and was brought on-board due to its capacity to bring together disparate data and automate its distribution.
Read more: Lloyd's of London, Parsyl to support COVID-19 vaccine distribution
"This is an example of a new risk landscape which requires the partnership of the traditional and the new, where partners like Insurwave have been able to come together and work with the insurance markets, and with Lloyd's, to bring more market into the insurance sector," he said. "What I want the industry to see is that when we marry technology into the insurance sector it can increase the size of the market and create more opportunities."
For Insurwave the next steps are clear, Power said. The business has some upcoming implementations that will keep the team busy over the next year. By the end of the year, its aim, which is currently on track, is to have doubled in size in terms of both revenue and employees.
"It is exciting, but we're even more excited by the attitude of the markets and their understanding that, by twinning technology with their knowledge and experience of the sector, new opportunities are coming to the industry," he said. "And that makes it exciting for everyone, so we're looking forward to the future."