Operating on the front lines of data and innovation | Insurance Business UK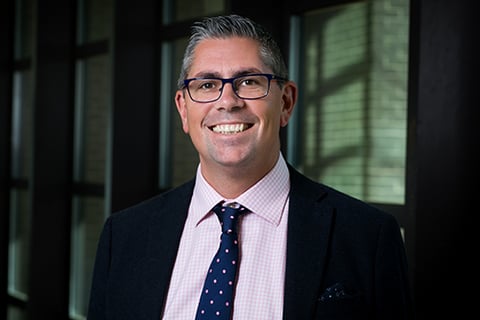 While others might dread the concept of being persistently busy, it's a state of affairs welcomed by Martyn Mathews (pictured), senior director of commercial and personal lines at LexisNexis Risk Solutions. In a discussion with Insurance Business UK at the 2022 BIBA Conference, he highlighted that being busy is a sign the market is truly embracing innovation – a refreshing sight for him and his team.
Read more: Easing customer data validation in small business insurance
"That's exactly where I want to be. And as an organisation, we want to be in the heart of that as well. So, long may it continue as far as I'm concerned, because it means that everybody is enjoying what we're doing, and enjoying innovation on behalf of their customers as well," he said. "We're always innovating on behalf of the industry and that's why we're here [at BIBA], to talk about a whole suite of services but, in particular, our suite of intelligence solutions for the broker community."
It's an interesting conversation, Mathews noted, as these intelligence solutions have been offered to the market for six-to-seven years and have been recently revamped and made available to brokers with additional data and enhanced service to improve their decision making. The enhancements LexisNexis Risk Solutions has made are already making a difference to customers, he said, which is reflective of the advancements that have been made in the type and volume of data available across all markets and the difference it is making to the broker community.
"It links really nicely into the theme of the BIBA conference, this whole theme of community," he said. "We consider ourselves to be trusted custodians of data in the industry and, for me, that really resonated when I looked at the theme of the BIBA conference.
"When you've brought together the contributory data services that we provide on behalf of the industry and you link that to great intelligence, you really do have something that's unique, that is helping the broker community write better business, combat fraud and get insights on customers that were never available before."
It's a great time to be in the industry, Mathews said, as it has truly woken up to the idea of sharing data. Sharing data as a concept isn't new in and of itself but what LexisNexis Risk Solutions has worked hard to do is convince market players that it's the right thing to do on behalf of the whole industry. Now the business is in the process of launching a new contributory claims database and its approach is paying dividends as the market has gone along with the team on that journey.
Read more: How has COVID-19 impacted the expectations of customers in the insurance sector?
"The market recognises the need to collaborate," he said, "and contributory data is a fantastic way of adding value to yourself as an organisation but also for the greater good of the industry as well. It's a great way of combating fraud and just a fantastic example of where the industry is innovating. It's so pleasing to see, and we're proud to be part of that and to be the kind of organisation that is the conduit for that sharing of data."
It is also rewarding to see the changing attitudes to data and innovation, he said, particularly as LexisNexis Risk Solutions has made substantial investments into the market to help it understand and realise the impact this can have. That investment has been into funding, time and people alike, and he feels strongly that the firm has brought the industry along on its data journey and opened a lot of eyes to the power and value that can be derived from data.
"It's really exciting to see where we can go with this information," he said. "And I think what's most pleasing for me is to see how the insurance industry on the whole - so that's not just brokers, that's insurers and MGAs and service providers as well – have all realised the value of data on its own, and also the value of contributory data."
Despite all the inroads that have been made, Mathews firmly believes the sector is only just scratching the surface of the value that contributory data and data more generally can bring. You only have to start to look at the advent of the connected car, he said, and see how much data can be made available from a vehicle now to get a sense of where the industry can go with this information.
"Just imagine contributory databases that add driving scores in, for example, so you as a driver can share your driving score over time," he said. "Then that becomes a piece of data the industry can embrace and use when rating a risk. And it's not that far away at all, we will get there. We're just scratching the surface. What's fantastic for me and the rest of the team is to be right at the heart of this, to be driving the innovation and to be with an organisation that's innovating on behalf of the industry. That's a really exciting place to be."